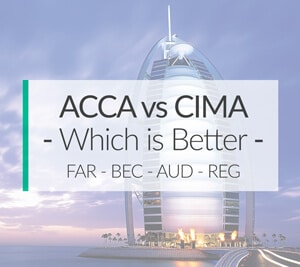 When comparing ACCA vs CIMA, both are great professional organizations to join, but which one will benefit your career more in the long run? Il se résume à ce que vous voulez faire avec votre carrière. The ACCA is an organization for chartered accountants whereas the CIMA is an organization for management accountants.
Both CAs and CMAs have slightly different skill sets and slightly different responsibilities. Let's take a look at ACCA vs CIMA certification, see what the differences are, and determine which one you should join.
What's the Difference Between the ACCA vs CIMA?
You are in a good place in your professional life! You have studied hard, fulfilled work experience requirements and put in long hours. What's the next step to advancing the career ladder– membership in a professional association?
Littéralement, every vocation has a professional membership organization and taking part in one of these close-knit groups can be invaluable in helping you manage your career. Membership associations provide a multitude of benefits. La première et la plus évidente est de réseau avec vos pairs. en outre, les associations professionnelles offrent une formation continue, aide au placement, publications, produits et services d'affinité et certains sont même vital pour vous aider à atteindre votre statut de carrière grâce à des examens et certifications. La plupart des organisations membres offrent un certain type de réunion nationale annuelle ou des conférences régionales et même locales. Ce sont les premiers occasions de se réunir avec d'autres dans votre profession pour l'éducation, camaraderie and to learn about the very latest in products and services that can help perform your duties more efficiently.
Let's look at two professional organizations for accountants: ACCA and CIMA. The ACCA (the Association of Chartered Certified Accountants) is a professional association for accountants headquartered in London, which administrative offices in Glasgow. It confers the certification of chartered accountancy. The organization was founded in 1904 and as of 2016, reported 188,000 members and 480,000 students in 178 des pays. The CIMA (Chartered Institute of Management Accountants) is also based in London and was founded in 1919. It is the largest management accounting body in the world with more than 227,000 members and students in 179 des pays. The major difference between the two organizations is that CIMA is for management accountants, those working in the industry.
Here is a comparison between the two organizations, focusing on three key components of a professional membership organization: Membership dues, certifications, and continuing education. For sake of example, this would be applicable if you are an established accountant who would be considered an active professional member and are based in the U.K.
What is the ACCA?
ACCA Membership Dues
Admission to membership: £231
Annual subscription: £231
Reduced subscription: £53
Reinstatement: £53
There also are membership categories for students, affiliates and retirees.
---
ACCA Study/Certification Programs
ACCA, (like its U.S. counterpart, AICPA with the CPA) administers the charter accountancy designation. There are several paths of study you can undertake to earn your credential. ACCA networks with scores of approved employers and learning institutions across the U.K. to help students, as well as seasoned professionals, achieve their career goals.
Chartered accountants study accounting, law, financial reporting, and taxation and must pass a 3-level exam administered by the ACCA.
---
ACCA Continuing Education
Although confusing to navigate, ACCA offers its members access to online resource materials (plus que 2,600) and directories of approved tuition/content providers, such as Becker and Kaplan. The organization also has started offering webinars. There are programs for license renewal including CBEs (computer-based exams.)
ACCA also provides live conferences such as the Public Sector Conference 2017 that was held in February in Johannesburg. The organization also holds weekend CPD courses to minimize the time busy professionals must take away from the office or clients.
---
What is the CIMA?
CIMA Membership Dues
Annual subscription – fellow: £283
Annual subscription – associate: £269
Membership application fee: £149
Membership application fee (direct to fellow): £233
Application (associate to fellow): £84
There also are membership categories for students and retirees.
---
CIMA Certification Programs
CIMA administers the program for becoming a CGMA (Chartered Global Management Accountant.) There are many combinations of education and work experience that will qualify you to study for and sit for the exam to earn certification.
Be sure to check out our top rated CIMA study materials and exam prep tools here if you're interested in becoming a CGMA.
---
CIMA Continuing Education
CIMA has a nicely-organized, user-friendly online portal where you can find all sorts of resources for continuing education ranging from topics as basic as Excel to MBA courses to career information. CIMA offers business, finance, management and networking events and short courses around the world. There is a calendar of events on the website where you can choose continuing education by date, topic or location.
---
ACCA vs CIMA – Which is better?
Neither one of these certifications is better for your career. They are simply different. Chartered accountants perform accounting and auditing services for international companies that primary use IFRS or some other international accounting standards to report their financial activities to third parties.
RMR, d'autre part, are internal accountants who manage the operations of a company. They oversee the production processes and many other company operations. It's not uncommon for the COO or controller of the company to be a CMA.
Comme vous pouvez le voir, both of these certifications have a much different focus. It all depends on what you want to do with your career.
---
Can you join both the ACCA and CIMA?
Si vous êtes management accountant (CMA), you may find advantages in joining both ACCA and CIMA. If you feel that ACCA offers benefits that CIMA may be lacking, you may want to join both. D'autre part, if you practice in the public sector, there would be little need to join CIMA if you already belong to ACCA.