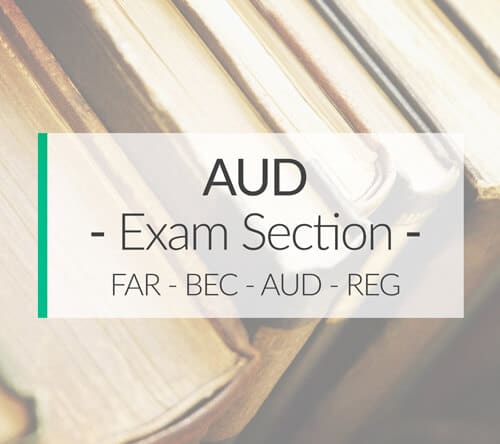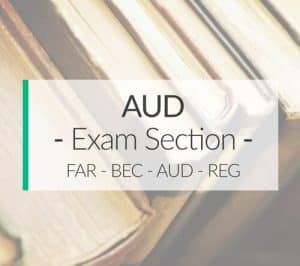 The AUD (Attestation and Auditing) section of the CPA exam focuses on the examination of an entity's financial statements, compliance, and processes. This section evaluates the candidates' understanding of proper auditing procedures, gathering evidence, fundamental principles, and internal controls.
Many candidates feel the AUD CPA exam is closely related to DALEKO because there is some overlap in GAAP reporting requirements tested on both exams. Although there is some overlap, I wouldn't say it's significant enough to base your entire CPA exam schedule on this fact.
Let's take a look at what's on this exam, how it's graded, who it's easiest and hardest for, and how to pass the AUD section and become a Certified Public Accountant!
Pogledajte Top CPA pregled tečajevi
View All
[convertkit form=1033965]
What is the AUD CPA Exam Section?
How Long is the AUD CPA Exam?
AUD is a 4-hour exam, but you don't have to use all of the time allocated. There also is no individual time restraints on each individual testlet.
---
AUD Topic Areas & Concepts Tested
Professional Responsibilities, Standards, and Fundamental Principles: 15%-25% – consists of going over accepted conduct, requirements for documentation, unutarnja kontrola, the nature and scope of engagements, and communication with other parties.
Assessing Risk and Developing Planned Processes: 20%-30% – covering topics like how to analyze different environments, preparing for an engagement, learning about the entity in question, and identifying the risk/value associated with misstatements.
Performing Procedures and Obtaining Evidence: 30%-40% – involves the importance of independence, evidence, and sampling techniques.
Reaching a Conclusion and Compliant Reporting: 15%-25% asking questions about engagements for both auditing and attestation, reviewing service engagements.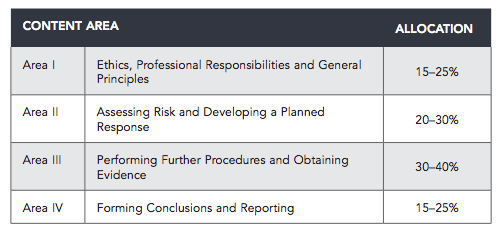 AUD CPA Exam Format and Structure
The AUD exam begins with 2 multiple-choice question testlets containing 36 multiple-choice questions each. The first testlet is always moderate or medium difficulty to gauge your understanding of the topics. The second testlet changes depending on your performance in the first testlet. If you perform well, the second testlet will move from moderate to more difficult questions. If you perform poorly, it will move to easier questions.
After both MCQ sections are finished, there will be a third testlet comprised of 2 simulacije zadatak-based. After this section, you will be allowed to take an option 15-minute break that doesn't count against the 4-hour time frame. posljednje, you will have two more testlets containing 3 task-based simulations each.
Section Structure
| AUD Exam Section | 2016 CPA Exam | 2017 CPA Exam |
| --- | --- | --- |
| Multiple-Choice Questions | 90 | 72 |
| Zadatak-Based Simulacije | 7 | 8 |
| Written Communication | 0 | 0 |
Odjeljak format
| Testlets | Question Sets | Suggested Time |
| --- | --- | --- |
| Testlet #1 | 36 Multiple-Choice Questions | 60 Minutes |
| Testlet #2 | 36 Multiple-Choice Questions | 60 Minutes |
| Testlet #3 | 2 Zadatak-Based Simulacije | 30 Minutes |
| Testlet #4 | 3 Zadatak-Based Simulacije | 45 Minutes |
| Testlet #5 | 3 Zadatak-Based Simulacije | 45 Minutes |
AUD CPA Tip: Questions within each testlet don't have to be answered in order; međutim, the testlets must be given in the order stated above.
---
Multiple-Choice Questions
The multiple-choice questions are divided into 2 testlets. Each testlet contains 36 pitanja, making a total of 72. Each question's value depends on the difficulty, with the most difficult questions having the most value. Tako, it's much better to get more difficult questions in the second testlet because you need to get less of them right in order to pass the exam. One correctly answered and difficult question is worth more than several correctly answered and easy questions.
60 od 72 multiple-choice questions are operational while the remaining 12 su pred-. This means 12 of the questions are there simply because the AICPA is testing whether they should include them on future exams. They don't count against you.
AUD CPA Tip: Once an MCQ testlet is submitted, it can't be reopened or reviewed. Make sure you review your questions and answers before you submit each testlet; after it's submitted, it's gone.
---
Zadatak-Based Simulacije
Tamo su 8 task-based simulations in total. Seven of them are operational and 1 a pretest simulation. Svaka simulacija zadatak-based može imati 2 kartice: informativne i rad.
Kartica rad ima gradable odgovor, dok je informacijska kartica ima stvari poput smjera, resursi, i autoritativni literatura koja pomaže u rješavanju simulacija.
---
Testlet i simulacija vrijeme Dužina
Imate ukupno četiri sata da se završi cijeli ispit. Nitko poglavlje ili testlet ima roka na njega. Tako, morate pravilno rasporediti svoje vrijeme. Sugerirao bih o tome 35-45 minuta se dodjeljuje odgovore na pitanja višestrukog izbora u svakoj testlet i 15-25 minutes be allocated to reviewing MCQ answers for each testlet. This gives you about 106 seconds for each multiple-choice question.
I would also recommend about two hours for the simulations in total. Simulacija se obično traži kandidate za dovršetak do 7 audit engagement tasks using information provided.
---
Get Discounts On CPA Review Courses!
---
How is AUD Weighted and Graded?
The MCQs and the TBSs are weighted equally. As mentioned before, MCQs values differ based on their difficulty on a numerical basis for correct answers. Incorrect answers have no value. It is speculated that partial credit can be awarded for TBSs if it is non-research.
Simulations are graded positively meaning that wrong answers don't count against your score. This means that you should answer as many as possible even if you think you are just guessing. Most simulations are graded by computer.
Here's a breakdown of the content area allocations and weights for the AUD exam. The table also shows how the AICPA tests each skill allocation by their distribution of weights.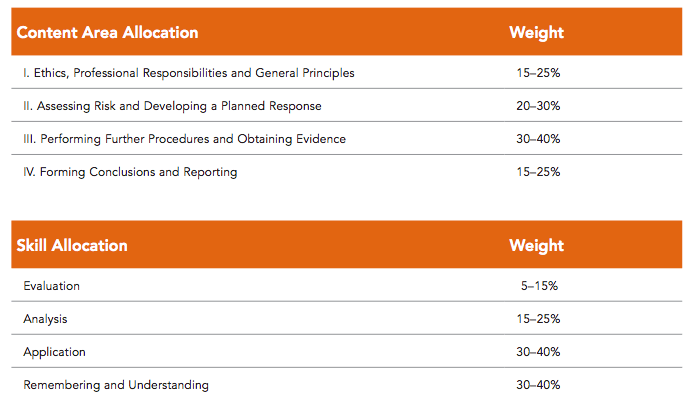 ---
MCQ and Simulations Grading Percentage & Distributions
Što Postotak Ocjena se obzirom na MCQ i simulacija? Ukratko, 50% of the grade comes from the 72 MCQs and the other 50% comes from the 8 simulacije zadatak-based.
Exam Section
2016 CPA Exam
2017 CPA Exam
AUD
60% MCQ
40% TBS
50% MCQ
50% TBS
BEC
85% MCQ
15% WC
50% MCQ
35% TBS
15% WC
DALEKO
60% MCQ
40% TBS
50% MCQ
50% TBS
REG
60% MCQ
40% TBS
50% MCQ
50% TBS
---
AUD Exam Pass Rates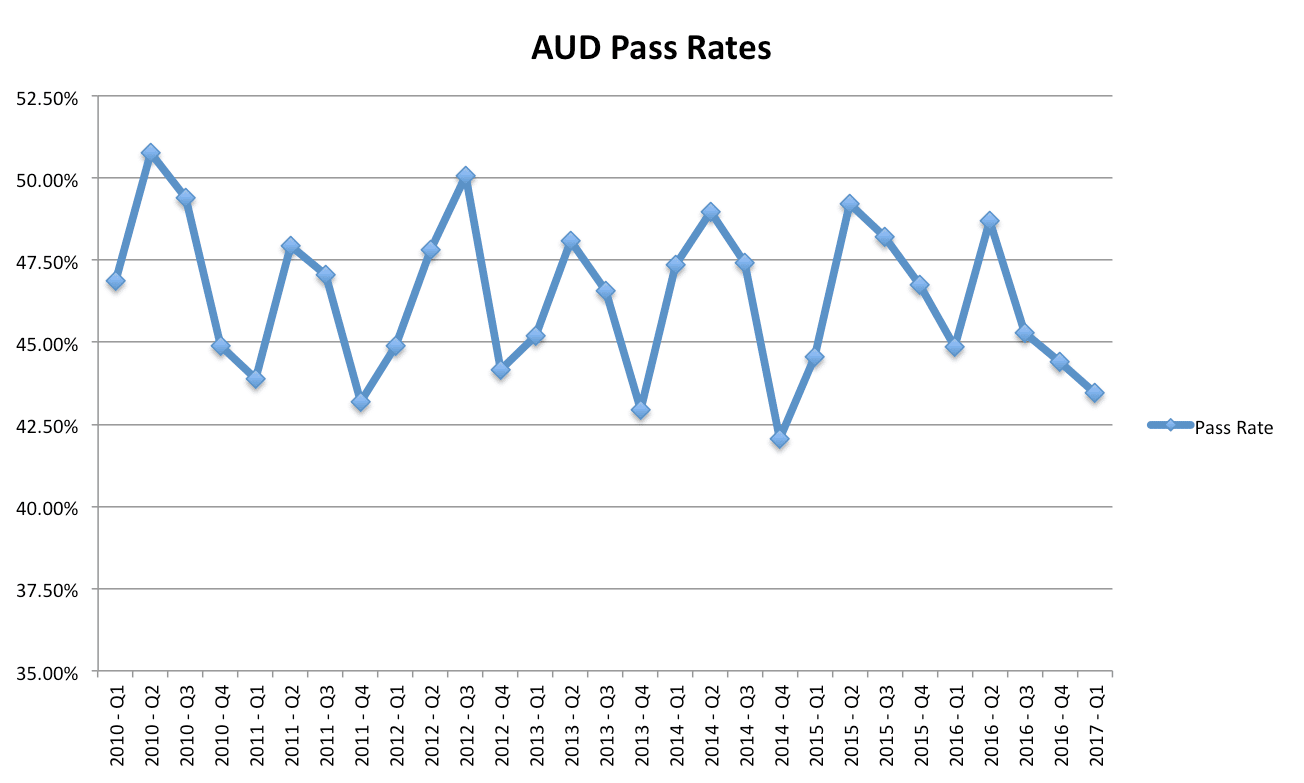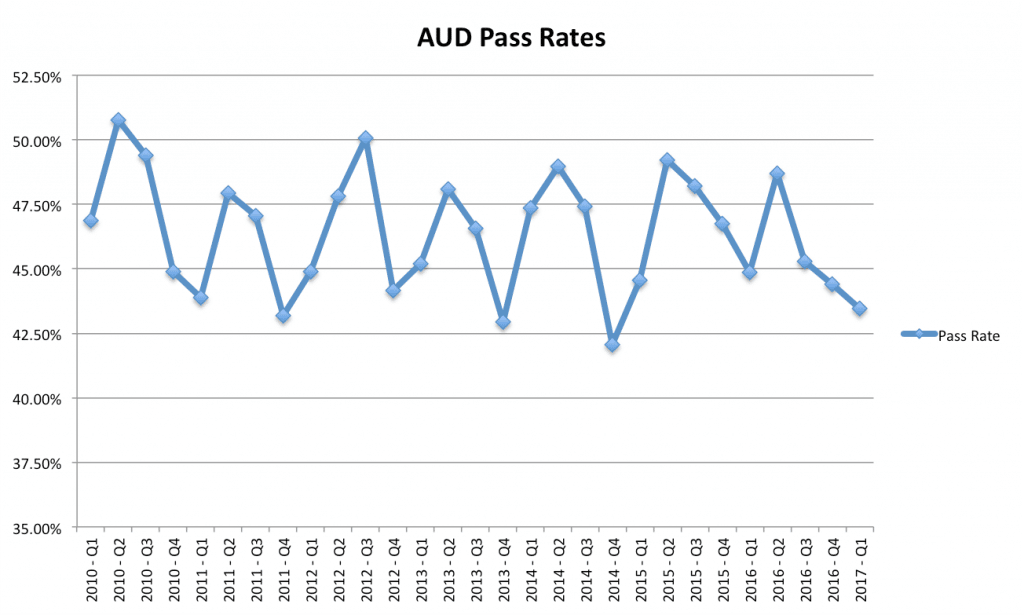 The AUD pass rates have fallen slightly in the past six years but has remained about the same overall. The 2010 high of 50.77% hasn't been reached again since. With the exception of 2nd quarter scores, 2016 i 2017 are below the average of the last seven years.
It's expected that this slight downward trend will continue as the AICPA introduces the new CPA blueprint in 2017. The increased emphasis on higher-order skills and simulations might bring scores and pass rates down temporarily until candidates get used to the new testing model. Ova informacija je objavljena od strane AICPA.
---
AUD CPA Exam Study Tips
Memorize Everything: This test involves so much rote memorization it's not even funny. Use your review course and develop your own mnemonics to memorize the next two study tips.
Zapamtite Revizorsko mišljenje pismo: Ovo nije sugestija. Ozbiljno, zapamtiti pozitivno revizorsko mišljenje pismo riječ-za-jebeni-riječ. Nemate pojma koliko pitanja ima na ispitu o ovom pismu ili pojmova pokriven u njemu. Ako imate cijelu stvar zapamtio, to će biti tako lako odgovoriti na ta pitanja s višestrukim izborom i TBSs. Ne bih previše brinuti o kvalificiranim slova mnijenja. Samo pazite da su upoznati s tim.
Know Your internih kontrola: Postoji toliko mnogo pitanja o internim kontrolama na ovom ispitu. Znam ih sve, što oni rade, i kakvu vrstu prijevare su staviti na mjesto kako bi se spriječilo.
Praksa MCQs do smrti: Nastaviti raditi kroz višestrukim izborom odgovora u svom CPA pregled naravno. Ovo je najbolja praksa možete dobiti. Učiniti što je više moguće.
---
Should I Take AUD First?
Revizija je odličan izbor za svoj prvi ispit, ako imate iskustva s revizijom ili osjećaju jaki s teme pokrivene na ovom testu. To je dio koji sam prvi put uzeo i ja sam sasvim u redu. 🙂
Ako mrzite reviziju i naći ovu temu biti jako teško, Ne bih ga preporučiti kao svoj njih prvom dijelu. Evo koji ispit treba uzeti prvo.
---
Should I Take AUD Last?
Revizija također će biti veliki zadnji ispit da se. Kao što sam rekao ranije, mnogi ljudi imaju tendenciju da se povezati revizija s daleko jer oni imaju neke preklapaju u predmetu. Ne vidim da postoji dovoljno jaka veza između dva ispita da nalog da im se rame uz rame.
lično, I think you are way better off taking exams based on your strengths and weaknesses rather than on the exams' labave preklapanja Predmet. stoga, Mislim AUD bi veliki zadnjeg ispita završiti CPA putovanje. 🙂
---
Who is the AUD CPA Exam Easiest For?
The AUD tends to be easier for individuals who have experience with auditing or recently took an auditing class. Na primjer, ako radite kao revizora ili revizorskih je posljednji razred ti je na faksu, Ovaj ispit je dio može biti prilično jednostavan za vas.
Osobe s profesije u reviziji treba biti dobro upoznat s većinom od materijala i AICPA profesionalne standarde. Njihova primjena i znanja treba im pomoći biti dobro pripremljeni za simulacije zadatku bazi.
Imajte na umu da je ovo akademska testa, međutim. Postoji velika razlika između onoga što je na ispitu i ono što se može koristiti u stvarnom svijetu. Previše revizori ići u ovaj ispit misleći da će učiniti dobro zato što su to učinili za život. To je teoretski i akademska ispitivanja–nije pravi život posao.
---
Who is AUD Hardest For?
AUD dio ima vrlo malo računanja ili matematičke probleme u njemu, so who rely on their math skills to answer questions won't get a lot of help on this section. Po istoj logici, učenici s ograničenim ili bez iskustva u reviziji mogu imati poteškoća u svladavanju AUD koncepte i postupke, jer oni ne odnose na mnoge druge ispitnih dijelova.
Kandidati s teškoćama vidi veliku sliku ili prepravljanjem materijala u vlastitim riječima mogu također smatraju da je teško razumjeti AUD materijal jer čisti pamćenje nije dobra tehnika za ovu rubriku.
---
Other CPA Exam Sections
---
Do You have the Right CPA Review Course?
Jeste li počeli studiranje još ili si uspjeti AUD jednom? bilo kako bilo, trebat će vam pregled tečaj koji zapravo radi za vas i odgovara vašem stilu učenja. Usporedila sam sve od najboljih tečajeva side-by-side, tako da možete vidjeti koje je pravo za vas. Check it out.