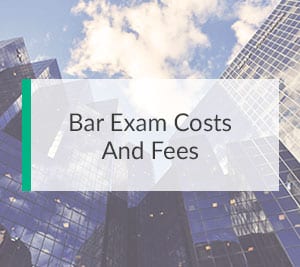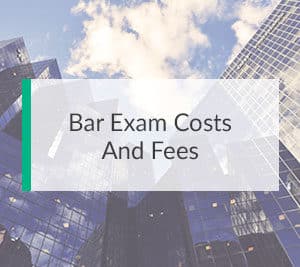 Avouons-le: la Bar exam is an expensive test. You need to pay exam fees, license fees, and additional costs to maintain your standing as a lawyer.
En fin de compte, it doesn't matter whether you've graduated from law school or not; it's important to know how much you'll be spending if you want to become a licensed attorney.
---
Bar Exam Preparation
Even before the test itself, law students need to start worrying about fees. Par exemple, if you want to passer l'examen du barreau, vous devrez étudier et préparer des semaines à l'avance. par conséquent, pour la plupart des gens qui impliquent de prendre un Bar cours d'examen.
Tout cours de préparation en valeur votre temps a tendance à coûter des milliers de dollars. Un exemple de ceci est Kaplan, qui est comprise dans le prix de $1,800 à $4,000. Même certains des cours BAR plus abordables d'examen comme BarMax encore des terres dans le stade de baseball de $1000 honoraires. Certains de ces coûts peuvent être réduits au minimum en achetant uniquement des cours d'étude pour une section spécifique, comme UBE ou MBE, but there will still be a substantial monetary investment.
toutefois, if you're worried that you cannot afford these prep courses, there are other options:
Many law firms have policies where they will pay Bar review course fees for prospective employees. This means that if you've already gotten post graduation job offers you may be able to request that they pay for your Bar exam study materials. toutefois, not every firm will be receptive to the idea. Donc, you should be sure to research whether or not your future employer has done this before.
---

Taking The MPRE
Presque toutes les juridictions des États-Unis exige que vous passez l'examen de la responsabilité professionnelle Multistate (MPRE) avant de pouvoir être admis au Barreau. en outre, certains Etats exigent même que vous avez un score de MPRE passer avant de pouvoir prendre l'examen du barreau.
Le MPRE est 60 question test basé sur les lois régissant la conduite des avocats. Ça coute $125 Si vous vous inscrivez par la date limite régulière, et $220 pour l'inscription tardive. aditionellement, frais d'inscription pour la MPRE doivent être payés par carte de crédit et ne sont pas remboursables.
---

Inscription pour la barre
Registration for the Bar exam itself varies from state to state. Prices can range from as low as $150 à $1500. This money is paid directly to the state's Board of Law Examiners or equivalent.
toutefois, location isn't the only thing that impacts costs.
In some cases second time test takers are asked to pay less than first timers. If you've failed the exam and are trying again, some states will charge less. An example of this is Florida, which charges $1000 dollars for its test, but only $450 for repeaters.
en outre, bien que de nombreux États vous permettent de pratiquer avec votre licence dans d'autres États, certains ne le font pas. Dans ce cas, vous devrez reprendre l'examen du barreau, et le coût peut être plus élevé que lorsque vous avez pris. En utilisant la Floride comme un exemple à nouveau, avocats autorisés doivent payer $1600 là pour passer l'examen Bar.
Assurez-vous de vérifier la Conférence nationale des examinateurs Bar (NCBE) Bar Guide d'admission pour une liste complète des frais pour tous les cinquante états.
---

Bar Logiciel d'examen
If you want to use a laptop to type your Bar exam essays, this will add on to your fees. Although it is much more convenient than handwriting them, it can cost up to $200 extra. Again this fee varies depending on which state you are taking the exam in.
---

Accommodations
One thing people don't account for is that the Bar exam is a two day affair that may not be close to home. You may need to pay out of pocket for food and lodging during that time. aditionellement, transportation costs such as has money or a plane ticket also add on to the cost. My advice to students is to try and figure out these accommodations and travel arrangements; if you don't prepare for this, you could find yourself spending hundreds of dollars looking for last-minute accommodation.
---

Lost Work Time
Time spent preparing for and taking the test means time spent not working. Par conséquent, you will have to account for lost wages when you take off work for the test, especially if you cannot get paid leave.
If you aren't working when studying for the Bar exam you may be forced to take out loans to pay for living expenses. These are actually quite common and are referred to as bar loans: used to cover fees for prep courses, exams, and living expenses.
Cela étant dit, there are also hidden costs associated with bar loans. They're private loans, so interest rates and fees will likely be higher than federal student loans. Be careful about taking these as they can cause you to lose a lot more money in the long run.
---

Expenses For The Bar Examination
Malheureusement, the costs don't stop once you've completed the exam:
After completion of the exam, you may be asked to pay filing fees to your state Bar. This can include character and fitness checks as well as criminal history records. You'll also likely need to file driving records and pay notary fees.
Par exemple, candidates that have completed the California Bar exam are required to complete a moral character application that must be reviewed every three years. It's similar to a background check that costs $640. Many states have similar requirements that cost hundreds of dollars to meet. aditionellement, most of these fees are dependent on how far ahead of the deadline that you register, so be sure to do so as early as you can in order to save money.
Many states also require licensed attorneys to take Continuing Legal Education courses to stay up to date with current laws.
Rappelles toi: be sure to check with your state's board of Bar examiners to know exactly what is required of you.
---

résultat financier
Much like law school, taking the Bar exam is an expensive commitment. toutefois, there are many ways to mitigate costs. Most fees are dependent upon how far ahead of the filing deadline you register. Donc, you should make sure that you prepare for your Bar exam well ahead of time and keep an eye out for hidden costs.
After adding up all of the total costs, you're looking at a minimum price of about $6700. Luckily this does not all need to paid at once, and there are several ways to help pay for it. Workplaces may pay for Bar prep courses; in a worst case scenario, you can apply for a bar loan.
L'examen de la barre peut être coûteux, mais si vous pouvez pousser votre chemin à travers et compléter, votre carrière d'avocat payera lui-même.
Bonne chance!