Barmax examen est un excellent cours de préparation qui peut répondre à tous vos besoins d'études et de soulager une partie de cette anxiété. Leur cours est conçu autour des outils et des techniques qui sont destinés à prendre beaucoup de la pression de vos épaules.
Une partie de leur efficacité dans la réduction du stress est par la sur le go mentalité qui influence leur conception de cours. Par exemple, leur application mobile pratique offre une fonctionnalité complète pour les étudiants en déplacement, leur permettant de presser des séances d'étude rapide au cours de leur trajet ou sur une pause de travail. en outre, BARMax's message boards allow students to work through difficult concepts and problems together, so they don't feel like they're going it alone.
Let's jump in to find out more about this excellent Bar exam prep course!
---

Overview of BARMax Prep Course
BARMax Review has certainly mastered the art of studying on the go. Who has the time to sit down and study for hours on end with no other time constraints? You are most likely juggling work, school, family life, and countless other things.
That is why BARMax is one of my favorite courses available. This course will keep up with your busy life and offer you flexible study options. You can use your phone on the go or your laptop at home. No matter what, you will be given a course that will become unique to your level of knowledge and specific study schedule.
What should you expect with BARMax:

Flexibility

Personal BAR Study Planner

Bar Practice questions and essays

Audio lessons from Harvard-trained law professors

Message boards that offer help with MBE questions
---
What's Included With BARMax Bar Review Course?
Flexibility
With the BARMax mobile app, you can carry all of your study materials in your pocket. This app is streamlined and makes this online course easy to use wherever you go.
It's tough for many struggling students to find time when studying for the Bar exam. For that reason, some of the most effective tools are the ones that allow you to study anywhere: at the gym, on commutes, during lunch breaks, or whenever you can find the time. Vous ne devez même pas accès à Internet pour afficher le contenu sur l'application mobile, ce qui en fait l'une des meilleures options pour aller sur à des sessions d'étude!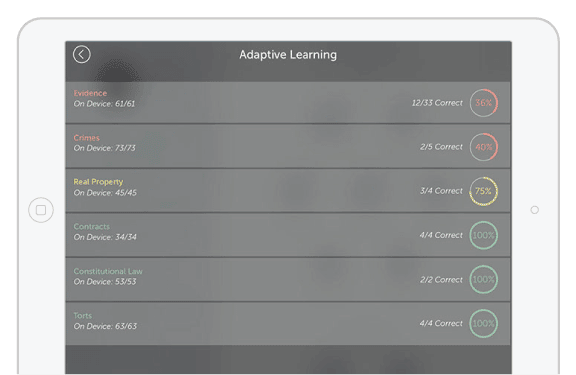 Planificateur d'étude personnelle
Tout ce que vous devez faire pour créer le plan d'étude est parfaite entrée de votre date d'examen; Barmax fera le reste. Ce cours de préparation est en mesure de vous fournir un plan d'étude qui donne un aperçu des missions quotidiennes et une vision claire de ce qu'il faut attendre chaque semaine. Vous verrez aussi combien de temps vous aurez besoin d'étudier sur une base quotidienne / hebdomadaire afin d'atteindre vos objectifs.
Vous verrez probablement un plan suggéré de 15-25 heures par semaine pour 12 semaines, si clairement l'efficacité de ce cours est inégalée. Si vous voulez commencer vos études plus tôt que tard, Barmax est une excellente option car il permet d'économiser beaucoup de temps au cours du processus de planification.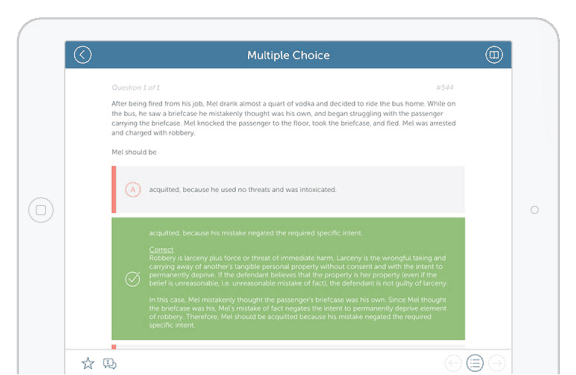 Bar Exam Questions et essais pratiques
Barmax est bourré de matériel pour vous de mettre en pratique vos connaissances Bar. Au moment où vous avez besoin pour faire face au réel examen BAR, you will have ample experience with exam-like questions so you won't be shocked when you run into a tough question.
BARMax comes with more than 1,750 multiple choice from old Bar exams. It also includes real practice essays and PTs with model answers and/or point sheets. You will certainly have more than enough material to practice with.
---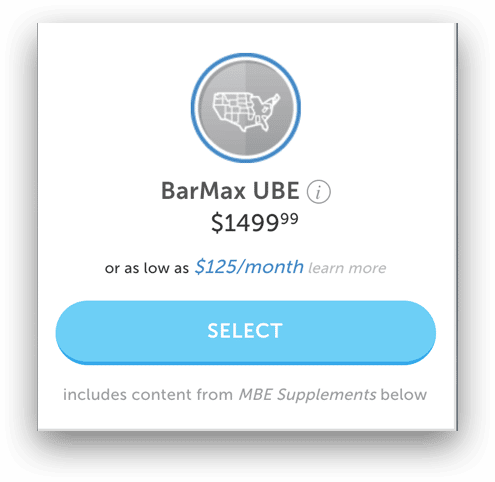 BARMax Prep Course Pricing
BARMax is much more affordable than the industry average for BAR prep courses. For just $1,499, you can have lifetime access the audio lessons from Harvard professors, black-letter law outlines, cartes flash, pratique des questions, and much more.
BARMax is truly an incredible value and offers financing options for those that don't want to shell out the full price right away.
---
Avantages & Les inconvénients
What makes BARMax such a great Bar review course?
Pro – Affordable Price:

BarMax is certainly one of the best courses out there and its price tag does not reflect its true value (in a good way!). For a surprisingly low cost, you can receive a comprehensive BAR review course with excellent study planning tools.
Pro – Flexible With Your Lifestyle:

No matter what you may have to fit into your busy daily schedule, BARMax's mobile app makes it easy to have your study materials with you all the time. Now you can study whenever you find a free moment throughout the day. BarMax will also create a study plan accounting for your time constraints, so you don't have to worry about figuring out when you will find the time to study.
Pro – Audio Lessons from Experts:

Certains cours d'examen BAR offrent des cours audio, mais ceux-ci sont habituellement juste votre principal matériel d'étude en cours de lecture pour vous. Barmax offre d'excellentes conférences audio enseignées par les anciens élèves de Harvard Law, comme le célèbre Arthur Miller. Cours audio, il est facile de brancher vos écouteurs et étudier pendant que vous faites d'autres choses telles que le travail sur, blanchisserie, ou même sur votre trajet.
Avec – En personne Cours d'examen:

Même si Barmax offre un cours d'examen en ligne stellaire, y compris son application mobile intuitive, some students may prefer a live classroom experience. And since this course doesn't provide one of these, students who do prefer this format will likely be disappointed.
---

Questions fréquemment posées
What else do you need to know when it comes to BARMax? Here are some commonly asked questions with their answers:
Q: Does BARMax offer a higher score guarantee?
UNE: It certainly does! If your score does not increase after you have completed your BARMax review course, you can be qualified for a full refund. I recommend that you read the fine print of this guarantee before you purchase since some exclusions may apply.
Q: Is there a financing option with BARMax?
UNE: Oui, there is! BARMax can offer financing for as low as 0% interest. If you are on a budget, you can chose to split your purchase up into 3, 6, ou 12 monthly payments.
---

idéal client
Now that you know what to expect with BARMax, ask yourself these questions to see if it's the course for you:
Do you need to be able to study on the go?

This is the Bar review course for you.

Do you want a live classroom review course?

This isn't the Bar exam course for you.

Do you like to study through experience and practice?

This is the Bar prep course for you.

Are you are an auditory learner?

This is the right course for you.

Do you lack the time to fully plan out your study schedule?

This is the prep course for you.
---
Final Recommendation
I would recommend BARMax to you if you find yourself overwhelmed with the massive amount of information you are expected to know to pass this important exam. Barmax est l'un de mes cours préférés parce que vous obtenez des tonnes d'outils d'étude pour un prix abordable: flashcards, cours audio, pratique des questions (petit enfant) et essais, black-letter law outlines, un calendrier d'étude personnalisé, et bien plus.
Alors qu'est-ce que tu attends? Allez voir Barmax et commencer à étudier aujourd'hui!
---