BARMax pregled je odličan pripremni tečaj koji može zadovoljiti sve svoje studijske potrebe i osloboditi neke od te tjeskobe. Njihova tečaj osmišljen je oko alata i tehnika koji su namijenjeni da se puno pritiska s vaših ramena.
Dio njihovu učinkovitost u smanjenju stresa je putem on-the-go mentalitet koji utječe na njihov dizajn tečaj. Na primjer, njihov praktični mobilna aplikacija pruža punu funkcionalnost za studente u pokretu, dopuštajući im stisnuti u brzim studijskim sesijama za vrijeme mijenjati ili na radnom pauze. osim toga, BARMax's message boards allow students to work through difficult concepts and problems together, so they don't feel like they're going it alone.
Let's jump in to find out more about this excellent Bar exam prep course!
---

Overview of BARMax Prep Course
BARMax Review has certainly mastered the art of studying on the go. Who has the time to sit down and study for hours on end with no other time constraints? You are most likely juggling work, school, family life, and countless other things.
Zato BARMax je jedan od mojih omiljenih tečajevi dostupni. Ovaj tečaj će pratiti sa svojim zauzet život i ponuditi fleksibilne opcije za učenje. Možete koristiti svoj telefon dok ste u pokretu ili laptop kod kuće. Bez obzira, bit će vam dati tečaj koji će postati jedinstven na svoju razinu znanja i specifične rasporedu studija.
Što možete očekivati ​​s BARMax:

savitljivost

Osobni BAR Studija Planer

Bar Praksa Pitanja i eseji

Audio lekcije iz Harvard-obučeni profesora prava

Message boards that offer help with MBE questions
---
What's Included With BARMax Bar Review Course?
savitljivost
With the BARMax mobile app, you can carry all of your study materials in your pocket. This app is streamlined and makes this online course easy to use wherever you go.
It's tough for many struggling students to find time when studying for the Bar exam. For that reason, some of the most effective tools are the ones that allow you to study anywhere: at the gym, on commutes, during lunch breaks, or whenever you can find the time. You don't even need internet access to view the content on the mobile app, making it one of the best options for on-to-go study sessions!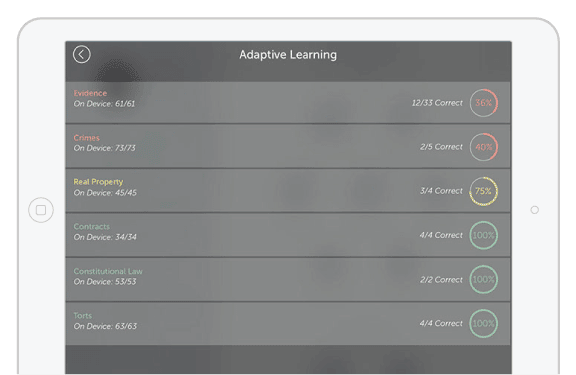 Personal Study Planner
All you need to do in order to create the perfect study plan is input your exam date; BARMax will do the rest. To prep tečaj je u mogućnosti pružiti Vam s planom studija koje opisuju svakodnevne zadatke i jasan pregled onoga što možete očekivati ​​svaki tjedan. Također ćete vidjeti koliko vremena ćete morati učiti na dnevnoj / tjednoj bazi kako bi se ispunili svoje ciljeve.
Vi ćete najvjerojatnije vidjeti predložio plan 15-25 sati tjedno za 12 tjedni, tako jasno učinkovitost ovog tečaja je bez premca. Ako želite da biste započeli sa svojim studijama prije nego kasnije, BARMax is a great option since it can save a lot of time during the scheduling process.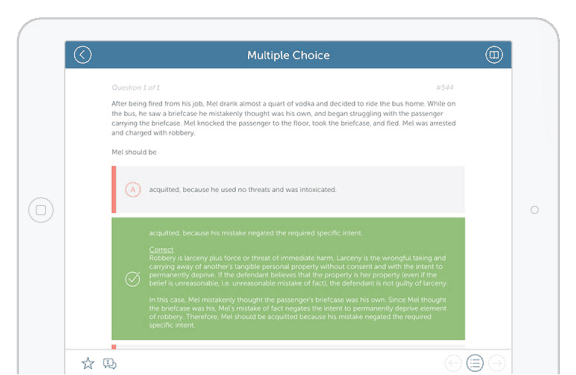 Bar Exam Practice Questions and Essays
BARMax is stuffed with material for you to practice your Bar knowledge. By the time you need to face the real BAR exam, you will have ample experience with exam-like questions so you won't be shocked when you run into a tough question.
BARMax comes with more than 1,750 multiple choice from old Bar exams. It also includes real practice essays and PTs with model answers and/or point sheets. You will certainly have more than enough material to practice with.
---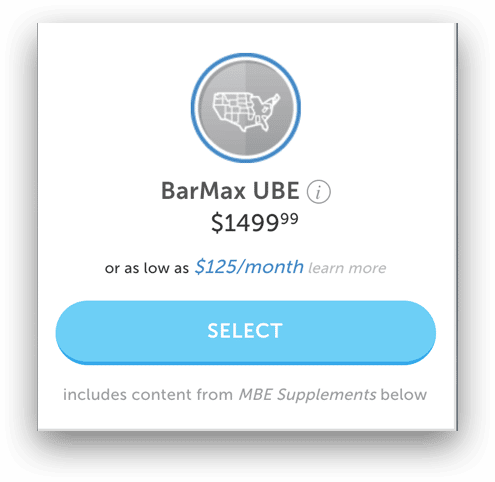 BARMax Prep Course Pricing
BARMax is much more affordable than the industry average for BAR prep courses. For just $1,499, you can have lifetime access the audio lessons from Harvard professors, black-letter law outlines, flash kartice, praksi pitanja, and much more.
BARMax is truly an incredible value and offers financing options for those that don't want to shell out the full price right away.
---
prozodija & kontra
What makes BARMax such a great Bar review course?
Pro – Affordable Price:

BarMax is certainly one of the best courses out there and its price tag does not reflect its true value (in a good way!). For a surprisingly low cost, you can receive a comprehensive BAR review course with excellent study planning tools.
Pro – Flexible With Your Lifestyle:

No matter what you may have to fit into your busy daily schedule, BARMax's mobile app makes it easy to have your study materials with you all the time. Now you can study whenever you find a free moment throughout the day. BarMax will also create a study plan accounting for your time constraints, so you don't have to worry about figuring out when you will find the time to study.
Pro – Audio Lessons from Experts:

Neki BAR pregled tečajevi nude audio lekcije, ali to su obično samo vaš glavni studija materijal se pročitati za vas. BARMax nudi odlične audio predavanja koje izvode Harvard Law alumni, kao što je poznata Arthura Millera. Audio lekcije olakšavaju jednostavno uključite svoje slušalice i učiti dok radite druge stvari, kao što su rad iz, praonica, ili čak i na putu na posao.
s – U osobi nastava za:

Iako BARMax nudi zvjezdani line pregled tečaj, uključujući intuitivno mobilnoj aplikaciji, some students may prefer a live classroom experience. And since this course doesn't provide one of these, students who do prefer this format will likely be disappointed.
---

Frequently Asked Questions
What else do you need to know when it comes to BARMax? Here are some commonly asked questions with their answers:
Q: Does BARMax offer a higher score guarantee?
A: It certainly does! If your score does not increase after you have completed your BARMax review course, you can be qualified for a full refund. I recommend that you read the fine print of this guarantee before you purchase since some exclusions may apply.
Q: Is there a financing option with BARMax?
A: Da, there is! BARMax can offer financing for as low as 0% interest. If you are on a budget, you can chose to split your purchase up into 3, 6, ili 12 monthly payments.
---

idealan za korisnike
Now that you know what to expect with BARMax, ask yourself these questions to see if it's the course for you:
Do you need to be able to study on the go?

This is the Bar review course for you.

Do you want a live classroom review course?

This isn't the Bar exam course for you.

Do you like to study through experience and practice?

This is the Bar prep course for you.

Are you are an auditory learner?

This is the right course for you.

Do you lack the time to fully plan out your study schedule?

This is the prep course for you.
---
konačna preporuka
I would recommend BARMax to you if you find yourself overwhelmed with the massive amount of information you are expected to know to pass this important exam. BARMax je jedan od mojih omiljenih predmeta, jer ste dobili tona studijskih alata za pristupačne cijene: flashcards, audio lekcije, praksi pitanja (unuče) i eseji, black-letter law outlines, personalizirane studija kalendar, i još mnogo toga.
Pa što čekaš? Idi provjeriti BARMax i početak proučavanja danas!
---