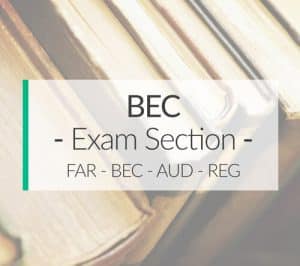 le BEC CPA exam section stands for Business Environment and Concepts. Out of the four sections that comprise the Certified Public Accountant certification exam, it's the one that evaluates a candidates' comprehension of responsibility and professional duty. Par conséquent, understanding management, principle economic concepts, corporate governance, and Informational Technology (IT) is crucial to mastery.
It examines the test-takers' ability to identify and analyze situations that call upon his knowledge of ethics and the underlying implications/reasoning behind transactions. Let's look at the details of the BEC section of the CPA exam and what you need to know in order to pass it!
Voir les cours d'examen Top CPA
View All
What's on the BEC CPA Exam Section?
---
How Long is the BEC CPA Exam Section?
BEC is a 4-hour exam.
---
BEC Topic Areas & Concepts Tested
Corporate Governance: 17% – 27% – these topics include how an entity or enterprise is controlled and how the management framework operates, how various management role differ from one another, knowing what an audit committee is and understand the influence of stakeholders. You should also be familiar with general provisions an entity is expected to follow.
Economic Concepts and Analysis: 17% – 27% – topics like inflation, interest, deflation, and foreign exchange rates. aditionellement, you should also know how these topics affect businesses.
Financial Modeling and Management: 11% – 21% – materials covered in this section may include financing, creating models, loans, and calculating statements of value.
Information Technology: 15% – 25% – including communications and the role of IT in recovery and maintaining consistency/continuity.
Operations Management: 15% – 25% – which covers things like cost accounting and variance analysis.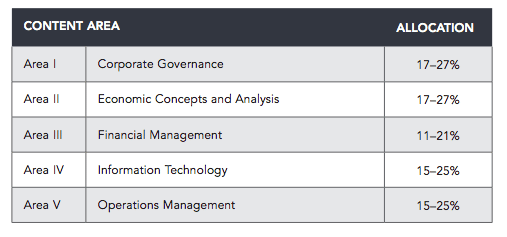 BEC CPA Exam Format and Structure
BEC starts with 2 MCQ testlets. Each testlet has 31 exam questions. Next, the third testlet includes two simulations basées sur des tâches. After you've made it through the first three testlets, you will be given a 15-minute break. Utilizing the break is recommended but not mandatory and it will not count against the candidates' time. After the break, another 2-question testlet is given followed by a testlet with 3 tasks involving work communication.
BEC Exam Section Structure
| BEC Exam Section | 2016 CPA Exam | 2017 CPA Exam |
| --- | --- | --- |
| Multiple-Choice Questions | 72 | 62 |
| Des simulations centrés sur les tâches | 0 | 4 |
| Written Communication | 3 | 3 |
BEC Exam Section Format
| Testlets | Question Sets |
| --- | --- |
| Testlet #1 | 31 Multiple-Choice Questions |
| Testlet #2 | 31 Multiple-Choice Questions |
| Testlet #3 | 2 Des simulations centrés sur les tâches |
| Testlet #4 | 2 Des simulations centrés sur les tâches |
| Testlet #5 | 3 Written Communication |
Like the AUD section, the first MCQ testlet will be of moderate or medium difficulty with the next MCQ testlet being of equal or higher intensity. toutefois, it should be noted that submitted testlets can't be reviewed.
BEC CPA Tip: A good strategy is to review all your answers in each testlet before you submit them. Après ça, there's no going back.
---
Get Discounts On CPA Review Courses!
---
Multiple-Choice Questions
How many BEC Multiple-choice Questions are There? The multiple choice questions are divided into 2 testlets. Each testlet is comprised of 31 questions, making a total of 62. Questions à choix multiples ne sont crédités lorsque correct, Les valeurs de la gamme de réponse de haut en bas, avec le bas étant du moins la valeur, en fonction de la difficulté relative de la question posée. 50 du 62 les questions sont opérationnelles tandis que le reste 12 sont prétest.
BEC CPA Tip: Après avoir envoyé votre MCQ testlet, ne pas penser à eux plus. Il ne vous fait pas de bien à la deuxième réponses de deviner que vous avez déjà soumis et ne peut pas changer.
---
Des simulations centrés sur les tâches
Combien de simulations basées sur les tâches BEC sont là? Il y a 4 simulations basées sur des tâches avec 3 communication de travail (WC) tâches sur la base. 3 des simulations basées sur des tâches sont opérationnelles et 1 est prétest. Pour W.-C., 2 sont opérationnels et 1 est prétest.
---
Longueur Temps Testlet et simulation
Les candidats peuvent affecter leur temps comme ils l'entendent, mais il est suggéré au sujet 30-40 minutes soient accordées par MCQ testlet et environs 2 heures pour les simulations. Une simulation appelle communément pour les candidats à compléter jusqu'à 7 tâches à l'aide des informations fournies pendant une simulation de communication écrite a un candidat composer un message en utilisant un langage compatible, correctement et professionnellement mots et la grammaire.
Jauge vos compétences et votre temps en conséquence approprier.
---
Comment la Section de l'examen BEC CPA pesée et le classement?
Le QCM compte pour la moitié d'un grade preneurs d'essai. Le et la partie TBS de communication de travail comptent chacun pour l'autre moitié de la note. La plupart des simulations et des communications de travail sont classés par ordinateur par un logiciel spécial sur la base de la structure ou comment les idées sont organisées, le développement ou la façon dont le candidat utilise des preuves et des exemples, et l'expression ou la façon dont l'anglais dans un contexte d'affaires est utilisé comme la capitalisation, ponctuation, et l'orthographe.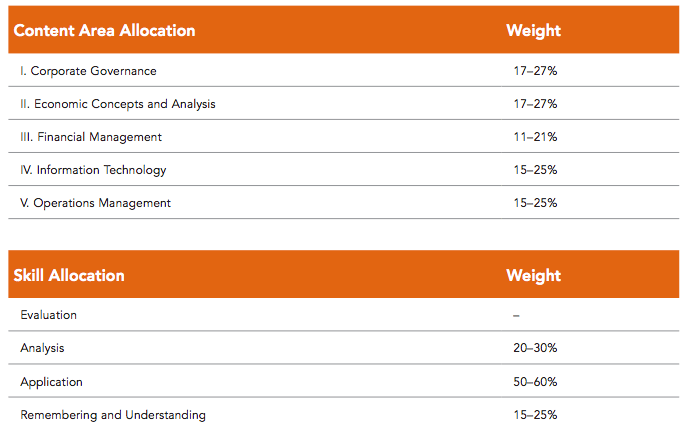 ---
MCQ et simulation Pourcentage de classement
Quel pourcentage de la note est attribuée à MCQ et simulations? En bref, 50% de la note provient du QCM, 35% vient du TBS, et le 15% restant appartient au SCG.
Exam Section
2016 CPA Exam
2017 CPA Exam
AUD
60% MCQ
40% TBS
50% MCQ
50% TBS
BEC
85% MCQ
15% WC
50% MCQ
35% TBS
15% WC
LOIN
60% MCQ
40% TBS
50% MCQ
50% TBS
REG
60% MCQ
40% TBS
50% MCQ
50% TBS
---
BEC taux de réussite aux examens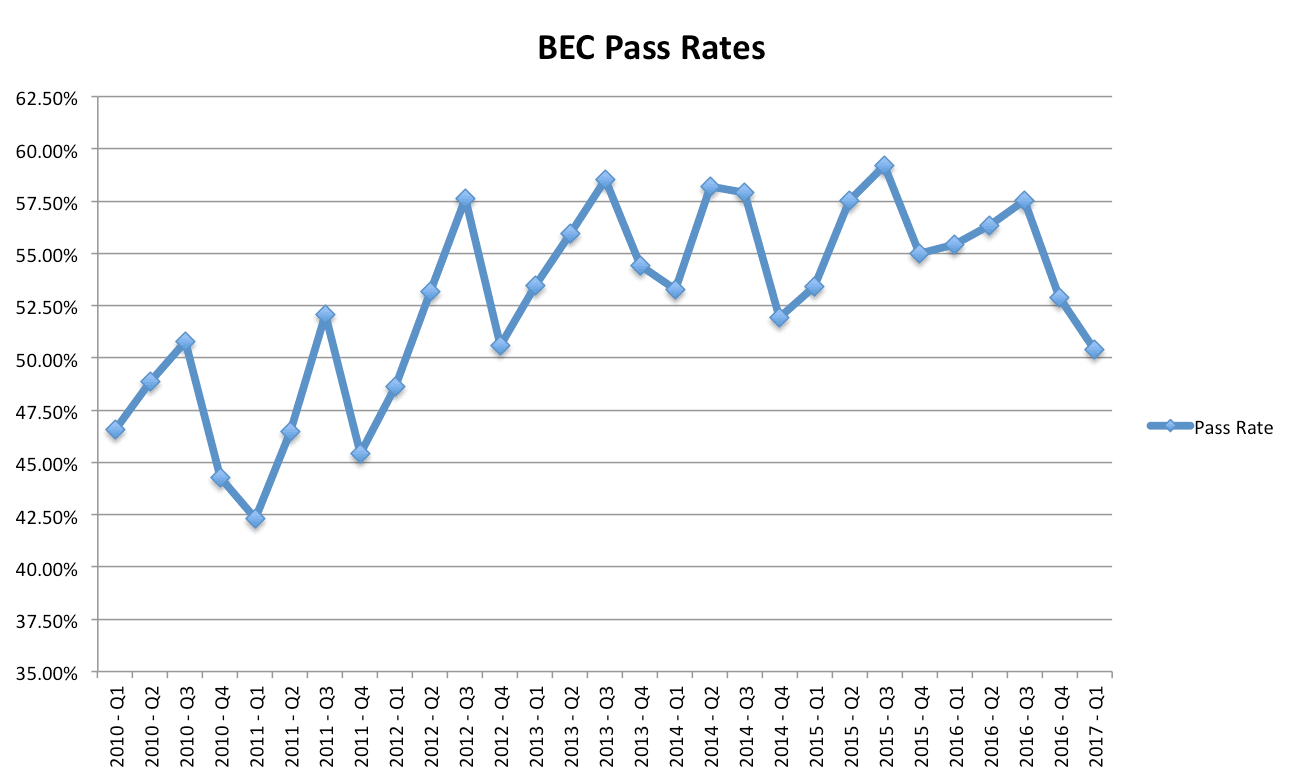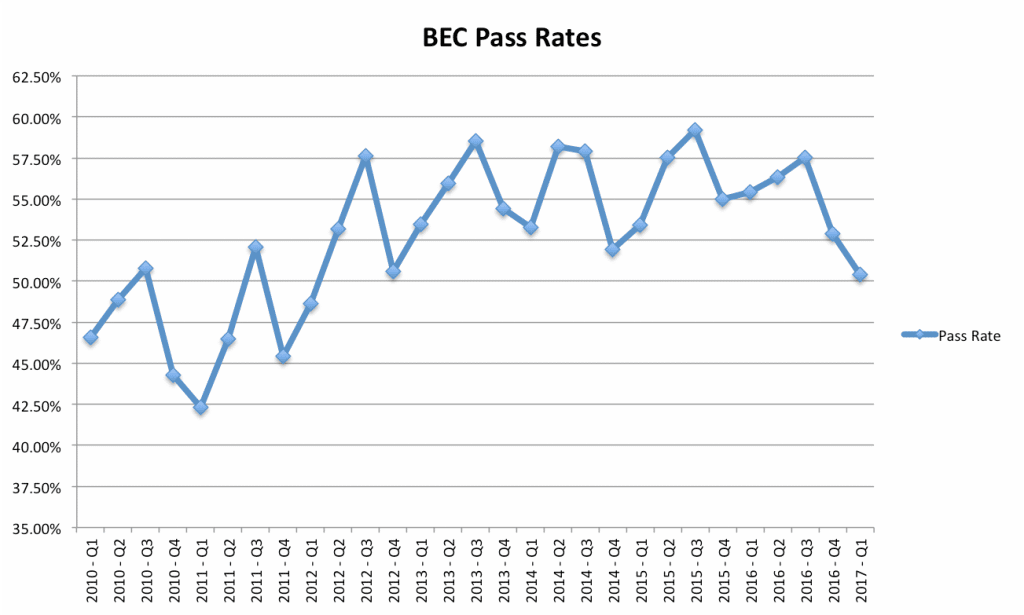 historiquement, la section d'examen de CPA BEC a été l'une des parties que les candidats ACP effectuent les plus bas. Dans 2005, le taux de réussite était seulement 43 pour cent. Il a toujours augmenté depuis à un sommet de 50 pour cent en 2015.
Cette tendance signifie soit cette section devient plus facile ou les candidats sont mieux préparés pour la partie d'écriture qu'ils ont été dans le passé. Cette information est publiée par le AICPA.
---
BEC Conseils d'étude d'examen de l'ACP
Ne négligez pas BEC: Too many candidates go into their BEC exam and hear that it's easy, so they don't treat it with respect. Don't make this mistake. BEC is still a beast and you still have to properly prepare for it. Put the time in!
Work On Your Writing Skills: The written communication section on BEC isn't difficult, you just have to be a competent writer. Practice your writing skills by writing professional business letters, emails, and memos. Allez dans votre guide d'étude et de regarder les sujets d'examen, ils recommandent étudier. Ecrire des exemples d'articles sur ces sujets. Rappelles toi, la section écrite n'a pas été conçu pour vous de qualité sur votre connaissance du sujet. Il est conçu pour vous sur vos qualité compétences en communication et la capacité d'écrire des pensées de manière cohérente. Vous pouvez obtenir le concept tout à fait faux et encore faire bien sur si vous pouvez écrire.
Practice Financial Modeling and Economics: Both of these topics play a big role in BEC and don't really show up on other exams. Learn the financial ratios, what they mean, and how to use them. Également, brush up on your Econ 101 et 102. You will need to know the basics fluently.
Practice MCQs to Death: Keep working through your MCQs in your CPA review course. This is the best practice you can get. Do as many as possible.
---
Should I Take BEC First?
Généralement, I would recommend not taking BEC first. Although this is the shortest exam, you are better off taking a different exam first. Voici un article complet sur les qui examen CPA pour prendre la première.
---
Dois-je prendre BEC Dernière?
Depuis BEC est pas étroitement lié aux autres examens, ce serait un bon examen pour prendre la dernière. Bien que ce n'est pas un examen facile par tout moyen, de nombreux candidats disent qu'il est le plus facile de quatre. Alors, ce serait une bonne façon de terminer votre voyage à l'examen de CPA. Terminer en force avec BEC. 🙂
---
Qui est BEC Pour Easiest?
The BEC section tends to be easier for individuals who have experience working with others and are familiar with economic formulas/ratios. It's recommended to study for about 50-70 hours to pass this exam.
If you are experienced in business writing, you will probably have an easier time with this section. Par exemple, if you've written many professional emails, memos, and audit papers, you should be fine of the writing section.
---
Who is BEC Hardest For?
The BEC has a reputation of being the easier section of the exam, but don't underestimate it. It's a BEAST. Candidates who blow BEC off tend to have the hardest time with it. Put some Respek on BEC!
This section is most difficult for people who don't have a firm grasp on economic concepts and managerial accounting fundamentals. It's also difficult for people who are good writers and have horrible grammar. Practice up!
---
Other CPA Exam Sections
---
Do You have the Right CPA Review Course?
Have you started studying yet or did you fail BEC once? D'une manière ou d'une autre, you'll need a review course that actually works for you and matches your learning style. Je comparais tous les côte à côte haut cours, de sorte que vous pouvez voir que l'on est bon pour vous. Vérifiez-le.