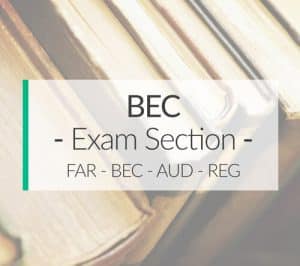 De BEC CPA eksamen section stands for Business Environment and Concepts. Out of the four sections that comprise the Certified Public Accountant certification exam, it's the one that evaluates a candidates' comprehension of responsibility and professional duty. dêrfandinne, understanding management, principle economic concepts, corporate governance, and Informational Technology (IT) is crucial to mastery.
It examines the test-takers' ability to identify and analyze situations that call upon his knowledge of ethics and the underlying implications/reasoning behind transactions. Let's look at the details of the BEC section of the CPA exam and what you need to know in order to pass it!
Sjoch de Top CPA Review Kursussen
View All
What's on the BEC CPA Exam Section?
---
How Long is the BEC CPA Exam Section?
BEC is a 4-hour exam.
---
BEC Topic Areas & Concepts Tested
Corporate Governance: 17% – 27% – these topics include how an entity or enterprise is controlled and how the management framework operates, how various management role differ from one another, knowing what an audit committee is and understand the influence of stakeholders. You should also be familiar with general provisions an entity is expected to follow.
Economic Concepts and Analysis: 17% – 27% – topics like inflation, interest, deflation, and foreign exchange rates. Dêrneist, you should also know how these topics affect businesses.
Financial Modeling and Management: 11% – 21% – materials covered in this section may include financing, creating models, loans, and calculating statements of value.
Information Technology: 15% – 25% – including communications and the role of IT in recovery and maintaining consistency/continuity.
Operations Management: 15% – 25% – which covers things like cost accounting and variance analysis.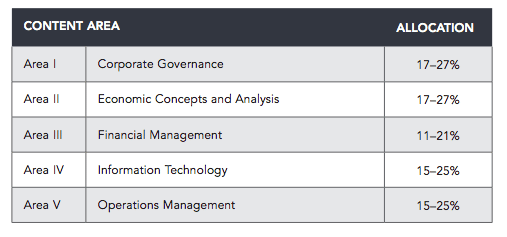 BEC CPA Exam Format and Structure
BEC starts with 2 MCQ testlets. Each testlet has 31 exam questions. Next, the third testlet includes two taak-based simulaasjes. After you've made it through the first three testlets, you will be given a 15-minute break. Utilizing the break is recommended but not mandatory and it will not count against the candidates' time. After the break, another 2-question testlet is given followed by a testlet with 3 tasks involving work communication.
BEC Exam Section Structure
| BEC Exam Section | 2016 CPA Exam | 2017 CPA Exam |
| --- | --- | --- |
| Multiple-Choice Questions | 72 | 62 |
| Taak-Based simulaasjesScreen saver category | 0 | 4 |
| Written Communication | 3 | 3 |
BEC Exam Section Format
| Testlets | Question Sets |
| --- | --- |
| Testlet #1 | 31 Multiple-Choice Questions |
| Testlet #2 | 31 Multiple-Choice Questions |
| Testlet #3 | 2 Taak-Based simulaasjesScreen saver category |
| Testlet #4 | 2 Taak-Based simulaasjesScreen saver category |
| Testlet #5 | 3 Written Communication |
Like the AUD section, the first MCQ testlet will be of moderate or medium difficulty with the next MCQ testlet being of equal or higher intensity. lykwols, it should be noted that submitted testlets can't be reviewed.
BEC CPA Tip: A good strategy is to review all your answers in each testlet before you submit them. After that, there's no going back.
---
Get Discounts On CPA Review Courses!
---
Multiple-Choice Questions
How many BEC Multiple-choice Questions are There? The multiple choice questions are divided into 2 testlets. Each testlet is comprised of 31 questions, making a total of 62. Meardere-kar fragen wurde allinne jûn credit as korrekt, wearden fan goede antwurd berik fan heech nei leech, mei lege wêzen fan de minste wearde, ôfhinklik fan de relative probleem fan 'e fraach frege. 50 fan de 62 fragen binne operasjoneel wylst de oerbliuwende 12 binne pretest.
BEC CPA Tip: Neidat joust dyn MCQ testlet, tink net oer harren gjin mear. It net dwaan jo gjin goede oan de twadde rieden antwurden dy't jo hawwe al yntsjinne en kinne net feroarje.
---
Taak-Based simulaasjesScreen saver category
Hoefolle BEC Taak-Based simulaasjesScreen saver category binne der? Der binne 4 taak-based simulaasjes mei 3 wurk kommunikaasje (WCs) basearre taken. 3 fan it opjefte-basearre simulaasjes binne operasjoneel en 1 is pretest. Foar de WCs, 2 binne operasjoneel en 1 is pretest.
---
Testlet en Neispylje Time Length
Kandidaten kinne allocate harren tiid de wize sy sjogge fit, mar it wurdt suggerearre dat oer 30-40 minúten wurde tawiisd per MCQ testlet en rûnom 2 oeren foar de simulaasjes. In simulaasje gewoanwei ropt kandidaten te foltôgjen oant 7 taken mei help fan ynformaasje jûn wylst in skriftlike kommunikaasje simulaasje hat in kandidaat compose in berjocht mei help compliant taal, wurden en grammatika korrekt en profesjoneel.
Gauge dyn feardigens set en it past jo tiid accordingly.
---
Hoe is it BEC CPA Exam Seksje woegen en graded?
De MCQs telle foar de helte fan in test-Takers graad. De TBSs en it wurk kommunikaasje diel inoar ha up 'e oare helte fan' e klasse. De measte simulaasjes en Wurk Communications wurde graded fia kompjûter troch spesjale software oan 'e basis fan struktuer of hoe't ideeën binne ynrjochte, ûntwikkeling of hoe't de kandidaat brûkt bewiis en foarbylden, en ekspresje of hoe well Ingelsk yn in saaklike ferbân wurdt brûkt as letters, ynterpunksje, en stavering.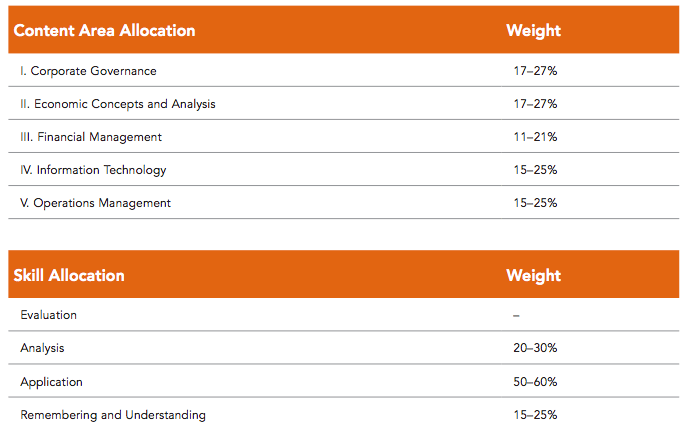 ---
MCQ en Simulaasje grading Persintaazje
Wat Persintaazje fan it Grade jûn wurdt oan MCQ en simulaasjesScreen saver category? Koartsein, 50% fan 'e klasse komt út it MCQs, 35% komt út it TBSs, en de 15% oerbleaune heart ta de WCs.
Exam Section
2016 CPA Exam
2017 CPA Exam
AUD
60% MCQ
40% TBS
50% MCQ
50% TBS
BEC
85% MCQ
15% WC
50% MCQ
35% TBS
15% WC
FIER
60% MCQ
40% TBS
50% MCQ
50% TBS
REG
60% MCQ
40% TBS
50% MCQ
50% TBS
---
BEC Exam Pass Rates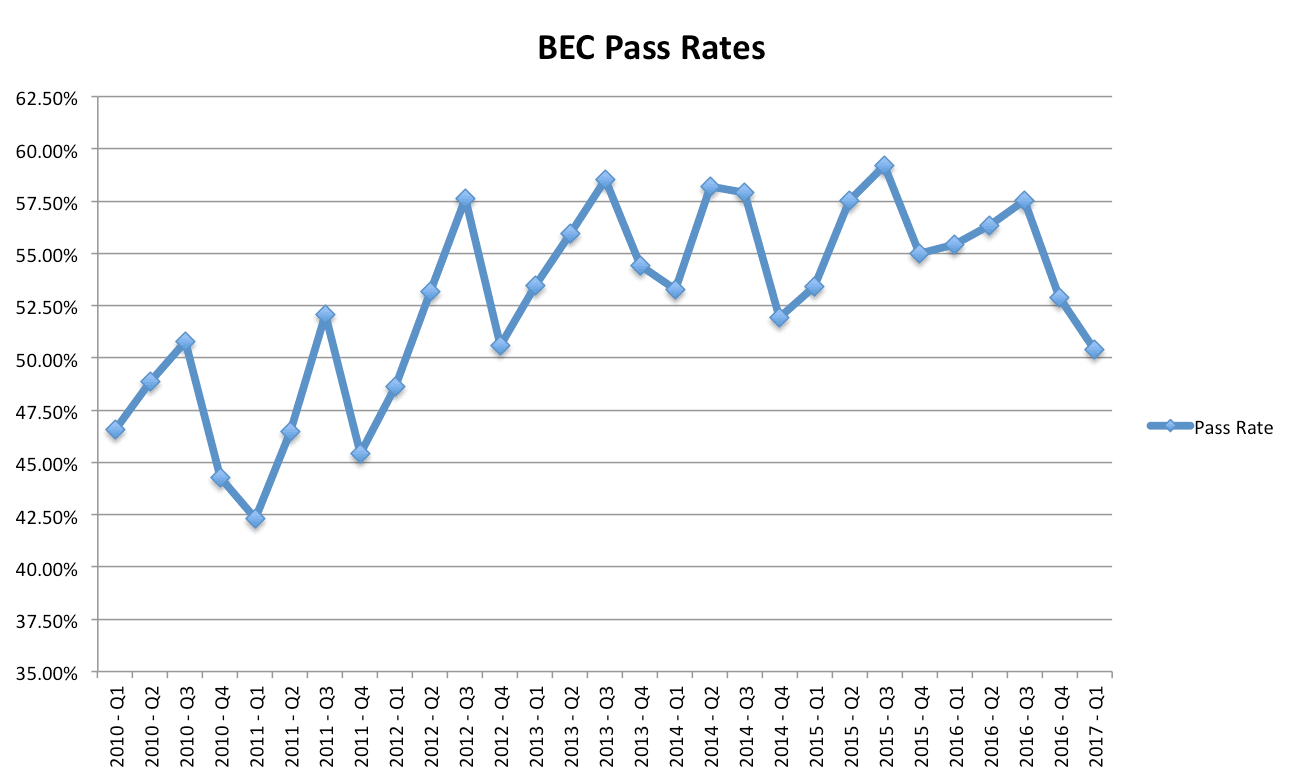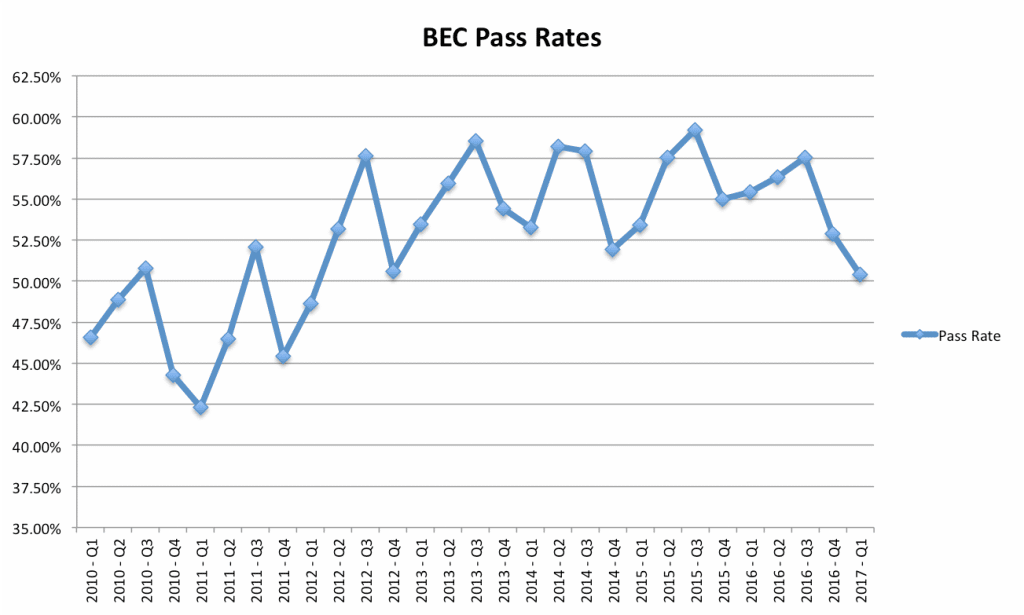 histoarysk, de BEC CPA exam seksje is ien fan de ûnderdielen dy't CPA kandidaten útfiere de leechste op. Yn 2005, de pas rate wie mar 43 prosint. It hat konsekwint omheech gien sûnt dan ta in hichtepunt fan 50 prosint yn 2015.
Dizze trend beide betsjut dizze paragraaf wurdt hieltyd makliker of kandidaten binne better taret op it skriuwen diel as se west hawwe yn it ferline. Dit info wurdt publisearre troch de AICPA.
---
BEC CPA Exam Study Tips
Net ûnderskatte BEC: Too many candidates go into their BEC exam and hear that it's easy, so they don't treat it with respect. Don't make this mistake. BEC is still a beast and you still have to properly prepare for it. Put the time in!
Work On Your Writing Skills: The written communication section on BEC isn't difficult, you just have to be a competent writer. Practice your writing skills by writing professional business letters, emails, and memos. Gean troch dyn stúdzje gids en sjoch nei de eksamen ûnderwerpen dy't se riede studearje. Write Sample artikels oer dizze ûnderwerpen. Heuge, de skriftlike diel is net ûntwurpen om graad jo op jo kennis fan it ûnderwerp. It is ûntwurpen om graad jo op jo kommunikative feardichheden en mooglikheid te skriuwen tinzen coherently. Jo krije koe it konsept folslein ferkeard en noch dogge it goed op it allinne as kinst skriuwe.
Practice Financial Modeling and Economics: Both of these topics play a big role in BEC and don't really show up on other exams. Learn the financial ratios, what they mean, and how to use them. Ek, brush up on your Econ 101 en 102. You will need to know the basics fluently.
Practice MCQs to Death: Keep working through your MCQs in your CPA review course. This is the best practice you can get. Do as many as possible.
---
Should I Take BEC First?
Meastal, I would recommend not taking BEC first. Although this is the shortest exam, you are better off taking a different exam first. Hjir is in folsleine artikel oer hokker CPA eksamen te nimmen earst.
---
Scoe ik Take BEC Last?
Sûnt BEC is net nau besibbe oan de oare eksamens, dat soe in goede eksamen te nimmen lêst. Hoewol't it is gjin maklike eksamen troch alle middels, soad kandidaten sizze dat it de maklikste út fan 'e fjouwer. Sa, dat soe in goede wize om te wrap up jo CPA exam reis. Finish out sterk mei BEC. 🙂
---
Wa is BEC maklikst Foar?
The BEC section tends to be easier for individuals who have experience working with others and are familiar with economic formulas/ratios. It's recommended to study for about 50-70 hours to pass this exam.
If you are experienced in business writing, you will probably have an easier time with this section. Bygelyks, if you've written many professional emails, memos, and audit papers, you should be fine of the writing section.
---
Who is BEC Hardest For?
The BEC has a reputation of being the easier section of the exam, but don't underestimate it. It's a BEAST. Candidates who blow BEC off tend to have the hardest time with it. Put some Respek on BEC!
This section is most difficult for people who don't have a firm grasp on economic concepts and managerial accounting fundamentals. It's also difficult for people who are good writers and have horrible grammar. Practice up!
---
Other CPA Exam Sections
---
Do You have the Right CPA Review Course?
Have you started studying yet or did you fail BEC once? beide wei, you'll need a review course that actually works for you and matches your learning style. I compared all of the top courses side-by-side, so you can see which one is right for you. Besjoch it.