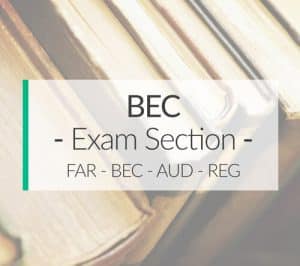 جي BEC CPA exam section stands for Business Environment and Concepts. Out of the four sections that comprise the Certified Public Accountant certification exam, it's the one that evaluates a candidates' comprehension of responsibility and professional duty. انهيء, understanding management, principle economic concepts, corporate governance, and Informational Technology (IT) is crucial to mastery.
It examines the test-takers' ability to identify and analyze situations that call upon his knowledge of ethics and the underlying implications/reasoning behind transactions. Let's look at the details of the BEC section of the CPA exam and what you need to know in order to pass it!
What's on the BEC CPA Exam Section?
---
How Long is the BEC CPA Exam Section?
BEC is a 4-hour exam.
---
BEC Topic Areas & Concepts Tested
Corporate Governance: 17% – 27% – these topics include how an entity or enterprise is controlled and how the management framework operates, how various management role differ from one another, knowing what an audit committee is and understand the influence of stakeholders. You should also be familiar with general provisions an entity is expected to follow.
Economic Concepts and Analysis: 17% – 27% – topics like inflation, interest, deflation, and foreign exchange rates. اضافي, you should also know how these topics affect businesses.
Financial Modeling and Management: 11% – 21% – materials covered in this section may include financing, creating models, loans, and calculating statements of value.
Information Technology: 15% – 25% – including communications and the role of IT in recovery and maintaining consistency/continuity.
Operations Management: 15% – 25% – which covers things like cost accounting and variance analysis.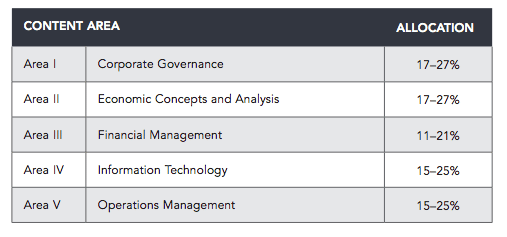 BEC CPA Exam Format and Structure
BEC starts with 2 MCQ testlets. Each testlet has 31 exam questions. Next, the third testlet includes two ڪم جي بنياد تي simulations. After you've made it through the first three testlets, you will be given a 15-minute break. Utilizing the break is recommended but not mandatory and it will not count against the candidates' time. After the break, another 2-question testlet is given followed by a testlet with 3 tasks involving work communication.
BEC Exam Section Structure
| BEC Exam Section | 2016 CPA Exam | 2017 CPA Exam |
| --- | --- | --- |
| Multiple-Choice Questions | 72 | 62 |
| ڪم جي بنياد Simulations | 0 | 4 |
| Written Communication | 3 | 3 |
BEC Exam Section Format
| Testlets | Question Sets |
| --- | --- |
| Testlet #1 | 31 Multiple-Choice Questions |
| Testlet #2 | 31 Multiple-Choice Questions |
| Testlet #3 | 2 ڪم جي بنياد Simulations |
| Testlet #4 | 2 ڪم جي بنياد Simulations |
| Testlet #5 | 3 Written Communication |
Like the AUD section, the first MCQ testlet will be of moderate or medium difficulty with the next MCQ testlet being of equal or higher intensity. تنهن هوندي به, it should be noted that submitted testlets can't be reviewed.
BEC CPA Tip: A good strategy is to review all your answers in each testlet before you submit them. After that, there's no going back.
---
Get Discounts On CPA Review Courses!
---
Multiple-Choice Questions
How many BEC Multiple-choice Questions are There? The multiple choice questions are divided into 2 testlets. Each testlet is comprised of 31 questions, making a total of 62. گھڻن-پسند سوال صرف تڏهن صحيح ڪريڊٽ ڏنو آهي, اعلي کان گهٽ ڪرڻ صحيح جواب حد جي انهيء, جي گهٽ ۾ گهٽ قيمت جي گهٽ رهيو سان, سوال پڇيو جي مائٽ اوکائي تي مدار. 50 جو 62 سوال عملي، جڏهن ته سنڌ جي باقي آهن 12 pretest آهن.
BEC CPA Tip: توهان پنهنجي MCQ testlet جميع کان پوء, انھن جي باري ۾ ڪنهن به وڌيڪ خيال نه ڪندا آھن. ان کي توهان ٻيو گمان جواب آهي ته توهان کي اڳ ۾ پيش ڪيو آهي ۽ تبديلي نه ٿا ڪري سگهو کي ڪا چڱائي نه ڪندو.
---
ڪم جي بنياد Simulations
ڪيترا BEC ٽاسڪ بنيادن Simulations نه آهي? هتي آهن 4 سان ڪم جي بنياد تي simulations 3 ڪم رابطي (WCs) ٻڌل ڪمن. 3 هن ڪم جي بنياد تي simulations جي عملي آهي ۽ 1 pretest آهي. جي WCs لاء, 2 عملي آهي ۽ 1 pretest آهي.
---
Testlet ۽ نقلي وقت ڊگھائي
اميدوارن کي سندن وقت جي واٽ انھن مناسب ڏسڻ مختص ڪري سگهو ٿا, پر اها تجويز آهي ته جي باري ۾ 30-40 منٽ MCQ testlet رپيا ۽ آس پاس ڪئي وڃي 2 جي simulations لاء ڪلاڪ. اميدوارن کي مٿي کي مڪمل ڪرڻ لاء هڪ نقلي عام طور سڏي 7 روزي، جڏهن ته هڪ لکيل رابطي نقلي هڪ اميدوار هڪ پيغام compliant ٻولي استعمال ڪري لکو اٿس معلومات کي استعمال ڪندي ڪمن, لفظن ۽ گرامر صحيح ۽ professionally.
توهان ڪاريگر مقرر مفاصلو ۽ ان مطابق پنهنجي وقت مناسب.
---
ڪيئن BEC پي جو امتحان سيڪشن Weighted ۽ Graded آهي?
هن MCQs هڪ امتحان-حرام گريڊ جي اڌ تائين شمار. هن TBSs ۽ ڪم رابطي حصو هر جي گريڊ جي ٻئي اڌ مٿي ڪر. گهڻو ڪري simulations ۽ ڪم گفتگو جي جوڙجڪ جي بنياد تي خاص سافٽ ويئر جي ڪمپيوٽر ذريعي graded آهن يا ڪيئن خيالن جو پڪو ارادو آهن, ترقي يا ڪيئن اميدوار دليل ۽ مثال استعمال, ۽ جذبي يا ڪيئن چڱي انگريزي هڪ ڪاروباري سلسلي ۾ capitalization طرح استعمال ڪيو ويندو آهي, اوقاف, ۽ هجي.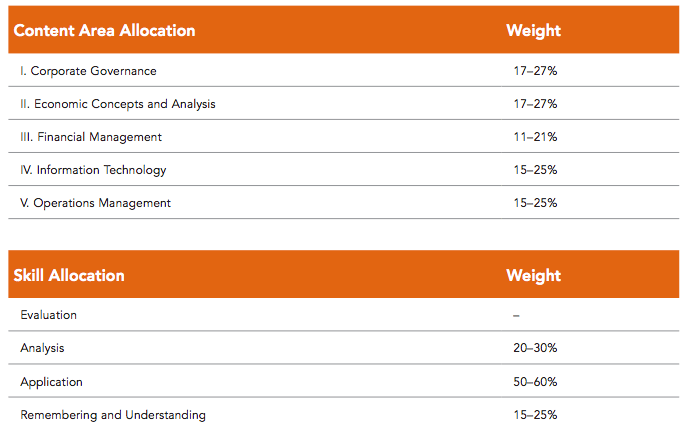 ---
MCQ ۽ نقلي Grading في سيڪڙو
MCQ ۽ Simulations کي گريڊ جي ڇا في سيڪڙو ڏنو آهي? مختصر ۾, 50% جي گريڊ جي MCQs کان اچي, 35% جي TBSs کان اچي, ۽ 15% باقي جي WCs سان تعلق رکي ٿو.
Exam Section
2016 CPA Exam
2017 CPA Exam
AUD
60% MCQ
40% TBS
50% MCQ
50% TBS
BEC
85% MCQ
15% WC
50% MCQ
35% TBS
15% WC
پري
60% MCQ
40% TBS
50% MCQ
50% TBS
REG
60% MCQ
40% TBS
50% MCQ
50% TBS
---
BEC جو امتحان پاس قيمتون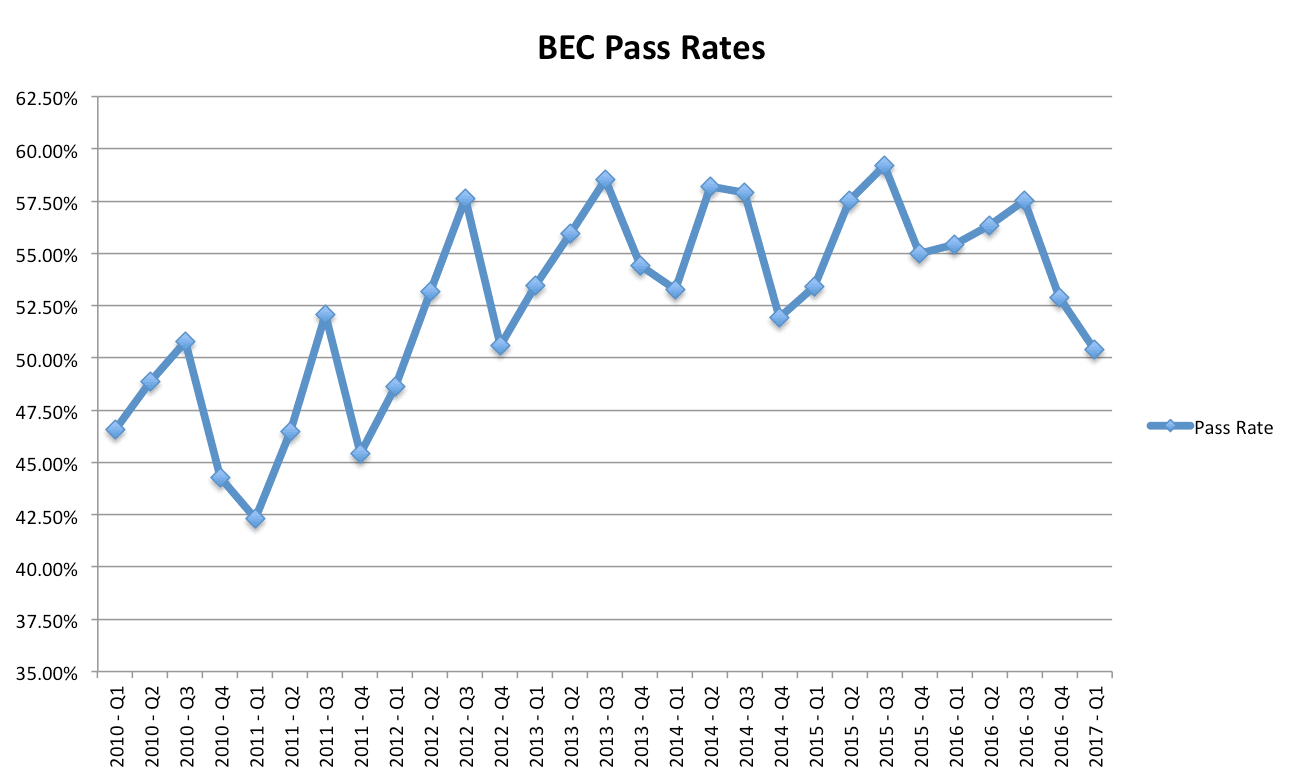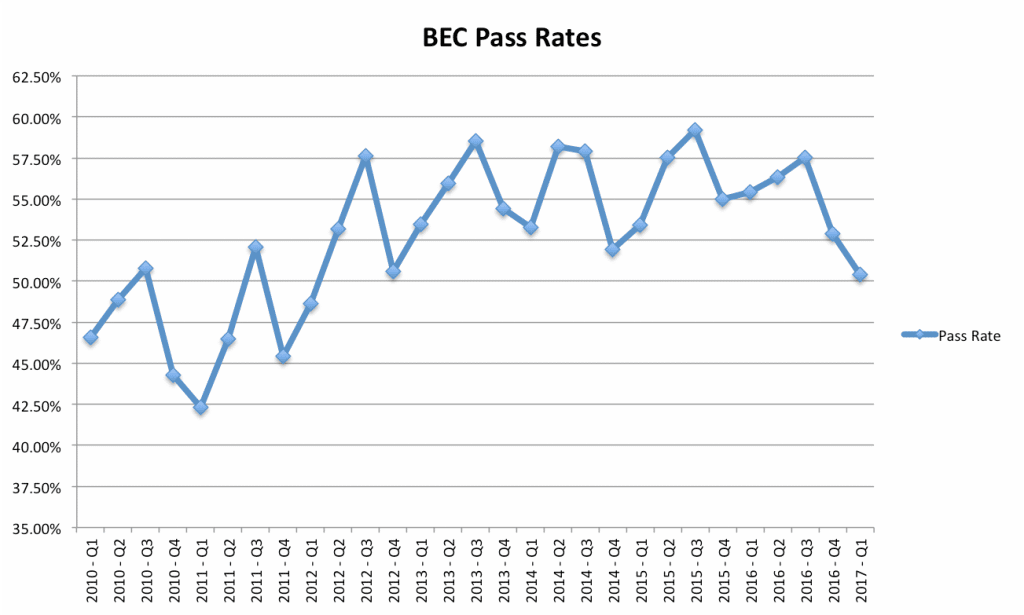 تاريخي, جي BEC پي جو امتحان حصي جو سڪندر آهي ته پي اميدوار تي جڙندڙ انجام جي هڪ ڪئي وئي آهي. ع ۾ 2005, جي لڪ جي شرح فقط هو 43 سيڪڙو. ان کي مسلسل جي انتها ڪري ان کان پوء وڌيو آهي 50 ۾ سيڪڙو 2015.
اهو رجحان جو مطلب آهي يا هن حصي ۾ پهچ حاصل آهي يا اميدوارن کي بهتر لکڻ حصو لاء تيار جي ڀيٽ ۾ اهي ماضي ۾ ٿي چڪا آهن آهن. هيء ڄاڻ جي طرفان شايع ٿيل آهي AICPA.
---
BEC پي جو امتحان Study طريقه
BEC Underestimate نه ڪريو: Too many candidates go into their BEC exam and hear that it's easy, so they don't treat it with respect. Don't make this mistake. BEC is still a beast and you still have to properly prepare for it. Put the time in!
Work On Your Writing Skills: The written communication section on BEC isn't difficult, you just have to be a competent writer. Practice your writing skills by writing professional business letters, emails, and memos. توهان جي مطالعي جو گائيڊ ذريعي وڃو ۽ امتحان موضوع اھي زير تعليم صلاح تي نظر. انهن مضمونن جي باري ۾ جوڙيل مضمون لکڻ. ياد, جي لکيل سيڪشن جي موضوع جي پنهنجي علم تي اوھان کي گريڊ ڪرڻ لاء ٺهيل نه آهي. اهو سوچون coherently لکڻ لاء پنهنجي رابطي صلاحيتن ۽ صلاحيت تي اوھان کي گريڊ ڪرڻ لاء ٺهيل آهي. توهان جو تصور سراسر غلط حاصل ڪري ۽ اڃا به جيڪڏهن توهان لکڻ ڪري سگهو ٿا ان تي چڱي طرح ڪندا سگهي.
Practice Financial Modeling and Economics: Both of these topics play a big role in BEC and don't really show up on other exams. Learn the financial ratios, what they mean, and how to use them. به, brush up on your Econ 101 ۽ 102. You will need to know the basics fluently.
Practice MCQs to Death: Keep working through your MCQs in your CPA review course. This is the best practice you can get. Do as many as possible.
---
Should I Take BEC First?
Generally, I would recommend not taking BEC first. Although this is the shortest exam, you are better off taking a different exam first. Here's a full article about which CPA exam to take first.
---
Should I Take BEC Last?
Since BEC is not closely related to the other exams, this would be a good exam to take last. Although it's not an easy exam by any means, many candidates say that it is the easiest out of the four. پوء, this would be a good way to wrap up your CPA exam journey. Finish out strong with BEC. 🙂
---
Who is BEC Easiest For?
The BEC section tends to be easier for individuals who have experience working with others and are familiar with economic formulas/ratios. It's recommended to study for about 50-70 hours to pass this exam.
If you are experienced in business writing, you will probably have an easier time with this section. مثال طور, if you've written many professional emails, memos, and audit papers, you should be fine of the writing section.
---
Who is BEC Hardest For?
The BEC has a reputation of being the easier section of the exam, but don't underestimate it. It's a BEAST. Candidates who blow BEC off tend to have the hardest time with it. Put some Respek on BEC!
This section is most difficult for people who don't have a firm grasp on economic concepts and managerial accounting fundamentals. It's also difficult for people who are good writers and have horrible grammar. Practice up!
---
Other CPA Exam Sections
---
Do You have the Right CPA Review Course?
Have you started studying yet or did you fail BEC once? يا رستو, you'll need a review course that actually works for you and matches your learning style. I compared all of the top courses side-by-side, so you can see which one is right for you. چڪاس ڪريو.