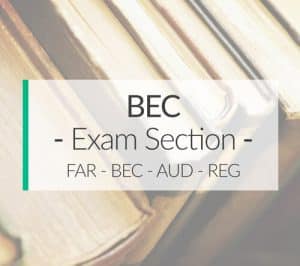 The BEC CPA tlhatlhobo section stands for Business Environment and Concepts. Out of the four sections that comprise the Certified Public Accountant certification exam, it's the one that evaluates a candidates' comprehension of responsibility and professional duty. Kahoo, understanding management, principle economic concepts, corporate governance, and Informational Technology (IT) is crucial to mastery.
It examines the test-takers' ability to identify and analyze situations that call upon his knowledge of ethics and the underlying implications/reasoning behind transactions. Let's look at the details of the BEC section of the CPA exam and what you need to know in order to pass it!
What's on the BEC CPA Exam Section?
---
How Long is the BEC CPA Exam Section?
BEC is a 4-hour exam.
---
BEC Topic Areas & Concepts Tested
Governance Corporate: 17% – 27% – these topics include how an entity or enterprise is controlled and how the management framework operates, how various management role differ from one another, knowing what an audit committee is and understand the influence of stakeholders. You should also be familiar with general provisions an entity is expected to follow.
Likhopolo moruo le Analysis: 17% – 27% – topics like inflation, thahasellong ea, deflation, and foreign exchange rates. Ho phaella moo, you should also know how these topics affect businesses.
Financial Modeling and Management: 11% – 21% – materials covered in this section may include financing, creating models, loans, and calculating statements of value.
Mahlale a likomporo: 15% – 25% – including communications and the role of IT in recovery and maintaining consistency/continuity.
tshebetso Management: 15% – 25% – which covers things like cost accounting and variance analysis.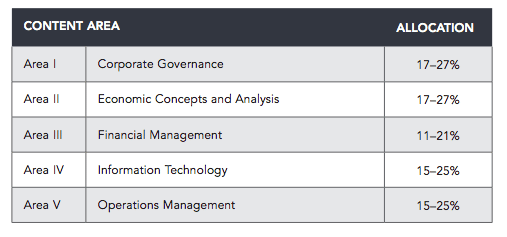 BEC CPA Exam Format and Structure
BEC starts with 2 MCQ testlets. Each testlet has 31 exam questions. Next, the third testlet includes two simulations mosebetsi thehiloeng. After you've made it through the first three testlets, you will be given a 15-minute break. Utilizing the break is recommended but not mandatory and it will not count against the candidates' time. After the break, another 2-question testlet is given followed by a testlet with 3 tasks involving work communication.
BEC Exam Section Structure
| BEC Exam Section | 2016 CPA Exam | 2017 CPA Exam |
| --- | --- | --- |
| Multiple-Choice Questions | 72 | 62 |
| Simulations mosebetsi-Thehiloe | 0 | 4 |
| Written Communication | 3 | 3 |
BEC Exam Section Format
| Testlets | Question Sets |
| --- | --- |
| Testlet #1 | 31 Multiple-Choice Questions |
| Testlet #2 | 31 Multiple-Choice Questions |
| Testlet #3 | 2 Simulations mosebetsi-Thehiloe |
| Testlet #4 | 2 Simulations mosebetsi-Thehiloe |
| Testlet #5 | 3 Written Communication |
Like the AUD section, the first MCQ testlet will be of moderate or medium difficulty with the next MCQ testlet being of equal or higher intensity. Leha ho le joalo, it should be noted that submitted testlets can't be reviewed.
BEC CPA Tip: A good strategy is to review all your answers in each testlet before you submit them. After that, there's no going back.
---
Get Discounts On CPA Review Courses!
---
Multiple-Choice Questions
How many BEC Multiple-choice Questions are There? The multiple choice questions are divided into 2 testlets. Each testlet is comprised of 31 questions, making a total of 62. lipotso tse ngata-ho etsa khetho ba feela fanoeng mokitlane ha nepahetse, melemo ya nepahetseng karabo mengata e fapaneng ho tloha phahameng ho e tlase, le e ntseng e e tlase ya boleng bonyane, ho itšetlehile ka bothata ba ho mong ka potso o ile a botsa. 50 ya 62 lipotso tse tshebetso ha tse setseng 12 ke pretest.
BEC CPA Tip: Mora o fana ka MCQ hao testlet, u se ke ua nahana ka tsona leha e le efe ho feta. Ha ho etsa leha e le efe e ntle ea ho fumana likarabo tsa lipotso bobeli nohe hore o se a ntse a ile a ikokobelletsa le ke ke ra fetola.
---
Simulations mosebetsi-Thehiloe
Kamoo BEC mosebetsi-Thehiloe Simulations ba bangata ba na le? Ho na le 4 mosebetsi e thehiloeng simulations le 3 tlhaeletsao mosebetsi (WCs) mesebetsi thehiloeng. 3 tsa simulations mosebetsi e thehiloeng ke tshebetso le 1 ke pretest. Bakeng sa WCs ho, 2 ke tshebetso le 1 ke pretest.
---
Testlet le ketsiso ya Nako Length
Bonkgetheng ka abelwang karolo ya nako ea bona ka tsela eo ba bonang ho loketse, empa e etsa tlhahiso ea hore ka 30-40 metsotso e ho abelwa ka MCQ testlet le pota 2 lihora tse bakeng sa ho simulations ho. ketsiso A ka tloaelo ka batla bonkgetheng ho tlatsa ho fihlela ho 7 mesebetsi sebelisa boitsebiso bo fanoeng ha e ngotsweng puisano e ntle kamehla ketsiso e nkgetheng ya qape molaetsa sebelisa puo tletlebo, mantsoe le sebōpeho-puo ka nepo le ipabolang.
Hlahlobe tsebo ea hao beha le lokileng nako ea hao e loketseng.
---
Joang BEC CPA tlhatlhobo Karolo Weighted le li lekanngoa?
The MCQs bala bakeng sa halofo ea teko-ya amohelang sehlopheng. The TBSs le mosebetsi le puisano e le kabelo e mong le e etsang halofo e 'ngoe ea sehlopheng sa. simulations fetisisa le Work Communications ba li lekanngoa ka tsela ya khomphuta ya hao ke software e khethehileng ka lebaka la sebopeho kapa kamoo mehopolo ba lokisetsa, ntshetsopeleng kapa kamoo nkgetheng wa sebedisa bopaki le mehlala, le ho hlahisa maikutlo kapa kamoo hantle Senyesemane ka khoebo taba e potolohileng e sebediswa joaloka capitalization, matšoao a puo, le mopeleto.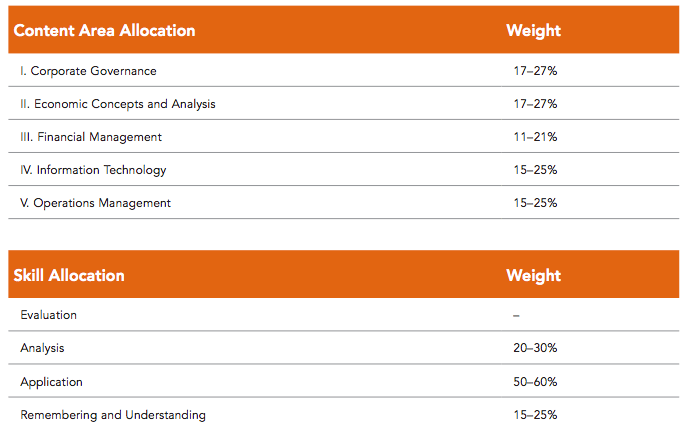 ---
MCQ le ketsiso ya Peresente kereita
Seo Peresente ya Kereiti e Fuoa ho MCQ le Simulations? Ka bokhutšoane, 50% ba sehlopheng tsoa MCQs, 35% tsoa TBSs, le 15% setseng ke ea WCs.
Exam Section
2016 CPA Exam
2017 CPA Exam
AUD
60% MCQ
40% TBS
50% MCQ
50% TBS
BEC
85% MCQ
15% WC
50% MCQ
35% TBS
15% WC
FAR
60% MCQ
40% TBS
50% MCQ
50% TBS
REG
60% MCQ
40% TBS
50% MCQ
50% TBS
---
BEC tlhatlhobo Pass Rates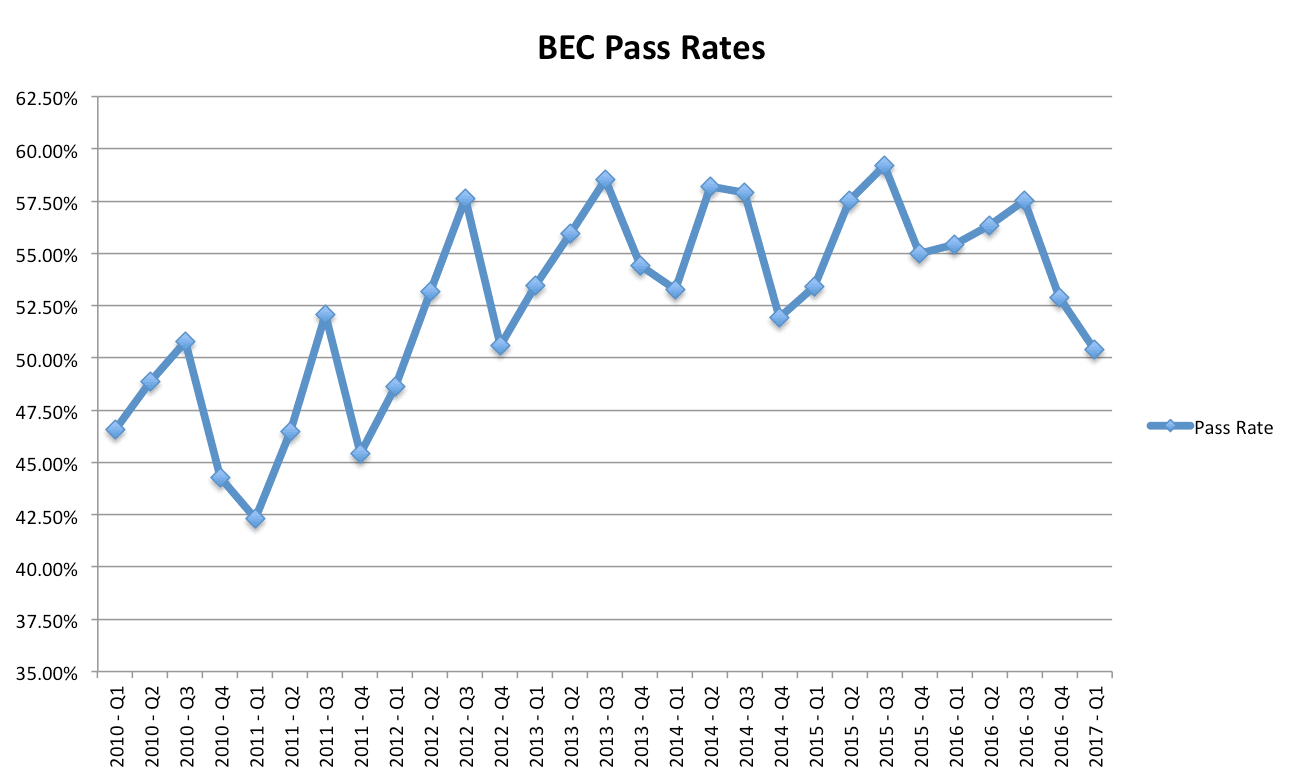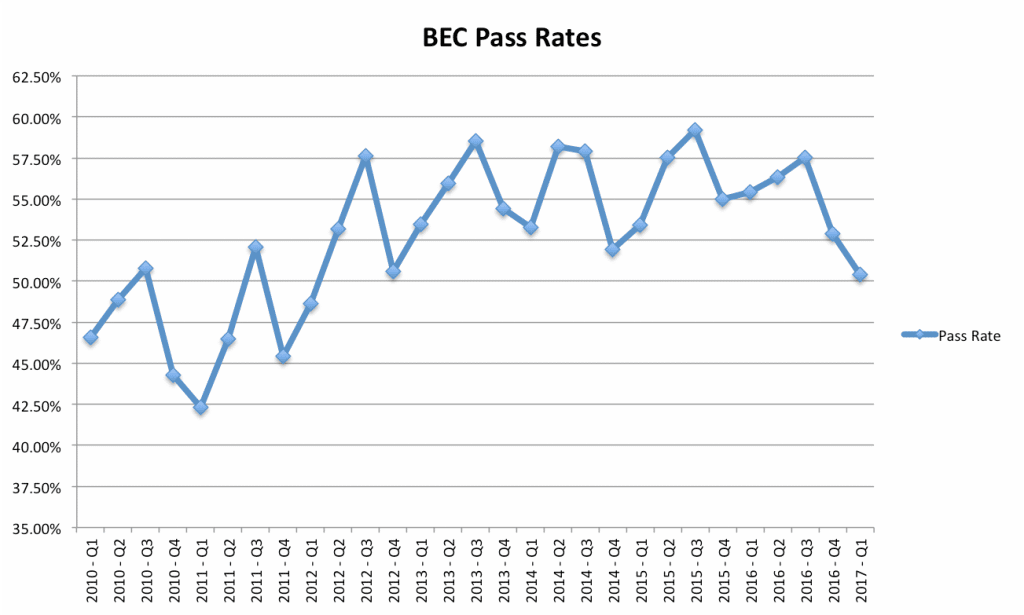 histori, le BEC CPA tlhatlhobo karolo e bile e 'ngoe ea likarolo tseo CPA bonkgetheng phetha ka tlaase-tlaase. ka 2005, Sekhahla fetisetsana ne feela 43 liphesente tse. E feto-fetohe tsohile tloha ka nako eo ho tlhōrō ea 50 ba etsang liphesente tse ka 2015.
Sena tšekamelo ka bolela karolong ena e ho ho le bonolo kapa ho bonkgetheng ba laotsoe bakeng sa ho ngola karolo e itseng ho feta e bile nakong e fetileng. Info ena e hatisitsoeng ke AICPA.
---
BEC CPA tlhatlhobo Tsa Sehlooho se Ithutoang Tips
U se ke ua halala BEC: Too many candidates go into their BEC exam and hear that it's easy, so they don't treat it with respect. Don't make this mistake. BEC is still a beast and you still have to properly prepare for it. Put the time in!
Work On Your Writing Skills: The written communication section on BEC isn't difficult, you just have to be a competent writer. Practice your writing skills by writing professional business letters, emails, and memos. Eya ka ho ithuta tataiso ea hao 'me u shebe ka dihlooho tlhatlhobo ba khothalletsa ho ithuta. Ngola lihlooho tse sampole ka litaba tsena. hopola, le karolo e ngotsweng e sa etselitsoe ho sehlopheng o ka tsebo ea hao ka taba ena. Ho etselitsoe ho sehlopheng o ka tsebo ea hao ea puisano le bokhoni ba ho ngola mehopolo tomagano. U ne u ka fumana ya kgopolo ya ho ka ho feletseng e fosahetseng 'me ho ntse ba etsa hantle ho eona haeba u ka ngola.
Practice Financial Modeling and Economics: Both of these topics play a big role in BEC and don't really show up on other exams. Learn the financial ratios, what they mean, and how to use them. hape, brush up on your Econ 101 le 102. You will need to know the basics fluently.
Practice MCQs to Death: Keep working through your MCQs in your CPA review course. This is the best practice you can get. Do as many as possible.
---
Should I Take BEC First?
Generally, I would recommend not taking BEC first. Although this is the shortest exam, you are better off taking a different exam first. Mona 's sehlooho se tletseng ka eo CPA tlhatlhobo ho nka pele.
---
Na ke Lokela ho Nka BEC Last?
Kaha BEC e sa amanang haufi le litlhahlobo tse ling ho, ena e ne e tla tlhatlhobo le utloahalang la ho nka ho qetela. Le hoja ho se e tlhatlhobo bonolo ka efe kapa efe, bonkgetheng ba bangata ba re hore ke bobebe ho tsoa tse 'nè. kahoo, ena e ne e tla ka tsela e ntle ho qetella leeto CPA tlhatlhobo hao. Qeta ho tsoa matla ka BEC. 🙂
---
Ke mang ea ke BEC bobebe Ka?
The BEC section tends to be easier for individuals who have experience working with others and are familiar with economic formulas/ratios. It's recommended to study for about 50-70 hours to pass this exam.
If you are experienced in business writing, you will probably have an easier time with this section. Mohlala, if you've written many professional emails, memos, and audit papers, you should be fine of the writing section.
---
Who is BEC Hardest For?
The BEC has a reputation of being the easier section of the exam, but don't underestimate it. It's a BEAST. Candidates who blow BEC off tend to have the hardest time with it. Put some Respek on BEC!
This section is most difficult for people who don't have a firm grasp on economic concepts and managerial accounting fundamentals. It's also difficult for people who are good writers and have horrible grammar. Practice up!
---
Other CPA Exam Sections
---
Do You have the Right CPA Review Course?
Have you started studying yet or did you fail BEC once? Leha ho ka ba joang, you'll need a review course that actually works for you and matches your learning style. I compared all of the top courses side-by-side, so you can see which one is right for you. Lekola.