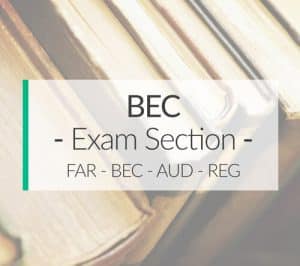 The BEC CPA exam section stands for Business Environment and Concepts. Out of the four sections that comprise the Certified Public Accountant certification exam, it's the one that evaluates a candidates' comprehension of responsibility and professional duty. hivyo, understanding management, principle economic concepts, corporate governance, and Informational Technology (IT) is crucial to mastery.
It examines the test-takers' ability to identify and analyze situations that call upon his knowledge of ethics and the underlying implications/reasoning behind transactions. Let's look at the details of the BEC section of the CPA exam and what you need to know in order to pass it!
What's on the BEC CPA Exam Section?
---
How Long is the BEC CPA Exam Section?
BEC is a 4-hour exam.
---
BEC Topic Areas & Concepts Tested
Corporate Governance: 17% – 27% – these topics include how an entity or enterprise is controlled and how the management framework operates, how various management role differ from one another, knowing what an audit committee is and understand the influence of stakeholders. You should also be familiar with general provisions an entity is expected to follow.
Economic Concepts and Analysis: 17% – 27% – topics like inflation, hamu, deflation, and foreign exchange rates. Zaidi ya hayo, you should also know how these topics affect businesses.
Financial Modeling and Management: 11% – 21% – materials covered in this section may include financing, creating models, loans, and calculating statements of value.
Information Technology: 15% – 25% – including communications and the role of IT in recovery and maintaining consistency/continuity.
Operations Management: 15% – 25% – which covers things like cost accounting and variance analysis.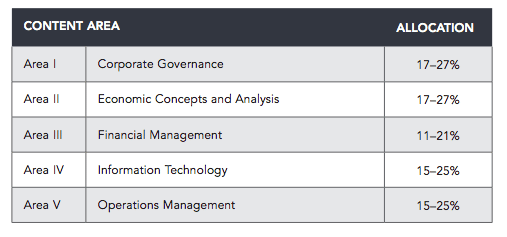 BEC CPA Exam Format and Structure
BEC starts with 2 MCQ testlets. Each testlet has 31 exam questions. Next, the third testlet includes two uigaji kazi makao. After you've made it through the first three testlets, you will be given a 15-minute break. Utilizing the break is recommended but not mandatory and it will not count against the candidates' time. After the break, another 2-question testlet is given followed by a testlet with 3 tasks involving work communication.
BEC Exam Section Structure
| BEC Exam Section | 2016 CPA Exam | 2017 CPA Exam |
| --- | --- | --- |
| Multiple-Choice Questions | 72 | 62 |
| Simuleringar Task-Based | 0 | 4 |
| Written Communication | 3 | 3 |
BEC Exam Section Format
| Testlets | Question Sets |
| --- | --- |
| Testlet #1 | 31 Multiple-Choice Questions |
| Testlet #2 | 31 Multiple-Choice Questions |
| Testlet #3 | 2 Simuleringar Task-Based |
| Testlet #4 | 2 Simuleringar Task-Based |
| Testlet #5 | 3 Written Communication |
Like the AUD section, the first MCQ testlet will be of moderate or medium difficulty with the next MCQ testlet being of equal or higher intensity. Hata hivyo, it should be noted that submitted testlets can't be reviewed.
BEC CPA Tip: A good strategy is to review all your answers in each testlet before you submit them. After that, there's no going back.
---
Get Discounts On CPA Review Courses!
---
Multiple-Choice Questions
How many BEC Multiple-choice Questions are There? The multiple choice questions are divided into 2 testlets. Each testlet is comprised of 31 questions, making a total of 62. maswali mbalimbali-uchaguzi ni kupewa tu mikopo wakati sahihi, thamani za jibu sahihi ni kati ya juu hadi ya chini, kwa kuwa chini ya thamani angalau, kulingana na ugumu wa jamaa ya swali kuulizwa. 50 ya 62 maswali ni kazi kama bado 12 ni pretest.
BEC CPA Tip: Baada ya kuwasilisha MCQ yako testlet, sidhani kuhusu wao tena. Haina kufanya wewe yoyote nzuri ya majibu pili nadhani kuwa tayari kutumwa na hawawezi kubadilisha.
---
Simuleringar Task-Based
Jinsi BEC Task-Based Simuleringar wengi ni pale? Kuna 4 kazi makao uigaji na 3 mawasiliano kazi (WCS) kazi ya msingi. 3 ya uigaji kazi makao ni uendeshaji na 1 ni pretest. Kwa WCS, 2 ni uendeshaji na 1 ni pretest.
---
Testlet na Masimulizi Muda Urefu
Wagombea unaweza kutenga muda wao njia wao kuona inafaa, lakini alipendekeza kuwa karibu 30-40 dakika zilizotengwa kwa MCQ testlet na kuzunguka 2 masaa kwa uigaji. simulation kawaida wito kwa wagombea kukamilisha hadi 7 kazi kwa kutumia taarifa zilizotolewa wakati katika maandishi simulation ina mgombea kutunga ujumbe kwa kutumia lugha inavyotakikana, maneno na sarufi kwa usahihi na kitaaluma.
Kupima ujuzi wako kuweka na sahihi wakati wako ipasavyo.
---
Jinsi ni BEC CPA mtihani Sehemu ya Mizigo na hadhi?
MCQs kuhesabu kwa nusu ya mtihani-takers daraja. TBSs na kazi ya mawasiliano sehemu kutunga nusu nyingine ya daraja. uigaji wengi na Kazi Communications ni hadhi kupitia kompyuta na programu maalum kwa kuzingatia mfumo au jinsi mawazo mpangilio, maendeleo au jinsi mgombea inatumia ushahidi na mifano, na Onyesho au jinsi English katika biashara ya mazingira ni kutumika kama mtaji, uandishi, na herufi.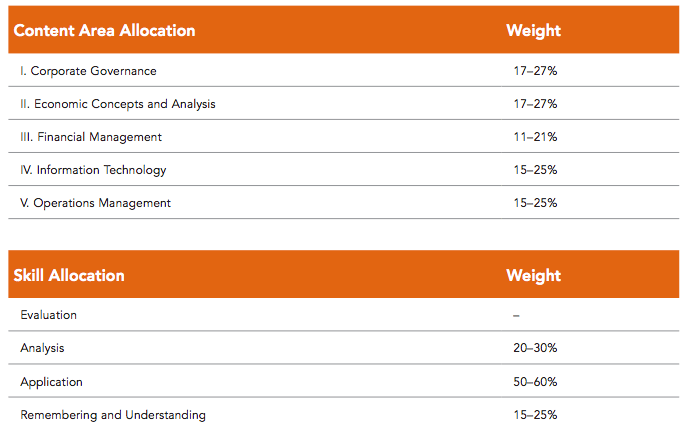 ---
MCQ na Masimulizi Asilimia Grading
Nini Asilimia ya daraja ni Kutokana na MCQ na Simuleringar? Kwa kifupi, 50% ya daraja linatokana MCQs, 35% linatokana na TBSs, na 15% iliyobaki ni ya WCS.
Exam Section
2016 CPA Exam
2017 CPA Exam
AUD
60% MCQ
40% TBS
50% MCQ
50% TBS
BEC
85% MCQ
15% WC
50% MCQ
35% TBS
15% WC
FAR
60% MCQ
40% TBS
50% MCQ
50% TBS
REG
60% MCQ
40% TBS
50% MCQ
50% TBS
---
BEC mtihani Pass Viwango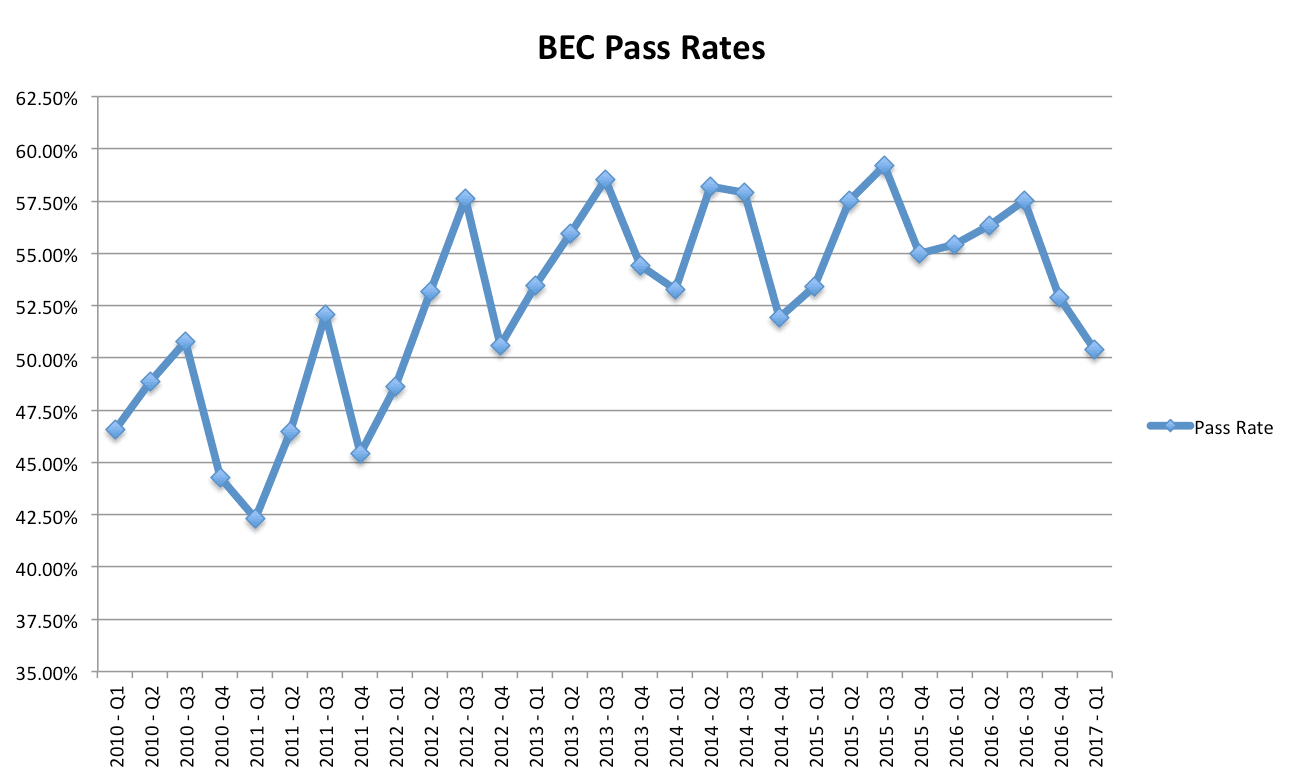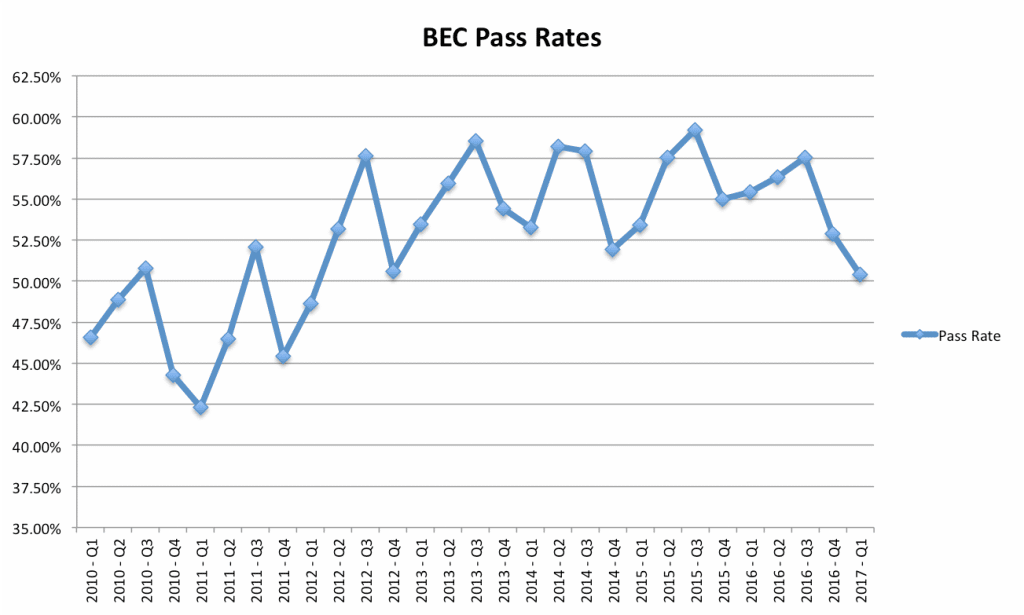 kihistoria, the BEC CPA exam section has been one of the parts that CPA candidates perform the lowest on. In 2005, the pass rate was only 43 percent. It has consistently risen since then to a peak of 50 percent in 2015.
This trend either means this section is getting easier or candidates are better prepared for the writing portion than they have been in the past. This info is published by the AICPA.
---
BEC CPA Exam Study Tips
Don't Underestimate BEC: Too many candidates go into their BEC exam and hear that it's easy, hivyo hawana kutibu kwa heshima. Je, si kufanya makosa haya. BEC bado mnyama na bado una kujiandaa vizuri kwa ajili yake. Kuweka muda katika!
Kazi On Stadi yako Uandishi: katika maandishi sehemu ya BEC si vigumu, wewe tu kuwa na uwezo mwandishi. Mazoezi ya kuandika ujuzi wako kwa kuandika barua ya biashara ya kitaalamu, barua pepe, na memos. Kupitia utafiti mwongozo wako na kuangalia mada ya mtihani wao kupendekeza kusoma. Andika makala sampuli kuhusu mada hizi. Kumbuka, the written section isn't designed to grade you on your knowledge of the subject. It's designed to grade you on your communication skills and ability to write thoughts coherently. You could get the concept totally wrong and still do well on it if you can write.
Practice Financial Modeling and Economics: Both of these topics play a big role in BEC and don't really show up on other exams. Learn the financial ratios, what they mean, and how to use them. pia, brush up on your Econ 101 na 102. Unahitaji kujua misingi ufasaha.
Mazoezi MCQs kwa kifo: Kuendelea kufanya kazi kwa njia ya MCQs yako katika CPA yako Ukaguzi shaka. Hii ni njia bora unaweza kupata. Je wengi iwezekanavyo.
---
Je, mimi kuchukua BEC Kwanza?
Kwa ujumla, Napenda kupendekeza si kuchukua BEC kwanza. Ingawa hii ni mtihani mfupi, wewe ni bora zaidi ya kuchukua mtihani tofauti kwanza. Hapa ni makala kamili juu ya ambayo CPA mtihani wa kuchukua kwanza.
---
Je, mimi kuchukua BEC Mwisho?
Tangu BEC si inahusiana kwa karibu na mitihani mingine, hii itakuwa ni mtihani mzuri wa kuchukua mwisho. Although it's not an easy exam by any means, many candidates say that it is the easiest out of the four. Hivyo, this would be a good way to wrap up your CPA exam journey. Finish out strong with BEC. 🙂
---
Who is BEC Easiest For?
The BEC section tends to be easier for individuals who have experience working with others and are familiar with economic formulas/ratios. It's recommended to study for about 50-70 hours to pass this exam.
If you are experienced in business writing, you will probably have an easier time with this section. For instance, if you've written many professional emails, memos, and audit papers, you should be fine of the writing section.
---
Who is BEC Hardest For?
The BEC has a reputation of being the easier section of the exam, but don't underestimate it. It's a BEAST. Candidates who blow BEC off tend to have the hardest time with it. Put some Respek on BEC!
This section is most difficult for people who don't have a firm grasp on economic concepts and managerial accounting fundamentals. It's also difficult for people who are good writers and have horrible grammar. Practice up!
---
Other CPA Exam Sections
---
Do You have the Right CPA Review Course?
Have you started studying yet or did you fail BEC once? aidha njia, you'll need a review course that actually works for you and matches your learning style. I compared all of the top courses side-by-side, so you can see which one is right for you. Iangalie.