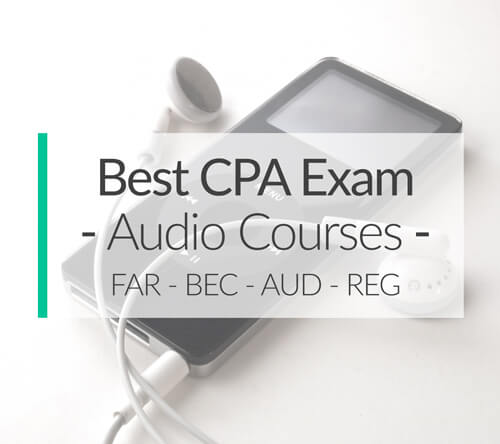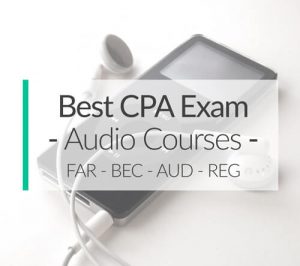 Postoji nekoliko različitih pregled tečajevi CPA koji nude audio predavanja i audio CPA materijale. Ovaj format je velika mogućnost za CPA kandidata koji su u pokretu puno i nemaju tona vremena da sjedi ispred svog računala ili knjige. Stoga, the best CPA learning materials in an audio format allow you to study and do another task at the same time.
Na primjer, možete slušati predavanja na putu na posao za rad ili klase. Možete učitati niz predavanja na telefon i slušati ih dok ste na jog ili radi jednostavne poslove oko kuće. Postoji beskonačan broj načina na koje možete inkorporirati ove lekcije u svojim svakodnevnim aktivnostima. It's unfortunate that not all CPA prep courses offer audio options.
For years, Roger was the only company that offered any type of audio lessons in their course format, but luckily we have more options now. Here's a review of the best Audio CPA study materials.
Pogledajte Top CPA pregled tečajevi
View All
CPA Audio Courses Compared
UWorld Roger CPA Audio Course


The CPA audio review content from UWorld Roger CPA is by far the best and most comprehensive audio study guide on the market. Better yet, it's included with every UWorld Roger course package, so you get it no matter how little you want to pay.
The main reason why it's so good is that Roger's lecture style lends itself so well to the audio format. Roger is energetic and entertaining, which means you'll be motivated to continue your studies day after day.
The UWorld Roger audio lectures are very descriptive and include lots of fine details. Thanks to this, you can understand the topics and concepts without having to reference your study plan for each lecture.
Cijeli Roger audio CPA materijale dolaze u MP3 formatu i može se prenijeti na svoj telefon ili bilo koji mobilni uređaj. stoga, to neograničen pristup znači da ih možete ponijeti bilo gdje sa sobom. Roger nudi tona sati audio predavanja za svaki CPA ispita sekciji, uključujući:
| Exam Section | Hours |
| --- | --- |
| Financijsko računovodstvo i izvješćivanje (DALEKO) | 16 |
| Revizija (AUD) | 9 |
| Regulations (REG) | 11 |
| Poslovno okruženje i koncepti (BEC) | 7 |
Yaeger CPA Audio Course

The Yaeger audio CPA study materials consist of audio lectures that have been adapted from their full CPA review course. Drugim riječima, oni su audio snimke video predavanja uključen puni set materijale.
Ove video predavanja također su sposobni da se audio formatu jer Yaeger instruktori imaju tendenciju da se vrlo detaljno u svojoj lekciji pristupu– pa čak i više od Rogera. Daju tona detalje i objašnjenja o svakoj temi.
Probably the most useful part of these self-study audio lessons is the past CPA review question explanations and examples. Yaeger goes through a few past exam questions in each lesson and explains his thought process behind answering the questions correctly. This is a big help in practicing for the exam.
| Exam Section | Hours | Price |
| --- | --- | --- |
| Financijsko računovodstvo i izvješćivanje (DALEKO) | 18 | $125 |
| Revizija (AUD) | 3.5 | $125 |
| Regulations (REG) | 13 | $125 |
| Poslovno okruženje i koncepti (BEC) | 11 | $125 |
A full set of audio lessons is included in the Yaeger CPA review course. You can also purchase these separately for $125 each or $445 for the entire set of 45.5 sati. Iako je to bolji posao od Rogera naravno, ta predavanja imaju tendenciju da se na suho i dosadno strani. Oni su informativne, ali dosadna.
---
Get Discounts On CPA Review Courses!
---
Gleim CPA Audio Course
Gleim CPA pregled uključuje neke audio komponente u svojoj testnoj prep naravno, ali oni ne ravnati se potpuni audio tečaj. Također, ne može se kupiti izvan njihove glavne strpati naravno.
---
Preporuka
lično, Ne mislim da je pregled audio predavanja su dovoljno dobro pripremiti za CPA ispita. You should get a full-time CPA naravno pregled that fits your learning style and lets you learn at your own pace. na kraju, čak i najbolji ikada audio tečaj je više od dodatka na pravi set materijale.
To se, rekao, I think the Roger audio course is probably the best one out there. If you are looking for an audio supplement, I'd get this one.