Real estate is a lucrative career path, especially if you live in Arizona. According to CareerPath, Arizona real estate agents earn an average annual salary of $50,000, but senior positions can earn upwards of $70,000 annually.1
However, it can be very difficult to become a licensed real estate agent. You must complete 90 hours of pre-licensing courses and pass the real estate license exam at an accredited ADRE school.2 Luckily, this work can be completed online instead of in person, which gives you plenty of options for schooling.
I've gone ahead and looked at the most popular online real estate schools in Arizona in order to make things easier for you. Each of these education options has something special to offer, but they appeal to different kinds of students. Read on to see what the 5 best real estate schools are in Arizona.
The Best Arizona Real Estate License Prep
#1 Aceable Agent

Aceable Agent students have a great deal of freedom when preparing for the real estate exam. Anyone signing up can take video or audio lectures or self study with some textbooks. Plus, lessons can easily be supplemented by completing a few practice problems or sitting in on a live webinar. Aceable Agent has you covered no matter what your preferred learning style.
Signing up for this online Arizona real estate course will give you:
75 Video Lessons
70 Audio Lessons
1700+ Practice Problems
Real Estate Ebook
Live Webinars
Prices vary based on what course features you're interested in using. Self study students may be satisfied by the Essential or Deluxe plans for $531 and $700 respectively. Both of these offer different types of on demand materials, such as lectures or ebooks. Alternatively, people interested in live learning can try out the $893 premium plan, which provides access to live webinars and tutoring.
Pros and Cons
Pro – Live Q&A: Every Friday Aceable Agent hosts a live Q&A session for any student who wants extra information on what they're learning.
Pro – Private Tutoring: Premium courses come with the option to schedule a 1 hour tutoring session with your teacher.
Pro – Easy to Understand: Aceable Agent doesn't bludgeon you with jargon and industry terms out the gate. Instead, they break things down into easy-to-understand language while teaching.
Bottom Line:
Any student interested in an Arizona real estate career would benefit greatly from completing one of Aceable Agent's courses
#2 PrepAgent Review

PrepAgent's real estate school has different education options that work together in order to form an excellent real estate crash course. Here's how they do it:
Watching or listening to PrepAgent's lectures will help you establish a baseline of knowledge. However, they also include a set of practice questions and worksheets like PDH Academy. This lets you track your progress and see how much you've learned from each lecture. They even included flashcards that are perfect for quick study sessions if you don't have a lot of time.
Aside from the lectures, PrepAgent's live content is heavily focused on webinars. Participating in these allows you to directly interact with teachers and fellow real estate agents. You can get answers to any questions on the fly; some teachers will even adjust their lessons based on student needs. These webinars are available 5 days a week, so it shouldn't be too difficult to fit a few of them into your schedule.
There are 3 pricing options for PrepAgent: Basic, Deluxe, and Premium. The Basic option just gives you access to test questions and only lasts one week. However, it also only costs $59— so it might be a good choice if you've already done some studying and just need a quick cram course. The Deluxe course comes with all of the remaining self study materials for $79, and the Premium plan includes all self study and live content for $99.
I would recommend the deluxe plan if you want the most content but you don't care about live lectures and webinars. But if you do want live content then the Premium plan is definitely worth your money.
Bottom Line:
PrepAgent is an excellent choice for anyone who values choice in their study methods. They accommodate different learning styles for an extremely fair price. I highly recommend checking them out if you need a little extra help before the exam.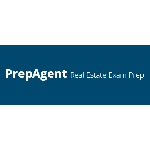 Save 20% OFF Prep Agent Real Estate Course!
Real Estate, Prep Agent Real Estate Promo Codes, Exclusive Discount
9 uses today
Last Used: 11 minutes
---
#3 The CE Shop Real Estate Review

Contrary to Mbition, The CE Shop's main focus is instructor led webinars. Webinars are offered both live and on-demand, so you can choose a real estate pre licensing course according to your learning preferences. Live courses offer you the chance to speak with your instructor and ask questions, but on-demand online real estate courses let you work through everything at your own pace. Neither is better than the other, so feel free to pick whichever option you prefer.
Each webinar is supplemented by self study content. These include flashcards for vocabulary or simple concepts, as well as a real estate glossary and ebooks. Using these is a good way to keep information fresh in your mind even when not actively studying. I'd recommend setting aside 30 minutes of your day to complete these in order to reinforce what you've learned.
Currently, there are 3 choices for CE Shop courses in Arizona: the standard, value, or premium package. The $619 standard package includes everything mentioned above, but the other choices have some bonuses. Purchasing the $659 value package gives you access to a set of real estate business building courses once you've passed the state exam. Additionally, the premium course comes with 24 hours of continuing education courses for you to get a jump start on maintaining your real estate salesperson's license once you've earned it.
The prices may be steep, but they frequently go on sale. If you're interested in a long and rewarding real estate career, both the value and premium packages are excellent choices.
Bottom Line:
Although pricey, CE Shop's course is highly effective and comes with a pass guarantee. I'd recommend trying the free trial before making a purchase.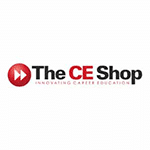 Save 25% off The CE Shop Real Estate
Real Estate, The CEshop Promo Codes, Exclusive Discount
16 uses today
Last Used: 2 minutes
---
#4 Compucram AZ Real Estate Review

Compucram's real estate education program doesn't force you to move faster than you're comfortable. Instead, you can take as much time as you need to prepare yourself for the upcoming real estate exam. Their online real estate classes automatically save your progress whenever you exit the course. That way you can stop whenever you need to and pick up studying from where you left off.
Every Compucram teacher is highly qualified to help you along your intended career path. As experts in both teaching and practicing real estate, you're guaranteed a good education that leverages personal experience. This ensures that you understand how to apply knowledge to your work instead of just knowing the theory.
There are 3 real estate courses available in Arizona: State-specific, National, and National+State online courses. The Arizona pre-licensing courses cost $49 and teaches you all the state specific regulations involved in working as a real estate agent. Naturally, the $59 National course does the same thing for national regulations. Finally, you can also buy a combo of the two for $89.
This is the most affordable education program on this list, so we highly recommend the National+Arizona package if you want to save a lot of money.
Bottom Line:
Compucram is an excellent budget-friendly real estate school. The teachers are highly qualified and you can move at whatever pace you like.
---
#5 Mbition Real Estate Review


Mbition, like most online real estate courses, uses test based content to prepare you for the state exam. However, what sets them apart is their adaptive technology. As you study and work through each exam topic, the course dynamically shifts to create a personalized study plan. This means you're always reinforcing your professional knowledge— but it also keeps you on your toes instead of being bored with your studies.
Of course, practice questions aren't the only thing Mbition has to offer. They also include an Exam Prep Toolkit: this includes extra materials such as flashcards, course reviews, and test taking strategies. Using these with the practice problems will helps familiarize yourself with the state licensing exam format and content well ahead of time.
Finally, Mbition's course teaches you strong math skills. They understand that math is an important aspect of real estate and don't want you to be unprepared. In order to do so, you'll work on real estate based math parallel to other studying.
Pricing
You have 2 choices when purchasing an Mbition course— the Exam Prep Package and the Master Exam Prep Package for $59 and $129 respectively. Purchasing the standard package grants you access to the test based content, while the master package includes the Exam Prep Toolkit and math materials.
Bottom Line:
Mbition is an extremely solid and affordable option for preparing to become a real estate agent. They offer a solid range of materials and will help you prepare for the exam through adaptive learning. Make sure to check them out.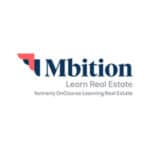 Up to 30% OFF Mbition Real Estate Appraisal, Home
Real Estate, Mbition Real Estate Promo Codes, Exclusive Discount
19 uses today
Last Used: 22 minutes
---
#6 PDH Real Estate Review

PDH Academy's online real estate courses are 100% self paced. If you already have a busy schedule, this allows you to work whenever you have some spare time. Thanks to this and their lifetime access you'll never have to worry about time limits when preparing for the real estate exam.
Each course has been designed by a highly experienced instructor, so each lesson plan is relevant and up-to-date. Their curriculum also effectively demonstrates how certain concepts are applied in the day-to-day work of a professional real estate agent. Each teacher loves what they do— you can see that passion throughout the course.
All of the self study materials included with PDH have been designed to perfectly mimic the actual real estate exam. That way you can familiarize yourself with the test format and grow comfortable with the exam ahead of time. Even though the practice questions aren't the exact questions you'll see, they're an excellent indicator for what will be expected of you.
Pricing
You have 2 options when purchasing the PDH Academy course for Arizona. The self study materials can be purchased separately for $99, or you can pay $399 to include a series of ebooks, a pass guarantee, several study guides, and instructor support. Considering everything included, we recommend the second option for a better deal.
Bottom Line:
PDH Academy offers the best self study materials on this list. You won't see any live content here, but you shouldn't need it if you complete everything they offer. Make sure to check them out if it sounds interesting to you!
---
Arizona Online Real Estate Schools FAQs
If you're still confused, check out these answers to frequently asked questions regarding Arizona real estate agents requirements:
How long does it take to become a real estate agent in Arizona?
According to the Arizona Department of Real Estate, you must complete 90 hours of an approved pre-licensing course before you can attempt the real estate exam.2
Is the Arizona real estate exam hard?
You need to score at least 75 percent on a 180 question exam. These include both national and state specific questions. Since you only have 200 minutes to complete the test, it can be fairly difficult.
Which states have reciprocity with Arizona real estate license?
Unfortunately, Arizona doesn't offer reciprocity with any other state.3
Sources