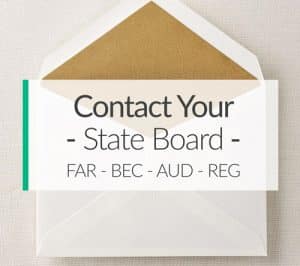 There are several reasons why you will need to contact your state board of accountancy for the CPA exam.
First, you will need to send them your transcripts and application in order to be approved and eligible to sit for the exam.
Second, they are the legal body that grants you your CPA license. Thus, you will need to send your exam results and license payments to them.
Third, you may have questions about the exam process as a whole. They should be able to answer any question you have about the CPA exam or its requirements in your state.
Don't Wait to Start Studying!
Keep in mind you don't have to wait until you are edible to start studying. You can pick out a CPA review course now and start studying. Here are a few of the top courses.
Wiley CPAexcel – Roger CPA review – Surgent CPA review
---
The State Boards of Accountancy
Here is contact information for all of the state boards in the United States. Contact your state board of accountancy for the CPA exam to see if you're eligible so that you can start studying!
---
ALABAMA STATE BOARD OF PUBLIC ACCOUNTANCY
Suite 226, 770 Washington Ave., P.O. Box 300375, Montgomery, AL 36130
(334) 242-5700; fax (334) 242-2711
---
ALASKA STATE BOARD OF PUBLIC ACCOUNTANCY
Division of Occupational Licensing, Box 110806, Juneau, AK 99811-0806
(907) 465-3811; fax (907) 465-2974
---
ARIZONA STATE BOARD OF ACCOUNTANCY
100 N. 15th Ave., Suite 165, Phoenix, AZ 85007
(602) 364-0804; fax (602) 364-0903
---
ARKANSAS STATE BOARD OF ACCOUNTANCY
101 East Capitol, Suite 450, Little Rock, AR 72201
(501) 682-1520; fax (501) 682-5538
---
CALIFORNIA BOARD OF ACCOUNTANCY
2000 Evergreen Street, Suite. 250, Sacramento, CA 95815
(916) 263-3680; fax (916) 263-3675
California Exam Requirements
---
COLORADO STATE BOARD OF ACCOUNTANCY
1560 Broadway, Suite 1350, Denver, CO 80202
(303) 894-5961; fax (303) 894-2310
---
CONNECTICUT STATE BOARD OF ACCOUNTANCY
30 Trinity St., Hartford, CT 06106
(860) 509-6179; fax (860) 509-6247
---
DELAWARE STATE BOARD OF ACCOUNTANCY
Cannon Bldg., Suite. 203, 861 Silver Lake Blvd, Dover, DE 19904
(302) 744-4500; fax (302) 739-2711
---
DISTRICT OF COLUMBIA BOARD OF ACCOUNTANCY
Department DC – AC, Metro-Plex I, Suite 250, 8401 Corporate Drive, Landover, MD 20785 877-672-2173.
---
FLORIDA BOARD OF ACCOUNTANCY
1940 North Monroe Street, Tallahassee FL 32399
850-487-1395; fax: 352-333-2508
---
GEORGIA STATE BOARD OF ACCOUNTANCY
237 Coliseum Dr., Macon, GA 31217-3858
478-207-2440; fax 877-588-0446
---
GUAM TERRITORIAL BOARD OF PUBLIC ACCOUNTANCY
Suite 101, 335 South Marine Corps Drive, Tamuning, GU 96913, USA
(671) 647-0813; fax (671) 647-0816
---
HAWAII BOARD OF ACCOUNTANCY
P.O. Box 3469, Honolulu, HI 96801
(808) 586-3000
---
IDAHO STATE BOARD OF ACCOUNTANCY
P.O. Box 83720, Boise, ID 83720
(208) 334-2490; fax (208) 334-2615
---
ILLINOIS BOARD OF EXAMINERS
100 Trade Centre Drive, Suite 403, Champaign, IL 61820
(217) 531-0950; fax (217) 531-0960
---
INDIANA STATE BOARD OF PUBLIC ACCOUNTANCY
Professional Licensing Agency, 402 West Washington St., Room W 072, Indianapolis, IN 46204
(317) 234-3040
---
IOWA ACCOUNTANCY EXAMINING BOARD
1920 SE Hulsizer Road, Ankeny, IA 50021-3941
515-281-5910, FAX: 515-281-7411
---
KANSAS BOARD OF ACCOUNTANCY
900 S.W. Jackson St., Suite 556, Topeka, KS 66612-1239
(785) 296-2162; fax (785) 291-3501
---
KENTUCKY STATE BOARD OF ACCOUNTANCY
332 West Broadway, Suite 310, Louisville, KY 40202
(502) 595-3037; fax (502) 595-4500
---
STATE BOARD OF CPAs OF LOUISIANA
601 Poydras Street, Suite 1770, New Orleans, LA 70130
(504) 566-1244; fax (504) 566-1252
---
MAINE BOARD OF ACCOUNTANCY
35 State House Station, Augusta, ME 04333-0035
(207) 624-8603; fax (207) 624-8637
---
MARYLAND STATE BOARD OF PUBLIC ACCOUNTANCY
500 N. Calvert Street, Room 308, Baltimore, MD 21202
(410) 230-6258; fax (410) 333-6314
---
MASSACHUSETTS BOARD OF PUBLIC ACCOUNTANCY
1000 Washington Street, Suite 710 Boston, Massachusetts 02118-6100
(617) 727-1806; Fax: 617-727-0139
---
MICHIGAN BOARD OF ACCOUNTANCY
P.O. Box 30018, Lansing, MI 48909
(517) 241-9288; fax (517) 373-3085
---
MINNESOTA STATE BOARD OF ACCOUNTANCY
85 E. 7th Place., Suite 125, St. Paul, MN 55101
(651) 296-7938; fax (651) 282-2644
---
MISSISSIPPI STATE BOARD OF PUBLIC ACCOUNTANCY
5 Old River Place, Suite 104, Jackson, MS 39202
(601) 354-7320; fax (601) 354-7290
---
MISSOURI STATE BOARD OF ACCOUNTANCY
P.O. Box 613, Jefferson City, MO 65102
(573) 751-0012; fax (573) 751-0890
---
MONTANA STATE BOARD OF PUBLIC ACCOUNTANCY
P.O. Box 200513, Helena, MT 59620
(406) 841-2389; fax (406) 841-2309
---
NEBRASKA STATE BOARD OF PUBLIC ACCOUNTANCY
P.O. Box 94725, Lincoln, NE 68509
(402) 471-3595; fax (402) 471-4484
---
NEVADA STATE BOARD OF ACCOUNTANCY
1325 Airmotive Way, Suite #220, Reno, NV 89502
(775) 786-0231; fax (775) 786-0234
---
NEW HAMPSHIRE BOARD OF ACCOUNTANCY
57 Regional Dr., Concord, NH 03301
(603) 271-2219; fax (603) 271-6990
---
NEW JERSEY STATE BOARD OF ACCOUNTANCY
P.O. Box 45000, Newark, NJ 07101
(973) 504-6380
---
NEW MEXICO STATE BOARD OF PUBLIC ACCOUNTANCY
5200 Oakland NE, Suite D, Albuquerque, NM 87113
(505) 222-9850; Fax (505) 222-9855
---
NEW YORK STATE BOARD FOR PUBLIC ACCOUNTANCY
89 Washington Ave., Albany, NY 12234
(518) 474-3817 ext. 270; fax (518) 402-5354
---
NORTH CAROLINA STATE BOARD OF CPA EXAMINERS
P.O. Box 12827, Raleigh, NC 27605-2827
(919) 733-4208; fax (919) 733-4209
---
NORTH DAKOTA BOARD OF ACCOUNTANCY
2701 S. Columbia Rd., Grand Forks, ND 58201
(800) 532-5904; fax (701) 775-7430
---
ACCOUNTANCY BOARD OF OHIO
77 S. High St., 18th Floor, Columbus, OH 43215-6128
(614) 466-4135; fax (614) 466-2628
---
OKLAHOMA STATE BOARD OF PUBLIC ACCOUNTANCY
201 N.W. 63rd Street, Suite 210, Oklahoma City, OK 73116
(405) 521-2397; fax (405) 521-3118
---
OREGON STATE BOARD OF ACCOUNTANCY
3218 Pringle Rd. S.E., Suite #110, Salem, OR 97302-6307
(503) 378-4181; fax (503) 378-3575
---
PENNSYLVANIA BOARD OF ACCOUNTANCY
P.O. Box 2649, Harrisburg, PA 17105-2649
(717) 787-8503 Fax (717) 705-5540
---
PUERTO RICO BOARD OF ACCOUNTANCY
Departamento de Estado, Secretaría Auxiliar de Juntas Examinadoras, Junta Examinadora de Contadores Públicos Autorizados, P.O. Box 9023271 San Juan, PR 00902-3271
Teléfono 787-722-2122, Extensión #239
---
RHODE ISLAND BOARD OF ACCOUNTANCY
1511 Pontiac Avenue, Cranston, RI 02920
(401) 462-9500; fax (401) 462-9532
---
SOUTH CAROLINA BOARD OF ACCOUNTANCY
Street Address: 110 Centerview Dr., Columbia, SC
Mailing Address: PO Box 11329, Columbia, S.C. 29211
803-896-4770; Fax: 803-896-4554
---
SOUTH DAKOTA BOARD OF ACCOUNTANCY
301 E. 14th St., Suite 200, Sioux Falls, SD 57104-5022
(605) 367-5770; fax (605) 367-5773
---
TENNESSEE STATE BOARD OF ACCOUNTANCY
500 James Robertson Parkway, 2nd Floor, Nashville, TN 37243-1141
(615) 741-2550; fax (615) 532-8800
---
TEXAS STATE BOARD OF PUBLIC ACCOUNTANCY
333 Guadalupe Tower III, Suite 900, Austin, TX 78701-3900
512-305-7800; fax (512) 305-7854
---
UTAH BOARD OF ACCOUNTANCY
160 East 300 South, Salt Lake City, UT 84111-2316
(801) 530-6628; fax (801) 530-6511
---
VERMONT BOARD OF ACCOUNTANCY
National Life Building North, FL2, Montpelier, VT 05620
(802) 828-1505
---
VIRGIN ISLANDS BOARD OF PUBLIC ACCOUNTANCY
Dept. of Licensing, Golden Rock Shopping Center, Christiansted, St. Croix VI, 00820
Phone: (340) 773-2226; Fax: (340) 773-6982
---
VIRGINIA BOARD FOR ACCOUNTANCY
9960 Mayland Drive, Suite 402, Henrico, Virginia 23233
(804) 367-8505; fax (804) 527-4409
---
WASHINGTON STATE BOARD OF ACCOUNTANCY
P.O. Box 9131, Olympia, WA 98507-9131
(360) 753-2586; Fax: (360) 664-9190
---
WEST VIRGINIA BOARD OF ACCOUNTANCY
106 Capitol Street, Suite 100, Charleston, WV 25301
(304) 558-3557; fax (304) 558-1325
---
WISCONSIN ACCOUNTING EXAMINING BOARD
P.O. Box 8935, Madison, WI 53708-8935
(608) 266-2112
---
WYOMING BOARD OF CPAs
2020 Carey, Cheyenne, WY 82002
(307) 777-7551; fax (307) 777-3796
---