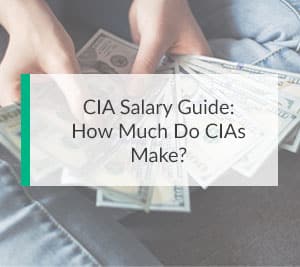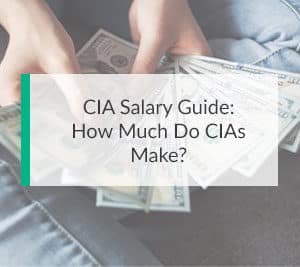 Pour les personnes qui se sentent comme si leur carrière comptable pourrait utiliser un coup de pouce, l'obtention d'un Auditeur interne certifié (CIA) désignation pourrait être juste le billet pour un coup de pouce de promotion et de salaire.
Avant de prendre la décision de savoir si c'est le mouvement de carrière pour vous, it's a good idea to investigate certified internal auditor salaries and discover what you can expect to earn as a CIA.
Are you wondering whether this is the right job for you? Here's the deal:
---
Factors Affecting CIA Salaries
Numerous factors determine the salaries that certified internal auditors can expect to earn. These factors include location, years of experience, education level, and the size of the company where you work.
Salary Outlook for Certified Internal Agents
Overall, CIA salaries are anticipated to increase by 10 percent between 2016 et 2026, according to the U.S. Bureau of Labor Statistics. This is faster than average for other occupations. For the most part, the growth of employment for auditors is closely associated with the economy's well-being. As the economy expands, there will be a need for more experienced individuals to prepare and analyze financial records.
Auditors are responsible for analyzing company records to ensure the organization's funds are not mismanaged. aditionellement, auditors may also analyze company financial procedures to identify and eliminate waste and fraud. While a government agency does not regulate the field of internal auditing, generally accepted standards are provided by the Institute of Internal Auditors.
Fields Employing Internal Auditors
The largest industries employing internal auditors include:
Account, tax preparation, bookkeeping, and payroll services

Government

Finance and insurance

Management of companies and enterprises

Self-employed
Work Environment for Internal Auditors
Auditors usually work in offices, although a small number may also work from home. Internal auditors may work independently or as part of a team. In some cases, internal auditors may be required to travel from their office to other locations to perform their jobs.
Obtaining a CIA Designation
The Institute of Internal Auditors offers the certified internal auditor designation to qualified candidates. To be eligible for this designation, the candidate must be a graduate of an accredited college or university, must have worked as an internal auditor for a minimum of two years, and must have passed all three parts of the CIA exam.
Necessary Qualities to Be a Certified Internal Auditor
To be successful in the field of internal auditing, prospective candidates should possess the following qualities:
Analytical Skills – Auditors are responsible for identifying problems in financial documentation. Donc, they should possess excellent analytical skills to be able to detect the fraudulent use of funds.
Communication Skills – Auditors must be able to listen to facts carefully as they are presented by clients and others. In this regard, an auditor must also be able to discuss their findings in written reports as well as in meetings. This requires superior communication skills.
Detail Oriented – Auditors must be capable of paying careful attention when compiling as well as examining financial documents.
Math Skills – Auditors must be capable of analyzing, comparing, and interpreting figures and facts.
Organizational Skills – Auditors are often required to work with a large number of documents. Donc, it is important to possess strong organizational skills.
---
Entry-Level CIA Salaries
Entry-level certified internal auditors can expect to earn a salary between $52,000 et $66,000 when working for a medium-sized company. Those working for a large company can expect to earn between $55,000 et $67,000.
As an entry-level auditor, vous serez responsable de la vérification de l'information financière et comptable de l'entreprise où vous travaillez. Ce type de travail est généralement réalisée dans un rôle de soutien tout en travaillant sous la direction d'un superviseur du département. Le travail est généralement étroitement surveillé. Dans ce rôle, vous permettra également d'identifier une documentation inappropriée possible ou comptable. Ce travail peut également exiger des recherches sur les problèmes qu'ils sont identifiés, ainsi que de formuler des recommandations visant à améliorer les procédures ou les politiques sur une base au besoin. This position requires a minimum of a bachelor's degree in accounting along with one to two years of related work experience.
---

Junior-Level CIA Salaries
Once certified internal auditors have gained between one and three years of experience, they can look forward to being promoted to junior-level certified internal auditors. At this point, salaries tend to jump to between $60,000 et $82,000. Salaries generally rise between 15 percent and 25 percent each year.
The responsibilities of a junior auditor would include checking expenditures, dossiers financiers, et les recettes pour assurer qu'il n'y a pas d'utilisation abusive de fonds. les auditeurs juniors travaillent habituellement sous la direction des auditeurs supérieurs dans la planification des audits.
---
Salaires CIA postes de haut niveau
salaires supérieurs au niveau se situent entre $78,000 et $98,000 pour les employés des entreprises de taille moyenne. Pour les grandes entreprises, les salaires peuvent aller jusqu'à $110,000, représentant autant qu'un 29 pour cent d'augmentation de salaire de niveau junior. salaires CIA postes de haut niveau sont généralement plus élevés pour compenser les situations plus complexes que les auditeurs à ce niveau doivent gérer.
Les vérificateurs principaux sont généralement responsables de la surveillance des opérations quotidiennes de l'entreprise qui les emploie. Cela pourrait inclure la préparation des audits ou des rapprochements bancaires, analyser les actifs, et la préparation de rapports fiscaux et états financiers. Les vérificateurs principaux sont aussi généralement responsables de la supervision du travail des auditeurs juniors.
les salaires de la CIA sont certainement lucratif, mais il y a encore mieux!
---

Directeur de l'audit interne
Avec quelques années d'expérience, senior-level certified internal auditors may be able to work their way up to the position of director of internal auditing. This top-tier position comes with a tremendous amount of responsibility as well as a higher salary. The director of internal auditing in a medium-size company can anticipate earning a salary between $92,000 et $130,000. Directors working for larger companies could earn up to $151,000.
The primary responsibilities of audit managers include organizing and supervising internal auditors. Cela comprend généralement la supervision d'une équipe d'auditeurs de niveau junior et senior. Le directeur peut également recommander des changements dans les politiques, comme cela est jugé nécessaire. Les administrateurs sont également responsables de veiller à leurs employeurs respectent la réglementation du gouvernement.
Même à ce niveau, il y a encore plus de place pour la croissance professionnelle. Commissaires aux comptes dans des postes tels que directeur de la vérification peuvent gagner jusqu'à $165,000. Les salaires peuvent être encore plus élevé pour les administrateurs de sociétés ayant leur chiffre d'affaires de plusieurs millions de dollars. Les administrateurs dans ces positions pourraient voir les salaires de plus de $250,000.
---

Salaires CIA vs. Salaires EA
les salaires des auditeurs internes certifiés font généralement différents de salaires Agent Enrolled. Au niveau d'entrée, un auditeur interne certifié peut avoir un salaire moyen de $64,000. Par comparaison, une moyenne d'agent inscrits autour $48,000 par an. Cette différence de salaire est dû à la différence dans les rôles d'emploi et des responsabilités entre les postes. Un agent inscrit est considéré comme un spécialiste de la fiscalité; toutefois, l'éventail des compétences d'une évaluation environnementale est plus limitée que celle d'une CIA.
Tu veux savoir le meilleur?
Tout en obtenant une désignation de la CIA ne nécessite du temps et des efforts supplémentaires, une fois que vous avez cette désignation, vous avez une énorme quantité de place pour la croissance de carrière. Comme vous gagnez plus d'expérience, votre salaire continuera d'augmenter. Il y a une quantité incroyable d'espace pour travailler votre chemin jusqu'à l'échelle de carrière en voyant votre augmentation de salaire.