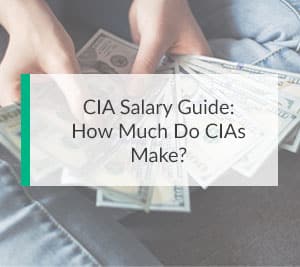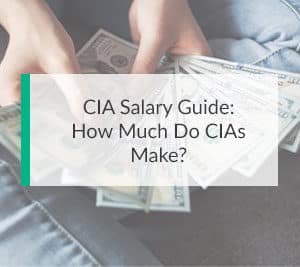 For individuals who feel as though their accounting career could use a boost, obtaining a Certificirani interni revizor (CIA) designation could be just the ticket to a promotion and salary boost.
Before making the decision as to whether this is the right career move for you, it's a good idea to investigate certified internal auditor salaries and discover what you can expect to earn as a CIA.
Are you wondering whether this is the right job for you? Here's the deal:
---
Factors Affecting CIA Salaries
Numerous factors determine the salaries that certified internal auditors can expect to earn. These factors include location, years of experience, education level, and the size of the company where you work.
Salary Outlook for Certified Internal Agents
Overall, CIA salaries are anticipated to increase by 10 percent between 2016 i 2026, according to the U.S. Bureau of Labor Statistics. This is faster than average for other occupations. For the most part, the growth of employment for auditors is closely associated with the economy's well-being. As the economy expands, there will be a need for more experienced individuals to prepare and analyze financial records.
Auditors are responsible for analyzing company records to ensure the organization's funds are not mismanaged. Dodatno, auditors may also analyze company financial procedures to identify and eliminate waste and fraud. While a government agency does not regulate the field of internal auditing, općeprihvaćene norme pružaju Instituta unutarnjih revizora.
Područja zaposleni unutarnji revizori
Najveće industrije zaposleni unutarnji revizori su:
Račun, priprema porez, knjigovodstvo, i usluge obračuna plaća

Vlada

Financije i osiguranje

Upravljanje društvima i poduzećima

Samo zaposlen
Radno okruženje za unutarnje revizore
Revizori obično rade u uredima, Iako mali broj također može raditi od kuće. Unutarnji revizori mogu raditi samostalno ili kao dio tima. U nekim slučajevima, interni revizori mogu biti potrebni za putovanje iz svojih ureda na druge lokacije za obavljanje posla.
Dobivanje CIA Oznaka
Institut internih revizora nudi ovlaštenih unutarnjih revizora oznaka za kvalificirani kandidati. Da bi bili podobni za tu oznaku, kandidat mora biti diplomirani od akreditirane visokoškolske ustanove, Mora da je radio kao interni revizor za najmanje dvije godine, i mora imati položen sva tri dijela CIA ispita.
Necessary Qualities to Be a Certified Internal Auditor
To be successful in the field of internal auditing, prospective candidates should possess the following qualities:
Analytical Skills – Auditors are responsible for identifying problems in financial documentation. Stoga, they should possess excellent analytical skills to be able to detect the fraudulent use of funds.
Communication Skills – Auditors must be able to listen to facts carefully as they are presented by clients and others. In this regard, an auditor must also be able to discuss their findings in written reports as well as in meetings. This requires superior communication skills.
Detail Oriented – Auditors must be capable of paying careful attention when compiling as well as examining financial documents.
Math Skills – Auditors must be capable of analyzing, comparing, and interpreting figures and facts.
Organizational Skills – Auditors are often required to work with a large number of documents. Stoga, it is important to possess strong organizational skills.
---
Entry-level CIA Plaće
ovlašteni unutarnji revizor entry-level može očekivati ​​da će zaraditi plaću između $52,000 i $66,000 kada se radi za srednje tvrtke. Oni koji rade za velike tvrtke mogu očekivati ​​da će zaraditi između $55,000 i $67,000.
Kao entry-level revizora u, vi ćete biti odgovorni za revizije financijskih i računovodstvenih informacija o tvrtki u kojoj ste zaposleni. Ova vrsta rada obično izvodi u sporednoj ulozi, a radi pod vodstvom robnoj nadzornika. Rad se obično pozorno pratiti. U toj ulozi, you will also identify possible improper documentation or accounting. This job may also require researching issues as they are identified, as well as making recommendations to improve procedures or policies on an as-needed basis. This position requires a minimum of a bachelor's degree in accounting along with one to two years of related work experience.
---

Junior-Level CIA Salaries
Once certified internal auditors have gained between one and three years of experience, they can look forward to being promoted to junior-level certified internal auditors. At this point, salaries tend to jump to between $60,000 i $82,000. Salaries generally rise between 15 percent and 25 percent each year.
The responsibilities of a junior auditor would include checking expenditures, financial records, and revenue to ensure there is no misuse of funds. Junior auditors usually work under the direction of senior auditors in the planning of audits.
---
Senior-Level CIA Salaries
Senior-level salaries range between $78,000 i $98,000 za zaposlenike srednja poduzeća. Za veće tvrtke, Plaće se kreću do $110,000, predstavlja koliko kao 29 Povećanje posto plaće od junior razini. Viši razini CIA plaće su uglavnom više na naknadu za složenijim situacijama koje revizori na ovoj razini mora postupati.
Viši revizori su uglavnom odgovorni za praćenje dnevnih aktivnosti tvrtke ih zapošljava. To bi moglo uključivati ​​pripremu revizije ili bankovnim pomirenja, analiziranje imovina, and preparing tax reports and financial statements. Senior auditors are also typically responsible for overseeing the work of junior auditors.
CIA salaries are certainly lucrative, but it gets even better!
---

Director Of Internal Auditing
With a few years of experience, senior-level certified internal auditors may be able to work their way up to the position of director of internal auditing. This top-tier position comes with a tremendous amount of responsibility as well as a higher salary. The director of internal auditing in a medium-size company can anticipate earning a salary between $92,000 i $130,000. Directors working for larger companies could earn up to $151,000.
The primary responsibilities of audit managers include organizing and supervising internal auditors. This generally includes supervising a team of junior and senior level auditors. The director may also recommend changes in policies, as deemed necessary. Directors are also responsible for ensuring their employers follow government regulations.
Even at this level, there is still more room for occupational growth. Auditors in positions such as chief audit executive can earn up to $165,000. Salaries may be even higher for directors employed by companies with multi-million-dollar revenue. Directors in such positions could see salaries in excess of $250,000.
---

CIA Salaries vs. EA Salaries
Certified internal auditor salaries do generally different from Enrolled Agent salaries. At the entry level, a certified internal auditor may have an average salary of $64,000. Za usporedbu, an enrolled agent averages around $48,000 godišnje. Ova razlika u plaći je zbog razlike u ulogama posla i odgovornosti između pozicije. Upisani agenta smatraju se porezni stručnjak; međutim, Raspon stručnosti nekog EA je više ograničena nego što je CIA.
Želite li znati najbolji dio?
Dok zarada CIA oznaka ne zahtijeva dodatno vrijeme i trud, nakon što su tu oznaku, imate ogromnu količinu prostora za rast karijere. Kao što se dobije više godina iskustva, vaše plaće i dalje će rasti. Tu je nevjerojatna količina prostora za raditi svoj put do karijere ljestve dok viđenje svog povećanje plaća.