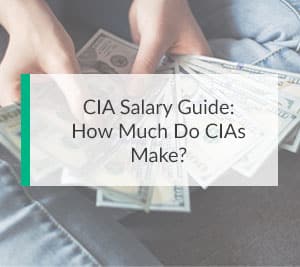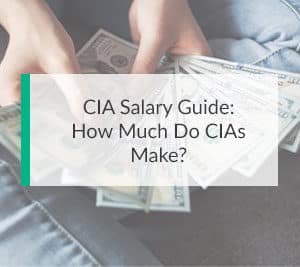 For individuals who feel as though their accounting career could use a boost, obtaining a Certified Internal Auditor (CIA) designation could be just the ticket to a promotion and salary boost.
Before making the decision as to whether this is the right career move for you, it's a good idea to investigate certified internal auditor salaries and discover what you can expect to earn as a CIA.
Are you wondering whether this is the right job for you? Here's the deal:
---
Factors Affecting CIA Salaries
Numerous factors determine the salaries that certified internal auditors can expect to earn. These factors include location, years of experience, education level, and the size of the company where you work.
Salary Outlook for Certified Internal Agents
Overall, CIA salaries are anticipated to increase by 10 percent between 2016 û 2026, according to the U.S. Bureau of Labor Statistics. This is faster than average for other occupations. For the most part, the growth of employment for auditors is closely associated with the economy's well-being. As the economy expands, there will be a need for more experienced individuals to prepare and analyze financial records.
Auditors are responsible for analyzing company records to ensure the organization's funds are not mismanaged. Ji bilî, hesabdarîyê jî dibe ku şîrketa prosedurên aborî tesbît dikin û ji holê wêran û sextekarîyê analîz. Di demekê de ku ajansa hikûmetê warê Hundir tertîb ne, standardên bi gelemperî tê pejirandin bi destê Enstîtuya yên diravî Navxweyî provided.
Fields Kar diravî Hundir
Herî senetî yên karker û çavdêrên navxweyî de:
Konto, amadekirina bac, bookkeeping, û xizmetên bi maeş

Rêvebir

Aborî û sîgorta

Management û şîrketê

Kesê bi nefret, Xwe jî nefret lê tê kirin
Work Environment for Internal Auditors
Auditors usually work in offices, although a small number may also work from home. Internal auditors may work independently or as part of a team. In some cases, internal auditors may be required to travel from their office to other locations to perform their jobs.
Obtaining a CIA Designation
The Institute of Internal Auditors offers the certified internal auditor designation to qualified candidates. To be eligible for this designation, the candidate must be a graduate of an accredited college or university, must have worked as an internal auditor for a minimum of two years, and must have passed all three parts of the CIA exam.
Necessary Qualities to Be a Certified Internal Auditor
To be successful in the field of internal auditing, prospective candidates should possess the following qualities:
Analytical Skills – Auditors are responsible for identifying problems in financial documentation. Ji ber vê yekê, they should possess excellent analytical skills to be able to detect the fraudulent use of funds.
Communication Skills – Auditors must be able to listen to facts carefully as they are presented by clients and others. In this regard, an auditor must also be able to discuss their findings in written reports as well as in meetings. This requires superior communication skills.
Detail Oriented – Auditors must be capable of paying careful attention when compiling as well as examining financial documents.
Math Skills – Auditors must be capable of analyzing, comparing, and interpreting figures and facts.
Organizational Skills – Auditors are often required to work with a large number of documents. Ji ber vê yekê, it is important to possess strong organizational skills.
---
Entry-Level CIA Salaries
Entry-level certified internal auditors can expect to earn a salary between $52,000 û $66,000 when working for a medium-sized company. Those working for a large company can expect to earn between $55,000 û $67,000.
As an entry-level auditor, hûn ji bo Venêrîna agahiyên darayî û şîrketa ku tu bi mendî dê bibe. Ev cûre kar e, bi piranî li rolek a piştgiriyê pêk dema kar bin derhêneriya a Serpereştyarê beşa. Kar bi giştî ji nêz ve dişopîne. Di vê de rola, tu jî, tê belgekirin de vediqetîne gengaz an hisêba nasandin. Ev kar jî dikare di derbarê mijarên hewce wek ew tên tesbîtkirinê, herweha çêkirina pêşnîyarên ji bo baştirkirina prosedurên an polîtîkayên li ser bingehên wek-pêwîst. This position requires a minimum of a bachelor's degree in accounting along with one to two years of related work experience.
---

Junior-Level CIA Salaries
Once certified internal auditors have gained between one and three years of experience, they can look forward to being promoted to junior-level certified internal auditors. At this point, salaries tend to jump to between $60,000 û $82,000. Salaries generally rise between 15 percent and 25 percent each year.
The responsibilities of a junior auditor would include checking expenditures, records aborî, û hatinên ji bo misogerkirina li wir tu profîla fonên e. hesabdarîyê Junior bi piranî di bin rêveberiya hesabdarîyê bilind kar di warê plankirina zebta.
---
Senior-Level Salaries CIA
mûçeyên-asta bilind a di navbera $78,000 û $98,000 ji bo karmendên şîrketên navîn-size. Ji bo şîrketên mezintir, mûçeyên dikarin ji ihtîmalên up $110,000, nûnerên ku bi qasî ku a 29 ji sedî li meaş ji asta junior. -Asta bilind mûçeyên (CIA) bi giştî ne mezintir ji bo rewşên aloz more ku çavdêrên di vê astê de, divê bedena tazmînata.
hesabdarîyê hevdîtinan, bi gelemperî ji bo çavdêriya operasyonên rojane ya qayîm bike karker û ji wan re. Ev dibe ku ji bo amadekirina raporên an reconciliations bank, hebûnên analîza, û amade raporên bac û daxuyaniyên aborî. hesabdarîyê Senior jî, bêhtirê caran ji bo kirina karê yên diravî jê biçûktir in.
mûçeyên CIA bi mîsogerî berhemdar e, di heman demê de bikeve hê çêtir!
---

Rêveberê Kontrola Hundir
Bi çend salan ji tecrûbeya, -Asta bilind çavdêrên navxweyî certified dibe ku mirov karibe kar riya xwe ji bo helwesta derhêner Hundir. Ev helwesta top-hed tê bi Farisan jî berpirsiyariya her weha weke meaşê bilind de. Rêveberê Kontrola Hundir li şîrketa medium-size nikare pêşbînî maaş meaşê di navbera $92,000 û $130,000. Birêvebirên kar ji bo şîrketên mezin jî dikarin ji bo debara xwe $151,000.
Erkên sereke yên rêveber (Riksrevisionen) têxe nava rêxistin û serperiştîkirina çavdêrên navxweyî. Ev bi gelemperî di nav serperiştîkirina a tîma çavdêrên asta lîsans û lîsansa bilind. Rêvebirê jî dikarin guherandinên di polîtîkayên pêşniyar, wek ku pêwîst bê dîtin. Birêvebirên patronên xwe li pey qanûnên hikûmetê jî ji bo danîna.
Heta di vê astê de, hê jî cih zêdetir ji bo mezinbûna karî, li wir. Diravî di çeperan de wek rêveberê audit kahînan dikarin ji bo debara xwe $165,000. Salaries dikare bibe, heta ji bo derhêner kar dikin şîrketên bi pir milyon--dolaran hatinên bilind de. Directors in such positions could see salaries in excess of $250,000.
---

CIA Salaries vs. EA Salaries
Certified internal auditor salaries do generally different from Enrolled Agent salaries. At the entry level, a certified internal auditor may have an average salary of $64,000. by berhevdana, an enrolled agent averages around $48,000 serê Sal. This difference in salary is due to the difference in the job roles and responsibilities between the positions. An enrolled agent is considered to be a tax specialist; lebê, the range of expertise of an EA is more limited than that of a CIA.
Want to know the best part?
While earning a CIA designation does require additional time and effort, once you have that designation, you have a tremendous amount of room for career growth. As you gain more years of experience, your salary will continue to increase. There is an incredible amount of room to work your way up the career ladder while seeing your salary increase.