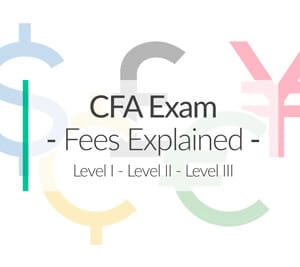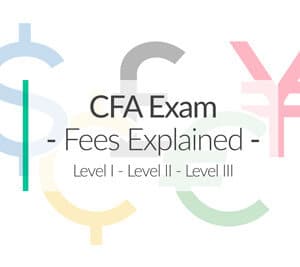 CFA® Exam fees can be very expensive, partly because it's actually made up of three separate exams that are very comprehensive. Most candidates think about the registration fees and the costs of actually taking the CFA® exam, but they don't consider all of the additional expenses that go with it.
Becoming a Chartered Financial Analyst is a huge investment in your career that will help you earn higher salaries, better opportunities, and more respect than you would have had without it. That's why it's worth paying for it. In the article, we will delve into the costs associated with enrolling in the CFA® exam, ongoing CFA® membership fees, è quì sottu applicàrisi assuciata incù u CFA® exam and membership.
Let's check out how much becoming a CFA® costs!
---
How Much Does it Cost to Take the CFA® Exam?
---
CFA® Study Material Costs
Before we get into all of the different CFA® exam fees, I think it's important to talk about CFA® exam prep courses. issu, in my mind, is an essential cost. If you don't get a good review course, you will most likely fail at least one part. There's no reason to take that risk.
Think about it this way. If you fail one CFA® level, tu vi hannu e cogghiri quasi un annu à piglià lu di novu. Tu vi hannu a passari un altru 200-300 ore u valore di u. Plus, tu vi hannu a pagari un altru $650-$930 iscrizioni a posa di la parti dinò.
U tempu travaglia in sulu stu prucessu ùn hè micca tene u, chì solu i soldi di retaking u testu. I nun casu si. Get a review sicuru chì ut a vostra stile amparera è ùn circà daretu. Maiò parti di li sò veramenti Cosi. Quì hè una lista di i sfarenti Corsi, pudete sceglie da e parauni di i so carattiristichi.
---
CFA® Program Enrollment Fees
A prima tassa vo vi pagari hè u Fee Program cuntrollu. This is a one-time fee to enter the series of CFA® exams. A tassa hè $450 e eni paiatu quandu vi fassi per a vostra esame prima Level I. You can consider this your application fee since you have to pay this in order to apply for the CFA® exam.
---
CFA® Exam Registration Fees
Ti paiari quì sottu iscrizzione sò tutti esame vo pigliari. In aghjunta à l 'esame, u tassa cuncerna più u eBook chì hà l 'Curriculum cumpleta, prove pràtica, zona argumenti è esami prucessu. Comu vo pudete vede sottu, the price of the exam varies greatly depending on when you register. In order to save money, make sure you register your exam date early for all three exams. Avoid late registration at all costs!
| CFA® Exam Registration | CFA® Exam Fees and Costs | Sign up Deadline |
| --- | --- | --- |
| Early Registration | $650 | 8 – 9 months before exam |
| Standard Registration | $930 | 3 –4 months before exam |
| Late Registration | $1,380 | < 3 months before exam |
---
CFA® Institute Member Fees
Once a you pass all three exams and your application is approved, you must pay annual dues. Regular dues are $275 annu, which runs from July 1 through June 30. Some of the benefits you receive as a CFA® Member include exclusive career resources and continuing education, access to select publications and discounts on CFA® Institute Conferences. This fee must be paid annually to be considered a CFA® Member.
---
3 Hidden CFA® Exam Fees You Didn't Expect
In addition to the fees mentioned above, there are some hidden and/or ancillary fees associated with the CFA® exam to be aware of. Some of these fees include:
---
Esame Re-piglià Fees
If you do not pass any of the exams, you will have to pay again to re-take the exam. These amounts can quickly add up especially if you fail more than once.
---
Fees Travel
The CFA® exam is offered in only 170 cities in June and 70 cities in December around the world. Most of the exam locations are in major metropolitan locations. If you are lucky enough to live by one of the test centers, then travel expenses will be minimal. Tuttavia, se vi tuccherà à andà à piglià u testu, pudite tuccherà à un cuntu novu per connecté a gas, plane tickets and/or hotel rooms.
---
Additional Fees Corso di lingua Francese
Many candidates use study resources other than those provided by CFA® Institute to help prepare for the exam. Per esempiu, the Kaplan Schweser CFA® Exam study packages range from $379 di l 'self-studiu nota à $2,099 di classi in-pirsuna e crìtiche studiu.
Ci hè un costu mudellu à cumprà u corsu in cumenciu. Sè vo curanu u esame o passari la data affittu à u vostru corsu revue, tu vi hannu a pagari na tassa lettinu di rinnuvàrisi lu. Ghjè veru pazzi perchè tù digià pagatu per lu in una volta. That's why I would recommend a study guide like Wiley CFA® that doesn't have an expiration date. Pudete puru aduprà per i muvrini tu bisognu di lu passà u esame. 🙂
---
Total Costs to Become a CFA®
in summa, the cost to become a CFA® Member can be significant and vary greatly depending on additional ancillary fees. À u minimu assai, un diputatu vi passanu $2,650, pigghiau paghendu quì sottu iscrizzione mane è una annata di quì sottu culturale annuali.
| CFA® Exam Fees | CFA® Exam Costs |
| --- | --- |
| CFA® Program Enrollment Fees | $450 |
| CFA® Level I Registration (Standard) | $930 |
| CFA® Level II Registration (Standard) | $930 |
| CFA® Level IIII Registration (Standard) | $930 |
| CFA® Annual Membership Fee | $250 |
in un altru, situazione certu più realistu, a Member can end up paying over $4,800 for the total cost of the CFA® exam and membership. This is assuming you are paying standard registration fees, one exam re-take fees, some travel fees and purchasing Schweser notes (minimum package) for all three tests.
| CFA® Exam Fees | CFA® Exam Costs |
| --- | --- |
| CFA® Program Enrollment Fees | $450 |
| CFA® Level I Registration (Standard) | $930 |
| CFA® Level II Registration (Standard) | $930 |
| CFA® Level IIII Registration (Standard) | $930 |
| CFA® Exam Re-take Fee | $930 |
| Tavel Fees | $300 |
| CFA® Study Material Costs | ~$1,137 |
| CFA® Annual Membership Fee | $250 |
While the CFA® exam is not cheap, the largest chunk of the cost comes from registration. Make sure you register early for all exams to save a significant amount of money.
---
Is a CFA® Certification Worth It?
Without a doubt, becoming a CFA® will open the door for many different career opportunities that you couldn't even dream of without it. Not only will you be able to fulfill new roles in companies; you will also be able to broaden your career options into fields you wouldn't have access to without it.
It goes without saying that with more responsibilities and importance in your duties, you will get paid way more. It's a long journey from your Level 1 to your Level 3, but it's worth it.
Stop questioning yourself and get started studying today!
CFA® Institute does not endorse, promote or warrant the accuracy or quality of AIS-CPA.com. CFA® and Chartered Financial Analyst® are registered trademarks owned by CFA® Institute.