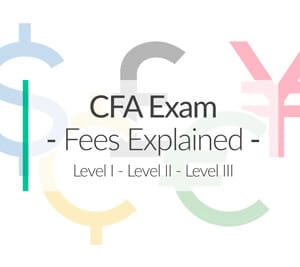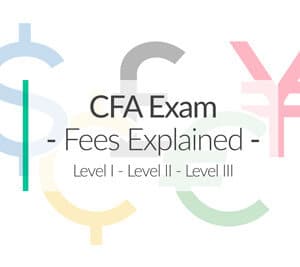 CFA® Exam fees can be very expensive, partly because it's actually made up of three separate exams that are very comprehensive. Most candidates think about the registration fees and the costs of actually taking the CFA® exam, but they don't consider all of the additional expenses that go with it.
Becoming a Chartered Financial Analyst is a huge investment in your career that will help you earn higher salaries, better opportunities, and more respect than you would have had without it. That's why it's worth paying for it. In het artikel, we will delve into the costs associated with enrolling in the CFA® exam, ongoing CFA® membership fees, en bijkomende kosten verbonden aan de CFA® exam and membership.
Let's check out how much becoming a CFA® costs!
---
How Much Does it Cost to Take the CFA® Exam?
---
CFA® Study Material Costs
Before we get into all of the different CFA® exam fees, Ik denk dat het belangrijk is om te praten over CFA® exam prep courses. Deze, in mijn gedachten, is een essentiële kosten. Als u niet beschikt over een goede recensie cursus krijgen, you will most likely fail at least one part. Er is geen reden om dat risico te nemen.
Denk na over het op deze manier. If you fail one CFA® level, moet je bijna een jaar wachten om het opnieuw te nemen. Je moet naar een ander door te brengen 200-300 uren studeren voor haar. Plus, je zal moeten naar een andere te betalen $650-$930 inschrijfgeld om opnieuw te zitten voor het deel.
De tijd die betrokken zijn alleen al in dit proces is het niet waard, laat staan ​​het geld van herovering van de test. Ik zou het niet kans dat. Hier krijg je een beoordeling cursus die je leerstijl past en niet terug te kijken. De meesten van hen zijn echt betaalbaar. Hier is een lijst van verschillende cursussen kunt u kiezen uit en vergelijken hun kenmerken.
---
CFA® Program Enrollment Fees
De eerste vergoeding die u betaalt is het programma Inschrijfgeld. This is a one-time fee to enter the series of CFA® exams. The fee is $450 and is paid when you register for your first Level I exam. You can consider this your application fee since you have to pay this in order to apply for the CFA® exam.
---
CFA® Exam Registration Fees
You will pay registration fees are every exam you take. In addition to the exam, the fee mainly covers the eBook which has the complete curriculum, topic area practice tests and mock exams. As you can see below, the price of the exam varies greatly depending on when you register. In order to save money, make sure you register your exam date early for all three exams. Avoid late registration at all costs!
| CFA® Exam Registration | CFA® Exam Fees and Costs | Sign up Deadline |
| --- | --- | --- |
| Early Registration | $650 | 8 - 9 months before exam |
| Standard Registration | $930 | 3 –4 months before exam |
| Late Registration | $1,380 | < 3 months before exam |
---
CFA® Institute Member Fees
Zodra een je langs alle drie examens en uw aanvraag wordt goedgekeurd, U dient jaarlijkse contributie te betalen. Reguliere contributie $275 per jaar, die loopt vanaf juli 1 tot en met juni 30. Some of the benefits you receive as a CFA® Member include exclusive career resources and continuing education, access to select publications and discounts on CFA® Institute Conferences. This fee must be paid annually to be considered a CFA® Member.
---
3 Hidden CFA® Exam Fees You Didn't Expect
Naast de bovengenoemde kosten, there are some hidden and/or ancillary fees associated with the CFA® exam to be aware of. Some of these fees include:
---
Examen Re-take Fees
If you do not pass any of the exams, you will have to pay again to re-take the exam. These amounts can quickly add up especially if you fail more than once.
---
reiskosten
The CFA® exam is offered in only 170 cities in June and 70 cities in December around the world. Most of the exam locations are in major metropolitan locations. If you are lucky enough to live by one of the test centers, then travel expenses will be minimal. Echter, als je nodig hebt om te reizen naar de test, u kan nodig zijn om rekening te houden met het benzineverbruik, plane tickets and/or hotel rooms.
---
Extra studiekosten
Many candidates use study resources other than those provided by CFA® Institute to help prepare for the exam. Bijvoorbeeld, the Kaplan Schweser CFA® Exam study packages range from $379 voor de zelfstudie nota's aan $2,099 voor in-persoon klassen en studie reviews.
Er is een standaard kosten voor de cursus in eerste instantie kopen. Als u niet voor het examen of langs de vervaldatum op uw evaluatiecursus, moet u een extra vergoeding te betalen om het te vernieuwen. Dit is echt dom, omdat je al een keer betaald. That's why I would recommend a study guide like Wiley CFA® that doesn't have an expiration date. U kunt het gebruiken voor zo lang als je het nodig hebt om het examen. 🙂
---
Total Costs to Become a CFA®
In totaal, the cost to become a CFA® Member can be significant and vary greatly depending on additional ancillary fees. Helemaal aan het minimum, een lid zal besteden $2,650, uitgaande van het betalen van vroeg registratierechten en een jaar van de jaarlijkse contributie.
| CFA® Exam Fees | CFA® Exam Costs |
| --- | --- |
| CFA® Program Enrollment Fees | $450 |
| CFA® Level I Registration (Standard) | $930 |
| CFA® Level II Registration (Standard) | $930 |
| CFA® Level IIII Registration (Standard) | $930 |
| CFA® Annual Membership Fee | $250 |
In een andere, misschien wel meer realistische scenario, een lid kan uiteindelijk het betalen van meer dan $4,800 for the total cost of the CFA® exam and membership. This is assuming you are paying standard registration fees, een examen opnieuw af te leggen kosten, sommige reiskosten en de aankoop van Schweser notities (minimumpakket) voor alle drie tests.
| CFA® Exam Fees | CFA® Exam Costs |
| --- | --- |
| CFA® Program Enrollment Fees | $450 |
| CFA® Level I Registration (Standard) | $930 |
| CFA® Level II Registration (Standard) | $930 |
| CFA® Level IIII Registration (Standard) | $930 |
| CFA® Exam Re-take Fee | $930 |
| Tavel Fees | $300 |
| CFA® Study Material Costs | ~$1,137 |
| CFA® Annual Membership Fee | $250 |
Terwijl de CFA® exam is not cheap, the largest chunk of the cost comes from registration. Zorg ervoor dat je vroeg registreren voor alle examens om een ​​aanzienlijke hoeveelheid geld te besparen.
---
Is a CFA® Certification Worth It?
Zonder twijfel, becoming a CFA® will open the door for many different career opportunities that you couldn't even dream of without it. Not only will you be able to fulfill new roles in companies; you will also be able to broaden your career options into fields you wouldn't have access to without it.
It goes without saying that with more responsibilities and importance in your duties, you will get paid way more. It's a long journey from your Level 1 to your Level 3, maar het is het waard.
Stop questioning yourself and get started studying today!
CFA® Institute does not endorse, promote or warrant the accuracy or quality of AIS-CPA.com. CFA® and Chartered Financial Analyst® are registered trademarks owned by CFA® Institute.