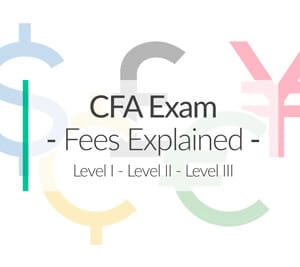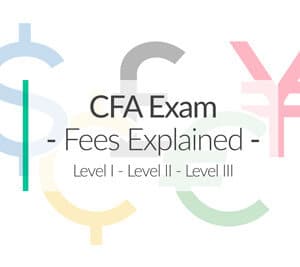 CFA® Exam fees can be very expensive, mwina chifukwa kwenikweni wapangidwa mayeso zitatu ndi mabuku kwambiri. Most candidates think about the registration fees and the costs of actually taking the CFA® exam, koma osaganizira zonse ndalama zina kuti apite nacho icho.
Becoming a Chartered Financial Analyst is a huge investment in your career that will help you earn higher salaries, wabwino, ndi ulemu woposa iwe kukadamuyenera popanda. Ndicho chifukwa ndi ofunika kulipira. M'nkhani, we will delve into the costs associated with enrolling in the CFA® exam, ongoing CFA® membership fees, ndipo zolipira zina kugwirizana ndi CFA® exam and membership.
Let's check out how much becoming a CFA® costs!
---
How Much Does it Cost to Take the CFA® Exam?
---
CFA® Study Material Costs
Before we get into all of the different CFA® exam fees, I think it's important to talk about CFA® exam prep courses. izi, in my mind, is an essential cost. If you don't get a good review course, you will most likely fail at least one part. Palibe chifukwa kuti atenge chiopsezo.
Ganizilani motere. If you fail one CFA® level, inu kudikira pafupifupi chaka yakuwutenganso. Muyenera amathera wina 200-300 kuwerenga kwa izo. Plus, inu kulipira china $650-$930 amalipiritsa kulembetsa kukhala pa mbali kachiwiri.
Nthawi nawo mbali ndekha sikuthandiza, samathanso ndalama retaking mayeso. Sindifuna mwayi izo. Pezani ndemanga Inde n'zogwirizana kuphunzira kalembedwe wanu ndipo osayang'ana kumbuyo. Ambiri a iwo kwenikweni angakwanitse. Pano pali mndandanda wa zosankha mukhoza kusankha ku fanizirani zizindikiro zawo.
---
CFA® Program Enrollment Fees
Amalipiritsa choyamba inu kulipira ndi Program Kulembetsa amalipiritsa. This is a one-time fee to enter the series of CFA® exams. amalipiritsa ndi $450 ndipo analipira pamene inu kulembetsa woyamba mlingo Ine mayeso anu. You can consider this your application fee since you have to pay this in order to apply for the CFA® exam.
---
CFA® Exam Registration Fees
Inu kulipira zolipirira ali yense mayeso inu mutenge. Kuwonjezera mayeso, amalipiritsa makamaka chimakwirira eBook amene ali ndi maphunziro wathunthu, mutu m'dera mayesero chizolowezi ndi mayeso wotonza. Monga mukuonera pansipa, mtengo wa mayeso imasiyana malingana kwambiri pamene inu kulembetsa. Kuti ndalama, make sure you register your exam date early for all three exams. Avoid late registration at all costs!
| CFA® Exam Registration | CFA® Exam Fees and Costs | Sign up Deadline |
| --- | --- | --- |
| Early Registration | $650 | 8 - 9 months before exam |
| Standard Registration | $930 | 3 –4 months before exam |
| Late Registration | $1,380 | < 3 months before exam |
---
CFA® Institute Member Fees
Kamodzi inu pochitika mayeso onse atatu ndi ntchito yanu wavomerezedwa, uzikwaniritsa mangawa pachaka. mangawa zonse ndi $275 pa chaka, amene amayendetsa kuchokera July 1 kudzera June 30. Some of the benefits you receive as a CFA® Member include exclusive career resources and continuing education, access to select publications and discounts on CFA® Institute Conferences. This fee must be paid annually to be considered a CFA® Member.
---
3 Hidden CFA® Exam Fees You Didn't Expect
Kuwonjezera malipiro tatchulazi, there are some hidden and/or ancillary fees associated with the CFA® exam to be aware of. Ena mwa chindapusa zikuphatikizapo:
---
Exam Re-take Fees
Ngati inu Sizilowana aliyense za mayeso, inu kulipira kachiwiri kuti adzathe kutenga mayeso. Izi ndalama akhoza mofulumira kuwonjezera makamaka mukalephera kangapo.
---
Travel Fees
The CFA® exam is offered in only 170 Mizinda June ndi 70 cities in December around the world. Most of the exam locations are in major metropolitan locations. If you are lucky enough to live by one of the test centers, then travel expenses will be minimal. Komabe, if you need to travel to take the test, you may need to account for gas mileage, plane tickets and/or hotel rooms.
---
Additional Study Fees
Many candidates use study resources other than those provided by CFA® Institute to help prepare for the exam. Mwachitsanzo, the Kaplan Schweser CFA® Exam study packages range from $379 for the self-study notes to $2,099 for in-person classes and study reviews.
There's a standard cost to buy the course initially. If you fail the exam or pass the expiration date on your review course, you will have to pay an extra fee to renew it. This is really stupid because you already paid for it once. That's why I would recommend a study guide like Wiley CFA® that doesn't have an expiration date. You can use it for as long as you need it to pass the exam. 🙂
---
Total Costs to Become a CFA®
In sum, the cost to become a CFA® Member can be significant and vary greatly depending on additional ancillary fees. At the very minimum, a Member will spend $2,650, assuming paying early registration fees and one year of annual membership fees.
| CFA® Exam Fees | CFA® Exam Costs |
| --- | --- |
| CFA® Program Enrollment Fees | $450 |
| CFA® Level I Registration (Standard) | $930 |
| CFA® Level II Registration (Standard) | $930 |
| CFA® Level IIII Registration (Standard) | $930 |
| CFA® Annual Membership Fee | $250 |
In another, arguably more realistic scenario, a Member can end up paying over $4,800 for the total cost of the CFA® exam and membership. This is assuming you are paying standard registration fees, one exam re-take fees, some travel fees and purchasing Schweser notes (minimum package) for all three tests.
| CFA® Exam Fees | CFA® Exam Costs |
| --- | --- |
| CFA® Program Enrollment Fees | $450 |
| CFA® Level I Registration (Standard) | $930 |
| CFA® Level II Registration (Standard) | $930 |
| CFA® Level IIII Registration (Standard) | $930 |
| CFA® Exam Re-take Fee | $930 |
| Tavel Fees | $300 |
| CFA® Study Material Costs | ~$1,137 |
| CFA® Annual Membership Fee | $250 |
Ngakhale CFA® exam is not cheap, the largest chunk of the cost comes from registration. Onetsetsani kuti alembetse oyambirira mayeso onse kupulumutsa kwambiri kuchuluka kwa ndalama.
---
Is a CFA® Certification Worth It?
Mosakayikira, becoming a CFA® will open the door for mipata yambiri osiyana ntchito kuti inu simukanakhoza ngakhale ndimalota za popanda. Osati kokha inu athe udindo watsopano mu makampani; you will also be able to broaden your career options into fields you wouldn't have access to without it.
It goes without saying that with more responsibilities and importance in your duties, you will get paid way more. Ndi ulendo wautali kuchokera mlingo wanu 1 kwa mlingo wanu 3, koma sikuthandiza.
Lekani mafunso nokha ndipo muyambepo kuphunzira lero!
CFA® Institute does not endorse, promote or warrant the accuracy or quality of AIS-CPA.com. CFA® and Chartered Financial Analyst® are registered trademarks owned by CFA® Institute.