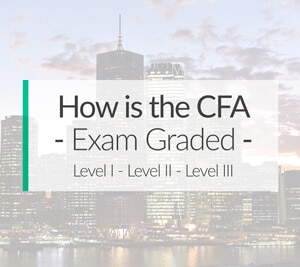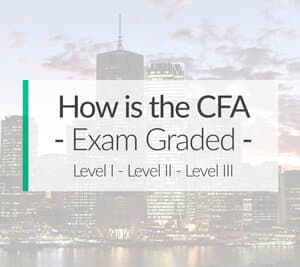 CFA® exam results are issued by the CFA® Institute to Level I and Level II candidates within 60 jours de leur date d'examen. CFA® Level III candidate results are issued within 90 jours de leur date d'examen.
This means that June CFA® Level I and II test takers will receive results at the end of July, et les candidats de niveau III recevront les résultats au début de Août. preneurs de test Décembre (Niveau I seulement) recevront leurs résultats d'examen à la fin de Janvier.
If you are waiting for your CFA® results, vous pourriez avoir quelques questions au sujet de la CFA® exam scoring process or what the overall CFA® pass rates mean for the exam. Let's take a look at the historical pass rates and how the CFA® Institute grades and scores the CFA® exam.
---
CFA® Exam Results, Taux de réussite, et classement
---
What are the CFA® Pass Rates for Each Level?
Comme vous pouvez le voir dans le tableau ci-dessous, the CFA® pass rates for each level vary within a very tight band. Niveau I candidats ont le taux de réussite le plus bas. Cela est logique parce que c'est leur premier examen.
Alors que le niveau III a le taux de réussite le plus élevé, ne vous laissez pas berner que c'est le test le plus facile. Les candidats qui prennent l'examen de niveau III comprennent ceux qui ont passé des niveaux I et II ou ceux qui sont à nouveau passer l'examen de niveau III. Donc, le niveau III candidats piscine est plus expérimenté que pour la première fois ou de niveau « occasionnels » preneurs de test I.
| CFA® Exam Results | décembre 2018 | juin 2018 | décembre 2017 | juin 2017 | décembre 2016 | juin 2016 |
| --- | --- | --- | --- | --- | --- | --- |
| CFA® Level I Pass Rates | 45% | 43% | 43% | 43% | 43% | 42% |
| CFA® Level II Pass Rates | n/a | 45% | n/a | 47% | n/a | 46% |
| CFA® Level III Pass Rates | n/a | 56% | n/a | 54% | n/a | 53% |
---
How is CFA® Exam Graded?
While the CFA® Institute is notoriously secretive in the way they grade the exams, ils ne nous donnent quelques détails sur leur méthodologie et processus dans son ensemble. Nous allons jeter un coup d'oeil.
---
Who Grades the CFA® Exam?
le CFA® exams are both machine graded and graded by CFA® charter holders. Pour tous les choix multiples / sections de scantron niveaux I, II et III, les examens sont classés par la machine. The essay portion of the Level III exam is graded by CFA® charter holders that travel to Charlottesville, Virginie dans le but même de ces essais de qualité.
---
How is the CFA® Exam Scored?
Une fois que les examens sont notés, the CFA® Board of Governors sets the Minimum Passing Score (MPS) pour chaque niveau. Le but du MPS est d'assurer un niveau de difficulté et de l'équité entre les examens. Le MPS est NE PAS released.
Because the CFA® Institute does not release the MPS, il est impossible de connaître votre note de passage à chaque examen. en outre, you do not receive one specific score when you receive your CFA® exam results. Au lieu, vous recevez un:
« Pass » ou « N'a pas satisfait » résultat. « Pass » signifie votre score atteint ou dépassé le MPS. « Ne pas passer » signifie que votre score était inférieur à celui du MPS.
Résumé de la façon dont vous avez fait par chaque sujet couvert à l'examen, ainsi que le montant maximum de points que vous pouvez gagner dans chaque thème. Plutôt que de recevoir un score pour chaque sujet, vous recevez une plage de score de moins de 50%; entre 50% et 70%; ou plus 70% pour chaque sujet.
The exams are weighted across ten different topic areas. The weights differ per exam and are shown below.
| CFA® Exam Topic Area | Level I | Level II | Level III |
| --- | --- | --- | --- |
| Ethics and Professional Standards | 15 | 10 - 15 | 10 - 15 |
| Quantitative Methods | 12 | 5 - 10 | 0 |
| Économie | 10 | 5 - 10 | 5 - 15 |
| Financial Reporting and Analysis | 20 | 5 - 20 | 0 |
| corporate Finance | 7 | 5 - 15 | 0 |
| Placements en actions | 10 | 15 - 25 | 5 - 15 |
| Fixed Income | 10 | 10 - 20 | 10 - 20 |
| Dérivés | 5 | 5 - 15 | 5 - 15 |
| Alternative Investments | 4 | 5 - 10 | 5 - 15 |
| Portfolio Management and Wealth Planning | 7 | 5 - 10 | 10 - 55 |
Here's what you should take into account when you evaluate your exam results:
Max Points Available
The maximum amount of points achievable varies for each topic area. For example, in the Level I exam, une +70% score on the Financial Reporting and Analysis topic area would hold more weight than a +70% score on the Portfolio Management and Wealth Planning topic area.
Score Ranges Are Unhelpful
Vous ne pouvez pas utiliser plage score de chaque sujet pour comprendre vos scores réels ou si vous avez passé ou non / n'a pas été adopté résultat. Because the CFA® Institute reports the scores as a range, le même score sommaire pour deux candidats distincts peut entraîner un passage et un n'a pas été adopté. Ceci est dû au fait, par exemple, un candidat aurait pu marquer un 99% dans une zone de sujet, tandis qu'un autre candidat a marqué un 71% dans ce même domaine thématique.
---
Want to Improve Your CFA® Score?
The best way to improve your CFA® score is to study more efficiently and effectively. Pour faire ça, vous aurez besoin d'un cours d'examen approprié. You can't expect to pass the exam on your first try or at all for that matter by simply using the study materials from the CFA® Institute. Vous aurez besoin de quelque chose de plus que.
Vous devriez chercher un guide d'étude qui correspond à votre style d'apprentissage et s'inscrit dans votre budget. Voici une liste des cours les plus populaires là-bas. Jetez un oeil à chacun et voir que l'on va vous préparer à l'examen le meilleur. Bonne chance!
CFA® Institute does not endorse, promote or warrant the accuracy or quality of AIS-CPA.com. CFA® and Chartered Financial Analyst® are registered trademarks owned by CFA® Institute.