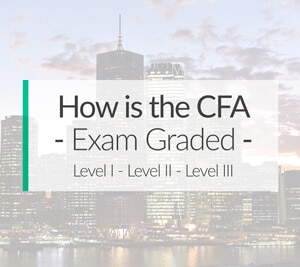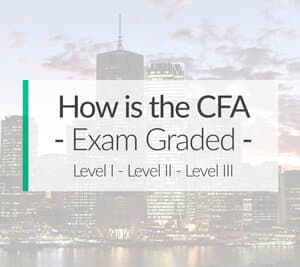 CFA® exam results are issued by the CFA® Institute to Level I and Level II candidates within 60 dagen fan har eksamen date. CFA® Level III candidate results are issued within 90 dagen fan har eksamen date.
This means that June CFA® Level I and II test takers will receive results at the end of July, en Level III test Takers krije resultaten yn begjin augustus. Desimber test Takers (Level ik allinne) krije harren eksamen resultaten oan 'e ein fan Jannewaris.
If you are waiting for your CFA® results, jo miskien hawwe in pear fragen oer de CFA® exam scoring process or what the overall CFA® pass rates mean for the exam. Let's take a look at the historical pass rates and how the CFA® Institute grades and scores the CFA® exam.
---
CFA® Exam Results, Pass Tariven, en grading
---
What are the CFA® Pass Rates for Each Level?
Sa't jo sjen kinne yn it skema hjirûnder, the CFA® pass rates for each level vary within a very tight band. Nivo Ik kandidaten hawwe de leechste pass koers. Dat makket sense omdat dit is har earste eksamen.
Wylst Level III hat de heechste pass koers, net wurde kaai nei de wrâld, dat dit is de maklikste test. Kandidaten nimme it nivo III eksamen ûnder oaren dyjingen dy't hawwe trochjûn Levels I en II of harren dy't re-nimme it nivo III eksamen. Dêrom, it nivo III kandidaten bad is mear erfaren as earst-time of 'casual' Nivo I test Takers.
| CFA® Exam Results | December 2018 | June 2018 | December 2017 | June 2017 | December 2016 | June 2016 |
| --- | --- | --- | --- | --- | --- | --- |
| CFA® Level I Pass Rates | 45% | 43% | 43% | 43% | 43% | 42% |
| CFA® Level II Pass Rates | n/a | 45% | n/a | 47% | n/a | 46% |
| CFA® Level III Pass Rates | n/a | 56% | n/a | 54% | n/a | 53% |
---
How is CFA® Exam Graded?
While the CFA® Institute is notoriously secretive in the way they grade the exams, they do give us some details about their methodology and overall process. Let's take a look.
---
Who Grades the CFA® Exam?
De CFA® exams are both machine graded and graded by CFA® charter holders. For all multiple choice/scantron sections in Levels I, II and III, the exams are graded by machine. The essay portion of the Level III exam is graded by CFA® charter holders that travel to Charlottesville, Virginia for the very purpose to grade these essays.
---
How is the CFA® Exam Scored?
Once the exams are graded, the CFA® Board of Governors sets the Minimum Passing Score (MPS) for each level. The purpose of the MPS is to ensure a consistent level of difficulty and fairness across exams. The MPS is NOT released.
Because the CFA® Institute does not release the MPS, it is impossible to know your passing score on each exam. Derneist, you do not receive one specific score when you receive your CFA® exam results. Instead, you receive a:
"Pass" or "Did not pass" result. "Pass" means your score met or exceeded the MPS. "Hawwe net Pass" betsjut dyn skoare wie leger as de MPS.
Gearfetting fan hoe't jim dienen by elk ûnderwerp gebiet besloech op it eksamen en ek de maksimum hoemannichte punten dy't jo kinne fertsjinje yn eltse ûnderwerp gebiet. Leaver as krige ien skoare foar elk ûnderwerp gebiet, Jo ûntfange in skoare oanbod fan minder as 50%; tusken 50% en 70%; of mear as 70% foar elk ûnderwerp gebiet.
De eksamens wurde woegen oer tsien ferskillende ûnderwerp gebieden. De gewichten ferskille per eksamen en wurde werjûn hjirûnder.
| CFA® Exam Topic Area | Level I | Level II | Level III |
| --- | --- | --- | --- |
| Ethics and Professional Standards | 15 | 10 - 15 | 10 - 15 |
| Quantitative Methods | 12 | 5 - 10 | 0 |
| Economics | 10 | 5 - 10 | 5 - 15 |
| Financial Reporting and Analysis | 20 | 5 - 20 | 0 |
| Corporate Finance | 7 | 5 - 15 | 0 |
| Equity Investments | 10 | 15 - 25 | 5 - 15 |
| Fixed Income | 10 | 10 - 20 | 10 - 20 |
| Derivatives | 5 | 5 - 15 | 5 - 15 |
| Alternative Investments | 4 | 5 - 10 | 5 - 15 |
| Portfolio Management and Wealth Planning | 7 | 5 - 10 | 10 - 55 |
Hjir is wat jo moatte rekken hâlde as jo evaluearje dyn eksamen resultaten:
Max Punten Beskikber
The maximum amount of points achievable varies for each topic area. For example, yn 'e Level I eksamen, in +70% skoare op it Finansjele Reporting en Analyze topic gebiet soe fêsthâlde mear gewicht as in +70% score on the Portfolio Management and Wealth Planning topic area.
Score Ranges Are Unhelpful
Jo kinne gjin gebrûk meitsje score berik fan elk ûnderwerp gebiet út te finen jo eigentlike skoares of oft jo slagge of net / net foarby resultaat. Because the CFA® Institute reports the scores as a range, itselde summary skoare foar twa aparte kandidaten kinne resultearje yn ien pass en ien net foarby. Dat komt omdat, as in foarbyld, ien kandidaat koe wei skoare a 99% yn ien ûnderwerp gebiet wylst in oare kandidaat skoarden a 71% yn dat selde topic gebiet.
---
Want to Improve Your CFA® Score?
The best way to improve your CFA® score is to study more efficiently and effectively. Om dit te dwaan, do silst moatte in goede resinsje kursus. You can't expect to pass the exam on your first try or at all for that matter by simply using the study materials from the CFA® Institute. Jo sille moatte wat mear as dat.
Jo moatte sjen nei in stúdzje gids dy't oerienkomt mei dyn learen styl en past binnen dy budzjet. Hjir is in list fan de meast populêre opliedings út dêr. Nim efkes de tiid om elke en sjen hokker men sil helpe tariede jo foar it eksamen de bêste. Súkses!
CFA® Institute does not endorse, promote or warrant the accuracy or quality of AIS-CPA.com. CFA® and Chartered Financial Analyst® are registered trademarks owned by CFA® Institute.