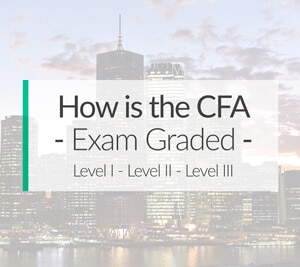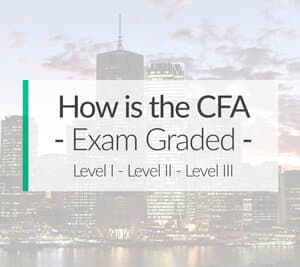 CFA® exam results are issued by the CFA® Institute to Level I and Level II candidates within 60 dagen na de examendatum. CFA® Level III candidate results are issued within 90 dagen na de examendatum.
This means that June CFA® Level I and II test takers will receive results at the end of July, en Level III geteste personen zullen de resultaten ontvangt begin augustus. December geteste personen (Niveau alleen I) zullen hun examenresultaten ontvangen aan het eind januari.
If you are waiting for your CFA® results, u misschien een aantal vragen over het hebben CFA® exam scoring process or what the overall CFA® pass rates mean for the exam. Let's take a look at the historical pass rates and how the CFA® Institute grades and scores the CFA® exam.
---
CFA® Exam Results, Pass tarieven, en scoring
---
What are the CFA® Pass Rates for Each Level?
Zoals je kunt zien in het onderstaande schema, the CFA® pass rates for each level vary within a very tight band. Level I kandidaten hebben het laagste slagingspercentage. Dit is logisch, want dit is hun eerste examen.
Terwijl Level III heeft het hoogste slagingspercentage, laat je niet misleiden dat dit de makkelijkste-test. Kandidaten nemen van de Level III examen onder degenen die Levels zijn geslaagd I en II of degenen die opnieuw het nemen van de Level III examen. daarom, the Level III candidates pool is more experienced than first-time or 'casual' Level I test takers.
| CFA® Exam Results | December 2018 | June 2018 | December 2017 | June 2017 | December 2016 | June 2016 |
| --- | --- | --- | --- | --- | --- | --- |
| CFA® Level I Pass Rates | 45% | 43% | 43% | 43% | 43% | 42% |
| CFA® Level II Pass Rates | n/a | 45% | n/a | 47% | n/a | 46% |
| CFA® Level III Pass Rates | n/a | 56% | n/a | 54% | n/a | 53% |
---
How is CFA® Exam Graded?
While the CFA® Institute is notoriously secretive in the way they grade the exams, they do give us some details about their methodology and overall process. Let's take a look.
---
Who Grades the CFA® Exam?
De CFA® exams are both machine graded and graded by CFA® charter holders. For all multiple choice/scantron sections in Levels I, II and III, the exams are graded by machine. The essay portion of the Level III exam is graded by CFA® charter holders that travel to Charlottesville, Virginia for the very purpose to grade these essays.
---
How is the CFA® Exam Scored?
Once the exams are graded, the CFA® Board of Governors sets the Minimum Passing Score (MPS) for each level. The purpose of the MPS is to ensure a consistent level of difficulty and fairness across exams. The MPS is NOT released.
Because the CFA® Institute does not release the MPS, it is impossible to know your passing score on each exam. In aanvulling op, you do not receive one specific score when you receive your CFA® exam results. In plaats daarvan, you receive a:
"Pass" or "Did not pass" result. "Pass" means your score met or exceeded the MPS. "Did not Pass" means your score was lower than the MPS.
Summary of how you did by each topic area covered on the exam as well as the maximum amount of points that you can earn in each topic area. Rather than receiving one score for each topic area, you receive a score range of less than 50%; tussen 50% en 70%; of meer dan 70% voor elk onderwerp gebied.
De examens worden gewogen op tien verschillende themagebieden. De gewichten verschilt per examen en worden hieronder.
| CFA® Exam Topic Area | Level I | Level II | Level III |
| --- | --- | --- | --- |
| Ethics and Professional Standards | 15 | 10 - 15 | 10 - 15 |
| Kwantitatieve methoden | 12 | 5 - 10 | 0 |
| Economics | 10 | 5 - 10 | 5 - 15 |
| Financial Reporting and Analysis | 20 | 5 - 20 | 0 |
| Bedrijfsfinanciën | 7 | 5 - 15 | 0 |
| equity Investments | 10 | 15 - 25 | 5 - 15 |
| Vast inkomen | 10 | 10 - 20 | 10 - 20 |
| Derivatives | 5 | 5 - 15 | 5 - 15 |
| Alternative Investments | 4 | 5 - 10 | 5 - 15 |
| Portfolio Management and Wealth Planning | 7 | 5 - 10 | 10 - 55 |
Hier is wat je moet rekening worden gehouden wanneer u uw examen resultaten te evalueren:
Max Points beschikbaar
The maximum amount of points achievable varies for each topic area. For example, in het Level I examen, een +70% scoren op de financiële verslaggeving en analyse onderwerp gebied zou meer gewicht dan een houden +70% score on the Portfolio Management and Wealth Planning topic area.
Score bereiken zijn Unhelpful
U kunt geen score bereik van elk onderwerp gebied om erachter te komen uw werkelijke scores of het al dan niet je bent geslaagd / heeft resultaat niet voorbij. Because the CFA® Institute reports the scores as a range, dezelfde samenvatting score voor twee verschillende kandidaten kan resulteren in een keer en één niet voorbij. Dit is zo omdat, als voorbeeld, één kandidaat zou hebben scoorde een 99% in een onderwerp gebied, terwijl een andere kandidaat scoorde een 71% in hetzelfde thema gebied.
---
Want to Improve Your CFA® Score?
The best way to improve your CFA® score is to study more efficiently and effectively. To do this, vindt u een goede beoordeling natuurlijk wel. You can't expect to pass the exam on your first try or at all for that matter by simply using the study materials from the CFA® Institute. You will need something more than that.
You should look for a study guide that matches your learning style and fits within you budget. Here's a list of the most popular courses out there. Neem een ​​kijkje op elke en zien welke zal helpen bereidt je voor op het examen de beste. Succes!
CFA® Institute does not endorse, promote or warrant the accuracy or quality of AIS-CPA.com. CFA® and Chartered Financial Analyst® are registered trademarks owned by CFA® Institute.