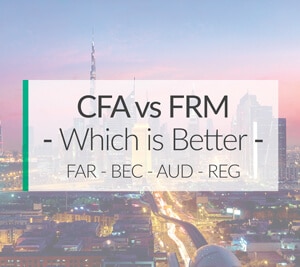 sia u Ca. Infraestrutura (CFA®) e Risichi Financial Manager (frm) credentials designate professionals who are knowledgeable in finance and capable of analyzing investments.
Although both certifications are financially based, ch'elli sò assai differente in a natura è permette à i so abbunati di fà affari sfarenti è spicializzanu sulu in diverse attività.
A Canzona di piglià un ochju à CFA® vs FRM è vede chì unu hè dritta per voi.
---
What is the difference between a CFA
®

and FRM?
Cosa hè un CFA
®

?

CFA® stands for Chartered Financial Analyst, a certification earned through the CFA® Institute. CFA®s exhibit a high level of expertise in investment management. Some of the job titles held by CFA®s include portfolio manager, research analyst, and investment banker. They also tend to work in corporate finance.
Cosa hè un frm?
FRM is an acronym for Risichi Financial Manager, a certification offered by the Global Association of Risk Professionals. GARP and the FRM certification are recognized internationally. FRMs assess an organization's risk and develop strategies to minimize or offset it. They can be found working in banking, corporations, asset management firms, e lu cuvernu.
---
CFA
®

vs FRM Career Path Differences

CFA®s typically have di più occasioni carriera cà frms parchì i so studii è e cumpetenze sò tiurii in circulu, soprattuttu in pusizzioni managerial. Si spicializzanu sulu in litturali è maximizing investimenti d'un offiziu, chì pò attaque una larga riti carriera-sàviu. CFA®s typically work in hedge funds, banche, Finca, è Finanzi striscia pràtica assautu banca, établissement Portfolio, e ricerche ghjustizia.

frms, da l'altra parte, sò assai di più spertu. They specialize in analyzing risk and figuring out ways to minimize it within a company or portfolio. FRMs typically hold managerial and executive level positions who concentrate on risk and investment risk.
---
CFA
®

vs FRM Certification Time Requirements

CFA® candidates must enroll in the certification program offered by the CFA® Institute. To enroll in the program, you must have a four-year degree or combination of education and work experience and pass a three-part exam covering the following topics:
Etica
Portfolio Management
Accounting
Corporate Finance
Fixed Income
Equity Investments
It's a common statistic that it requires about 300 hours of study time to pass each level of the CFA® exam. In più, à riceve u quatru, vi tuccherà à hannu a girari 'anni di sperienza ligatu sottu un CFA®. You must also become a member of the CFA® Institute.
A divintari un frm, vi ci vole passà per un esame duie-parte amministrata da u Association Global di prufissiunisti risichi (Garp) dui voti ogni annu chì coprenu i seguenti temi:
Analysis quantitative francese
Derivati
Value at Risk
Credit Risk
Operation Risk
Basel Norms
Frms ci vole dinù compie dui anni di sperienza relative. Si pigghia tipicamenti candidati frm almenu 150 ore à studià per ogni livellu esame. Garp spinci dinù frms à piglià 40 ore di educazione permanente ogni dui anni,. While the GARP website does not mention any specific four-year degree requirement or the minimum number of credit hours, vi pò suppona chì a tèniri un impiegu in l'établissement risicu, gradu un l'Bachelor saria necessariu.
A guadagnari o certificazione, esse bè dispostu à invistiscia nutevuli tempu di studià e Kindle in u vostru preparazione esame.
---
CFA
®

vs FRM Cost of Certification

The CFA® exam has a one-time program enrollment fee of $450. L' quì sottu tutali esame per ogni costu livellu tipicamenti $930. CFA® candidates can expect to pay $1,100 – $1,700 à ottene i so quatru.

À piglià l 'esame frm, esse bè dispostu à pagà un $400 tassa cuntrollu in aghjunta à i spesi di ogni esame. spesi Part I $875 spesi è Part II $475. Pudete s'aspittava à pagà $1,050 – $1,500 a divintari un frm.

rates, Pass prò esami sò in lu 40 serie centu.
---
FRM and CFA
®

Potential Salaries

Salaries prò mestieri dipennunu u titulu di travagliu, years of experience and geographic location.

CFA®s can earn a salary trà $45,000 e $180,000 per year depending on their position, spirienza, and industry. The FRM salary range is very similar to the CFA® salary range. FRMs typically earn $50,000 à $165,000.
---
Frm o di CFA
®

: Perchè ùn avè dui?

There is no reason why you can't have both. It all depends on what you want to do with your career. The most logical scenario for having both a CFA® and FRM credential is if you are a CFA® and would like to specialize in risk management.

Ricordati, the FRM designation is way more specialized than the CFA®. cusì, hè pussutu esse ESPUGNATE à hannu tutti dui. Keep in mind that both of these certifications are extremely difficult and time-consuming to achieve.

I would recommend that look at what you want to do with your career and pick one. Then after you start your career, vi pò dicidiri si saria benefica a cuntinuazione di un altru unu.
---
CFA

®

vs FRM – Chì hè megliu?
Dui tituli sò capaci di dà ricanusciuta. dui CFA®s and FRMs sò supplicated prufissiunali finanziariu. cusì, nè unu hè megliu chè l 'altri. Iddi sò solu differente.
While the CFA® designation is broader in scope and is weighed heavily toward investments, u frm s'accupa solu nantu à valutà è litturali di u risicu di una urganizazione. Quali strata carriera hè preferable per voi vi cumpletamenti dipennunu induve u vostru interessi trovani è ciò chì vo 'aviri jittatu di più.
CFA® Institute does not endorse, promote or warrant the accuracy or quality of AIS-CPA.com. CFA® and Chartered Financial Analyst® are registered trademarks owned by CFA® Institute.