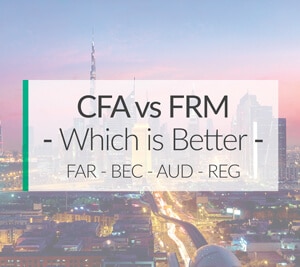 这俩 注册金融分析师 (CFA®) 和 金融风险管理 (FRM) 凭据指定专业人士谁是在金融知识和分析能力的投资.
虽然这两个认证是基于经济, 他们是非常不同的性质,并允许其持有人执行不同的任务,并专注于不同的活动.
让我们来看看 CFA® vs FRM ,看看哪一个更适合你.
---
What is the difference between a CFA
®

and FRM?
什么是CFA
®

?

CFA® stands for Chartered Financial Analyst, a certification earned through the CFA® Institute. CFA®s exhibit a high level of expertise in investment management. Some of the job titles held by CFA®s include portfolio manager, 研究分析师, 和投资银行家. 他们也往往在企业融资工作.
什么是FRM?
FRM is an acronym for 金融风险管理, a certification offered by the Global Association of Risk Professionals. GARP and the FRM certification are recognized internationally. FRMs assess an organization's risk and develop strategies to minimize or offset it. 它们可以发现,在银行工作, 公司, asset management firms, 和政府.
---
CFA
®

vs FRM Career Path Differences

CFA®s typically have 更多的就业机会 比FRMS因为学业和技能范围很广, 尤其是在管理职位. 他们专注于管理和最大限度地提高企业的投资, 它可以广泛撒网职业生涯明智. CFA®s typically work in hedge funds, 投资银行, 和企业融资做投资银行业务, 投资组合管理, 和股票研究.

FRMS, 另一方面, 是更专业. 他们专门在分析风险,并想尽办法,一个公司或产品组合中的最小化. FRMS通常持有谁专注于风险和投资风险管理和行政级别的职位.
---
CFA
®

vs FRM Certification Time Requirements

CFA® candidates must enroll in the certification program offered by the CFA® Institute. 要注册该计划, 你必须有一个四年的学位或组合 教育和工作经历 并通过三部分考试包括以下内容:
伦理
投资组合管理
会计
企业融资
固定收入
Equity Investments
It's a common statistic that it requires about 300 hours of study time to pass each level of the CFA® exam. 此外, to receive the charter, you need to have fours years of related work experience under a CFA®. You must also become a member of the CFA® Institute.
To become an FRM, you must pass a two-part exam administered by the Global Association of Risk Professionals (GARP) twice each year covering the following topics:
Quantitative Analysis
Derivatives
Value at Risk
Credit Risk
Operation Risk
Basel Norms
FRMS还必须完成两年相关工作经验. 它通常需要至少FRM考生 150 小时来研究每个等级考试. GARP还鼓励FRMS取 40 继续教育的时间每两年. While the GARP website does not mention any specific four-year degree requirement or the minimum number of credit hours, 你可以假设持有风险管理工作, 一个学士学位是必要的.
为了赚取无论是认证, be prepared to invest considerable time studying and investing in your exam preparation.
---
CFA
®

vs FRM Cost of Certification

The CFA® exam has a one-time program enrollment fee of $450. 该 total exam fees for each level typically cost $930. CFA® candidates can expect to pay $1,100 – $1,700 to obtain their charter.

To take the FRM exam, be prepared to pay a $400 enrollment fee in addition to the costs of each exam. Part I costs $875 and Part II costs $475. You can expect to pay $1,050 – $1,500 to become an FRM.

Pass rates for both exams are in the 40 percent range.
---
FRM and CFA
®

Potential Salaries

Salaries for both professions depend on the job title, 多年的经验和地理位置.

CFA®s can earn a salary 之间 $45,000 和 $180,000 每年根据他们的位置, 经验, 与行业. The FRM salary range is very similar to the CFA® salary range. FRMS通常赚 $50,000 至 $165,000.
---
FRM或CFA
®

: 为什么不可兼得?

没有理由为什么你不能兼得. 这一切都取决于你想与你的职业生涯做什么. The most logical scenario for having both a CFA® and FRM credential is if you are a CFA® and would like to specialize in risk management.

记得, FRM的名称是远远比CFA更加专业化®. 从而, it could be advantageous to have both. Keep in mind that both of these certifications are extremely difficult and time-consuming to achieve.

I would recommend that look at what you want to do with your career and pick one. Then after you start your career, 你可以决定它是否将是有益的去追求一个又一个.
---
CFA

®

vs FRM – 哪个更好?
这两个名称都同样享有国际声誉. 都 CFA®s and FRMs 正在恳求金融人才. 从而, 没有一个比另一个更好. 它们只是不同.
While the CFA® designation is broader in scope and is weighed heavily toward investments, FRM的仅仅着眼于评估和管理组织的风险. Which career path is preferable for you will totally depend on where your interests lie and what you enjoy doing more.
CFA® Institute does not endorse, promote or warrant the accuracy or quality of AIS-CPA.com. CFA® and Chartered Financial Analyst® are registered trademarks owned by CFA® Institute.