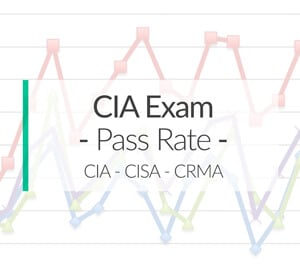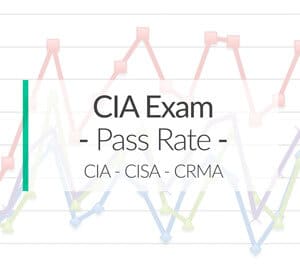 Selon l'Institut des vérificateurs internes, la taux de réussite aux examens de la CIA est 39% – 42% au cours des quatre dernières années. Ce taux est de passage relativement faible par rapport aux autres examens professionnels. Étonnamment, this is true despite what you may have heard about the Certified Internal Auditor exam.
If you are considering devenir CIA, you might have found write-ups on how the exam is relatively easy. This is often stated especially in comparison to other certifications, like the CPA exam because fewer topics are covered. But if the exam is easier, why is the CIA exam pass rate so low?
That's a good question. Don't worry; there's no reason to misinterpret the statistics and panic! Let's take a look at the details and see what these stats actually tell us.
Keep reading to learn more about how hard the CIA exam is and why the majority of people fail it.
---
Overview – How Many People Fail the CIA Exam?
---
Latest CIA Exam Pass Rates
Premier, before we get into what the stats mean, I think we should review them. Here are the CIA exam pass rates for the last three years along with the other IIA exams.
| IIA Exams | 2015 Pass Rate​s | ​2016 Pass Rates | 2017 Pass Rate​s |
| --- | --- | --- | --- |
| CIA | 39% | 40% | 42% |
| CCSA | 48% | 49% | 53% |
| CFSA | 64% | 56% | 57% |
| CGAP | 71% | 69% | 64% |
| CRMA | 59% | 56% | 58% |
Comme vous pouvez le voir, in the last three years, the percentage of people failing the exam has actually gone down.
But yes, numbers don't lie.
Malheureusement, the majority of CIA candidates fail the exam. Institute of Internal Auditor's (IIA's) Professional Certifications Board recently approved the publishing of 2017 pass rates for its global programs. CIA global pass rate for 2017 is only 42%, rendering the global pass rate at 41% for the past 4 years since 2014. To state this differently, we can say that over the 4-year period, 6 out of 10 CIA candidates sitting for the exam insufficiently and inappropriately prepare for it and end up failing it.
Despite the abundance of resources and accessibility to study tools, methods and prep materials in the market to gain competency on how IIA's quality and value-adding internal audit, the pass rate remains the same over the years.
---
International CIA Exam Passing Rates
The CIA exam is offered in over 17 languages in countries around the world. This variation in candidates, cultures, and environments might contribute to the overall low rates. Malheureusement, the IIA does not publish a regional or country breakdown of passing rates, so we can't analyze the effect of this diversity.
---
CIA Exam Section Pass Rates
Likewise, the IIA does not provide details on the passing rate per section of the exam, so we don't know if candidates are doing better on one section over another. We just don't have access to this information.
Published passing rates from IIA only provide a general overview of the exam and may not provide a useful guide on how to prepare for the exam. Unofficially, various study prep tools providers analyze and maintain statistics on how CIA candidates using their products fare on each section of the exam. But still, rien est plus important que la conscience de soi et la compréhension de votre motivation lors de la planification et de la préparation à l'examen.
---
Why are CIA Exam Pass Rates so Low?
Il y a tellement de raisons différentes et les facteurs qui causent les candidats à l'échec de l'examen. Voici quelques-unes des principales raisons pour lesquelles les gens ne réussissent pas. Take a look and make sure you know what to do so you don't fall into the same trap when you are preparing for the exam.
---
Lack of Sufficient and Appropriate Preparation
De loin les plus raison que les gens ne parviennent pas à l'examen est leur manque de préparation. Si vous préparez correctement à l'examen, you can confidently say that the CIA exam was easy. Mais, most candidates don't properly prepare. They typically study with the wrong study materials and don't study enough. La quantité et la qualité de la préparation doivent être examinées avec soin.
Au cours des orientations données par l'AII, les candidats potentiels sont autorisés à passer des examens de diagnostic pour avoir une idée de l'évaluation de l'examen et de la lumière sur leur niveau de préparation. Sur la base de cela, vous pouvez voir combien vous aurez besoin d'étudier pour l'examen. Si votre niveau de préparation est faible, vous aurez besoin d'étudier plus et vice versa.
La meilleure façon de se préparer à l'examen CIA est d'obtenir un cours de révision qui correspond à votre style d'apprentissage. Rappelez-vous la qualité et la quantité doit être regardé. Vous devez obtenir un cours d'examen de la qualité qui vous aidera à apprendre et à comprendre les concepts efficacement. Ensuite, vous devez mettre dans le temps d'utiliser effectivement le cours d'examen (quantité).
Trouver un cours d'examen qui va travailler pour vous et creuser dans ce!
---
La vérification interne est un créneau spécialisé
Même un auditeur externe expérimenté aura quelques ajustements à faire pour décider de changer de carrière à l'audit interne. Des objectifs à prendre en compte, l'évaluation des risques, et de concentrer l'audit, l'audit interne utilise une approche différente par rapport à un audit externe. Pour la majorité des candidats, les concepts et les méthodes appliquées dans l'audit interne peuvent être inconnus.
Garder à l'esprit, l'examen de la CIA est non seulement de répondre à la question, « Savez-vous comment auditer?» Plus appropriée, il est sur le point de répondre si vous savez comment audit sur la base sur la façon dont IIA définit l'audit interne est. Avant de passer l'examen, il pourrait aider à vérifier si vous pouvez répondre à cette question en toute confiance.
---
Manque d'éducation
II fixer des exigences d'éducation et de l'expérience avant l'octroi d'une autorisation pour passer l'examen. The requirements were set to aim IIA's objectives at maintaining high diversity with its member professionals and ensuring that its certification holders have the minimum experience in an internal audit field. En tant que tel, the entry barriers were kept relatively low.
To welcome diversity and acknowledge that an internal auditor can come from various careers, the educational requirement is opened to all possible expertise. toutefois, contents of the exam, especially part three, are mainly under the domain of business professionals. Suffisamment de temps et de planification sont essentiels pour prendre des concepts peu familiers maîtres.
Pour une infirmière professionnelle travaillant en tant qu'auditeur en compagnie de soins de santé et un ingénieur qui travaille comme auditeur dans une usine de fabrication visant à certifier, la couverture de l'examen constituera un défi. Ce défi est gérable comme le prouve maintenant de nombreux CIA ayant des antécédents professionnels de diverses spécialisations. toutefois, prendre le temps supplémentaire, l'énergie et l'effort pour acquis pour la préparation sera grossière négligence.
---
Manque d'expérience
Le critère d'expérience, II se concentre sur le type et la quantité d'expérience de travail. Qualité de l'expérience ne sont pas saisies dans facteurs pris en compte dans l'acceptation des candidats autorisés à siéger à l'examen. Les candidats peuvent répondre aux exigences d'expérience de travail, mais ne garantit pas que l'examen et la préparation, il sera lisse qui coule.
Les normes sont émises pour unifier la pratique de l'audit interne et d'établir les critères de ce qui peut être considéré comme la vérification de la qualité. Le processus de subir la certification CIA vous poussera à évaluer votre pratique actuelle à ce qui est idéalement prévu. Lorsqu'un candidat n'a pas correctement évalué son expérience de travail de ce que les normes attendent. Les résultats peuvent être désastreux pour un candidat.
Quelques questions pour savoir si vous serez besoin de l'effort supplémentaire pour faire une évaluation de votre expérience sont les suivantes:
Est la pratique de l'audit interne dans votre entreprise est fortement réglementé et organisme de réglementation utilise le cadre IIA ou d'autres cadres largement reconnus comme critères pour la réalisation de l'audit?
Votre entreprise est-un cabinet d'audit bien connu?
Vos supérieurs détiennent une expérience de travail pour les cabinets d'audit qui sont bien connus pour la pratique des méthodes d'audit systématiques et pratiques?
Votre service d'audit interne subissent périodiquement l'assurance qualité et des programmes d'amélioration des fournisseurs de services externes et indépendants?
Des méthodes pour examiner la qualité des audits effectués en place?
La liste ci-dessus peut ne pas être exhaustive, mais si la majorité de vos réponses à ces questions est pas, il vous fera économiser du désastre si vous faites attention supplémentaire dans l'évaluation de votre expérience avec ce que les normes.
---
étude droite. Passer l'examen!
Il n'y a aucune raison à l'échec de l'examen CIA. Si vous pratiquez une bonne préparation examen, vous n'aurez aucun problème en passant sur votre première fois. Ma recommandation est de trouver un cours d'examen qui fonctionne pour vous et commencer à étudier.
Vous serez heureux que vous avez quand vous obtenez votre note de passage!