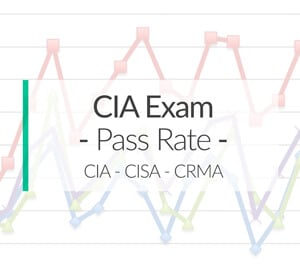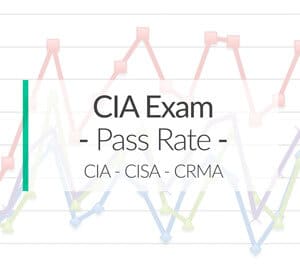 Li gorî Enstîtuya kurdî ya diravî Hundir, ew CIA rêjeya pass exam e 39% – 42% li ser van çar salên dawî. Ev rêjeya derbas nisbî kêm e, li gorî bi din ezmûnên pîşeyî. matmayî, vê, tevî tiştên ku hûn dikarin li ser neket Certified Auditor Navxweyî bihîst rast e.
Heke hun difikirin ku Bûye a CIA, you might have found write-ups on how the exam is relatively easy. This is often stated especially in comparison to other certifications, like the CPA exam because fewer topics are covered. But if the exam is easier, why is the CIA exam pass rate so low?
That's a good question. Don't worry; there's no reason to misinterpret the statistics and panic! Let's take a look at the details and see what these stats actually tell us.
Keep reading to learn more about how hard the CIA exam is and why the majority of people fail it.
---
Overview – How Many People Fail the CIA Exam?
---
Latest CIA Exam Pass Rates
Yekem, before we get into what the stats mean, I think we should review them. Here are the CIA exam pass rates for the last three years along with the other IIA exams.
| IIA Exams | 2015 Pass Rate​s | ​2016 Pass Rates | 2017 Pass Rate​s |
| --- | --- | --- | --- |
| CIA | 39% | 40% | 42% |
| CCSA | 48% | 49% | 53% |
| CFSA | 64% | 56% | 57% |
| CGAP | 71% | 69% | 64% |
| CRMA | 59% | 56% | 58% |
Wek ku hûn dibînin, in the last three years, the percentage of people failing the exam has actually gone down.
But yes, numbers don't lie.
Mixabîn, the majority of CIA candidates fail the exam. Institute of Internal Auditor's (IIA's) Professional Certifications Board recently approved the publishing of 2017 pass rates for its global programs. CIA global pass rate for 2017 is only 42%, rendering the global pass rate at 41% for the past 4 years since 2014. To state this differently, we can say that over the 4-year period, 6 out of 10 CIA candidates sitting for the exam insufficiently and inappropriately prepare for it and end up failing it.
Despite the abundance of resources and accessibility to study tools, methods and prep materials in the market to gain competency on how IIA's quality and value-adding internal audit, rêjeya pasaportan di heman bi salan dimîne.
---
CIA Bilbilên Exchange Navnetewî ya Dr.Kemal
Azmûna CIA li ser tê dayîn 17 zimanan li welatên li seranserê cîhanê. Ev guhartina di namzetên, çand, û derdorên ku ji bo rêjeya giştî kêm ji. Mixabîn, li IIA nayê fêm herêmî an welatê rêjeya derbas belav ne, da em dikarin bandora vê cihêrengiya analîz ne.
---
CIA Beþ Bilbilên Pass Exchange
Her wiha, li IIA nade hûragahiyan li ser rêjeya derbas per beşa azmûna ne bi, so we don't know if candidates are doing better on one section over another. We just don't have access to this information.
Published passing rates from IIA only provide a general overview of the exam and may not provide a useful guide on how to prepare for the exam. Unofficially, various study prep tools providers analyze and maintain statistics on how CIA candidates using their products fare on each section of the exam. But still, nothing is more important than self-awareness and understanding your motivation when planning and preparing for the exam.
---
Why are CIA Exam Pass Rates so Low?
There are so many different reasons and factors that cause candidates to fail the exam. Here are some of the main reasons why people don't succeed. Take a look and make sure you know what to do so you don't fall into the same trap when you are preparing for the exam.
---
Lack of Sufficient and Appropriate Preparation
By far the biggest reason people fail the exam is their lack of preparation. If you properly prepare for the exam, you can confidently say that the CIA exam was easy. But, most candidates don't properly prepare. They typically study with the wrong study materials and don't study enough. Quantity and quality of preparation must be carefully considered.
During orientations given by the IIA, prospective candidates are allowed to take diagnostic exams to get a feel of the exam and light evaluation on their readiness level. Li ser bingeha vê hûn dikarin bibînin ku tu çiqas pêwîstiya wê bi xebata ji bo azmûna. Heke di asta amadehiya xwe kêm e, hûn ê hewce ji bo lêkolînên zêdetir û tênegihiştina.
Baştirîn rê ji bo amadekirina ji bo azmûna (CIA) ye ji bo bidestxistina Bêguman review ku dixwzin style fêrbûna xwe. Bîr bi kalîte û dikele, divê nêrî bê. Tu ji bo kursa review quality ku dê alîkariya we hîn û têgehên fêm bandor. Hingê te heye ku di wê demê de ji bo bi rastî jî, bêguman review de bi kar bîne (jimarî).
Find kursa review ku ji bo we kar dê û bikolim di nav wê!
---
Hesaban navxweyî Niche Specialized e
Even an xwîndin Link tecrube dê çend lihevanîna ji bo ku di biryara xwe û urf pîşeyê ji bo hesaba navxweyî heye. Ji armancên ji bo ku li, nirxandina rîskê, û bo çavdêrîkirin focus, hesaba navxweyî ye, nêzîkatiyeke cuda, karkerên ku li gorî an audit Link. Ji bo ku piraniya namzetên, têgehên û rêbazên serî li Hundir, dikarin bibin dîdarên.
Ji bo ku di hişê, the CIA exam is NOT ONLY about answering the question, "Do you know how to audit?" More appropriately, it is about answering whether you know how to audit based on how IIA defines what internal audit is. Before sitting for the exam, it might help to check if you can confidently answer this question.
---
Lack of Education
IIA set educational and experience requirements prior to being issued authorization to take the exam. The requirements were set to aim IIA's objectives at maintaining high diversity with its member professionals and ensuring that its certification holders have the minimum experience in an internal audit field. As such, the entry barriers were kept relatively low.
To welcome diversity and acknowledge that an internal auditor can come from various careers, the educational requirement is opened to all possible expertise. Lebê, contents of the exam, especially part three, are mainly under the domain of business professionals. Enough time and planning are vital to take master unfamiliar concepts.
For a professional nurse working as an auditor in health care company and an engineer who works as an auditor in a manufacturing facility aiming to be certified, the coverage of the exam will pose a challenge. This challenge is manageable as proven by now many CIA's with professional backgrounds from various specialization. Lebê, to take additional time, energy and effort for granted for preparing will be gross neglect.
---
Lack of Experience
Li ser daxwazê ​​ji tecrûbeya, IIA hûr li ser type û mêjera tecrubeya kar. Quality ji tecrûbeya nav faktorên di pejirandina namzetên hesibandin keyed ne bi destûr bi rûniştinê li imtihana. Namzetên dikarin daxwazên tecrubeya kar hevdîtinê, di heman demê de bi wê re dibêjim ku neket û xwe amade dike ji bo ku ew dûz diherikin dê bibe.
Pîvanên tên derxistin ji bo yekxistina di pratîkê de di hesaba navxweyî ye, û ava ku krîterên ku ji bo çi bên hejmartin (Riksrevisionen) quality. Serpêyî ew prose û CIA wê we inkar ji bo nirxandina pratîkê de niha xwe ji bo tiştê ku dilsoziyek payîn. Dema ku namzedekî ne serektî ji bo pêvajoya tecrûbeya karê wî ji çi standardên hêvî. Results dikare bibe felaketek ji bo namzedekî.
A çend pirsên ku bizanibin gelo tu dê bê û pêwîstî bi hewldanên zêde di çêkirina nirxandinê ji tecrûbeya xwe wiha ne:
E pratîkê de di hesaba navxweyî ye, li şirketa xwe bi giranî bi qaîde ye û bi biserûberkirina bedena tîne ku di çarçoveya IIA an din çarçoveyên bi berfirehî-naskirin wek pîvanên ku ji bo rêveberina (Riksrevisionen)?
E şirketa we fîrmayeke Venêrîna navdar?
Bi payebilindê xwe li cem tecrûbeya kar ji bo kompaniyên Venêrîna ku bi Baş tê zanîn de ji bo praktîzekirina rêbazên ku di hesaba sîstematîk û pratîkên?
Ma beşa hesaba navxweyî ye, we periyodîk êşan bernameyên bi piştrastiya û çêtirkirina kalîteya ji dezgehên serbixwe ji derve?
Are methods to review the quality of audits performed in place?
The list above may not be exhaustive, but if the majority of your answers to them is no, it will save you from disaster if you pay extra attention in evaluating your experience with what the Standards.
---
Study Right. Pass the Exam!
There's no reason to fail the CIA exam. If you practice proper exam prep, you won't have any trouble passing it on your first time. My recommendation is to find a review course that works for you and start studying.
Tu wê şa bibe, we gava ku tu jihevkirî derbas xwe bistînin!