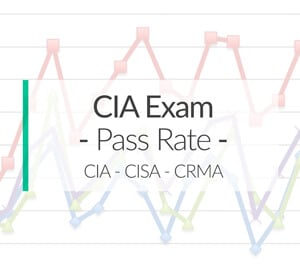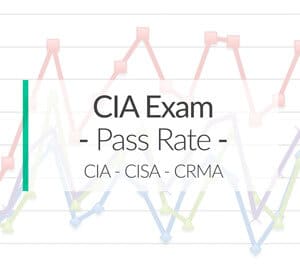 E tusa ai ma le Inisetiute o suetusi Lotoifale, le mavae suʻega CIA fua faatatau o 39% – 42% i le fa tausaga ua mavae. o se matua maualalo le fua faatatau pasia lenei pe a faatusatusa i isi suega o tomai faapitoa. e ofo ai, e moni lenei e ui lava i le mea e mafai ona e faalogo e uiga i le suʻega Tusi Faamaonia Internal Suetusi.
Afai o loo e iloiloina avea ma se CIA, you might have found write-ups on how the exam is relatively easy. This is often stated especially in comparison to other certifications, like the CPA exam because fewer topics are covered. But if the exam is easier, why is the CIA exam pass rate so low?
That's a good question. Don't worry; there's no reason to misinterpret the statistics and panic! Let's take a look at the details and see what these stats actually tell us.
Keep reading to learn more about how hard the CIA exam is and why the majority of people fail it.
---
Overview – How Many People Fail the CIA Exam?
---
Latest CIA Exam Pass Rates
Tulaga tasi, before we get into what the stats mean, I think we should review them. Here are the CIA exam pass rates for the last three years along with the other IIA exams.
| IIA Exams | 2015 Pass Rate​s | ​2016 Pass Rates | 2017 Pass Rate​s |
| --- | --- | --- | --- |
| CIA | 39% | 40% | 42% |
| CCSA | 48% | 49% | 53% |
| CFSA | 64% | 56% | 57% |
| CGAP | 71% | 69% | 64% |
| CRMA | 59% | 56% | 58% |
Pei ona outou tagai, in the last three years, the percentage of people failing the exam has actually gone down.
But yes, numbers don't lie.
leaga 'ua, the majority of CIA candidates fail the exam. Institute of Internal Auditor's (IIA's) Professional Certifications Board recently approved the publishing of 2017 pass rates for its global programs. CIA global pass rate for 2017 is only 42%, rendering the global pass rate at 41% for the past 4 years since 2014. To state this differently, we can say that over the 4-year period, 6 out of 10 CIA candidates sitting for the exam insufficiently and inappropriately prepare for it and end up failing it.
Despite the abundance of resources and accessibility to study tools, methods and prep materials in the market to gain competency on how IIA's quality and value-adding internal audit, tumau pea le fua faatatau mavae le lava lea e tasi i le tausaga.
---
Suʻega Faava o Malo CIA Fua Faatatau o le pasia
ua ofoina le suʻega CIA i le silia 17 gagana i totonu o atunuu i le lalolagi atoa. O lenei suiga i sui tauva, aganuu, ma e mafai ona fesoasoani siosiomaga i le fua faatatau maualalo atoa. leaga 'ua, e le lomia faasalalau le IIA a malepelepe faaitulagi po o le atunuu o fua faatatau o maliu, ina le mafai ona tatou iloilo le aafiaga o lenei eseese.
---
Fuaiupu suʻega CIA Pass Fua Faatatau
faʻapea, e le tuuina atu i le IIA faamatalaga i luga o le tufaina o le fua faatatau i le vaega o le suega, so we don't know if candidates are doing better on one section over another. We just don't have access to this information.
Published passing rates from IIA only provide a general overview of the exam and may not provide a useful guide on how to prepare for the exam. Unofficially, various study prep tools providers analyze and maintain statistics on how CIA candidates using their products fare on each section of the exam. But still, nothing is more important than self-awareness and understanding your motivation when planning and preparing for the exam.
---
Why are CIA Exam Pass Rates so Low?
There are so many different reasons and factors that cause candidates to fail the exam. Here are some of the main reasons why people don't succeed. Take a look and make sure you know what to do so you don't fall into the same trap when you are preparing for the exam.
---
Lack of Sufficient and Appropriate Preparation
By far the biggest reason people fail the exam is their lack of preparation. If you properly prepare for the exam, you can confidently say that the CIA exam was easy. But, most candidates don't properly prepare. They typically study with the wrong study materials and don't study enough. Quantity and quality of preparation must be carefully considered.
During orientations given by the IIA, prospective candidates are allowed to take diagnostic exams to get a feel of the exam and light evaluation on their readiness level. Faavae i luga o lenei e mafai ona e vaai i le tele o mea e tatau ona e suesue mo le suega. Afai o le tulaga le saunia e maualalo, e tatau ona e suesue i le sili atu ma le isi foi itu.
O le auala sili e saunia ai mo le suʻega CIA o le maua se ala e toe iloilo e fetaui ma lou auala e aoao. Ia manatua lelei ma e tatau ona vaai aofaiga. E tatau ona e maua se ala e toe iloilo le tulaga lelei o le a fesoasoani e te aoao ai ma malamalama lelei i le mataupu. Ona e tatau ona e tuu i le taimi e faaaoga lava le ala e toe iloilo (tele).
Saili se ala iloiloga o le a galue mo oe ma eli i ai i totonu!
---
Suetusi Lotoifale o se Niche faʻapitoa
E oo lava i le a se suetusi le poto masani mai fafo ni nai fetuunaiga e fai i le filifili e tuu galuega i le sueina o tusi i totonu. Mai sini e mafaufau, iloiloga o tulaga lamatia, ma ina ia sueina faasuetusi taulai, le sueina o tusi i totonu faafaigaluega se auala eseese pe a faatusatusa i le sueina o tusi i fafo. I le toatele o sui tauva, e mafai ona faaaogaina le manatu faavae ma metotia i le suetusi i totonu ona masani ai.
Ina ia tausia i le mafaufau, the CIA exam is NOT ONLY about answering the question, "Do you know how to audit?" More appropriately, it is about answering whether you know how to audit based on how IIA defines what internal audit is. Before sitting for the exam, it might help to check if you can confidently answer this question.
---
Lack of Education
IIA set educational and experience requirements prior to being issued authorization to take the exam. The requirements were set to aim IIA's objectives at maintaining high diversity with its member professionals and ensuring that its certification holders have the minimum experience in an internal audit field. As such, the entry barriers were kept relatively low.
To welcome diversity and acknowledge that an internal auditor can come from various careers, the educational requirement is opened to all possible expertise. Ae peitai, contents of the exam, especially part three, are mainly under the domain of business professionals. Enough time and planning are vital to take master unfamiliar concepts.
For a professional nurse working as an auditor in health care company and an engineer who works as an auditor in a manufacturing facility aiming to be certified, the coverage of the exam will pose a challenge. This challenge is manageable as proven by now many CIA's with professional backgrounds from various specialization. Ae peitai, to take additional time, energy and effort for granted for preparing will be gross neglect.
---
Lack of Experience
I aafiaga manaoga, taulai atu IIA i le ituaiga ma le aofaiga o le poto masani i galuega. Tulaga lelei o le poto masani e le keyed itu taua ua faatagaina e nonofo manatu i le taliaina o sui tauva i le suʻega. Sui e mafai ona potopoto manaoga aafiaga galuega, ae o le a le mautinoa ai o le suʻega ma o le a sologa lelei le saunia mo e tafe.
ua tuuina atu ai le tulaga faatonuina e tuufaatasia o le faiga le sueina o tusi i totonu ma faatu le taiala faataatia mo le mea e mafai ona sueina o tusi lelei manatu. Feagai o le a tulei oe faagasologa faamaoniga CIA e iloilo lou faiga oi ai nei i le mea ua faamoemoeina le naunauga lava o. Ina ua le mafai ai ona iloilo lelei o se sui tauva i lona aafiaga i le galuega mai le mea faamoemoe i le tulaga faatonuina. e mafai ona mataʻutia taunuuga mo se sui tauva.
I ni nai fesili e iloa ai pe o le a outou manaomia le taumafaiga faaopoopo i le faia o se iloiloga o lou aafiaga ua taua e faapea:
Pe e mamafa faatulafonoina faiga le sueina o tusi i totonu o lau kamupani ma le faatonutonuina o le tino faaaogaina le faavaa IIA po o isi limataitaiina lautele-aloaia o taiala mo le faafoeina o le sueina o tusi?
O lau kamupani se kamupani suetusi lauiloa?
Uuina lou superiors aafiaga i le galue mo firms suetusi ua lauiloa e faataitai ai metotia ma faiga e sueina ai tusi faiga?
Pe o lau matagaluega le sueina o tusi i totonu taimi faatino polokalame lelei faamautinoaga ma le faaleleia mai e tuuina atu auaunaga tutoatasi mai fafo?
Are methods to review the quality of audits performed in place?
The list above may not be exhaustive, but if the majority of your answers to them is no, it will save you from disaster if you pay extra attention in evaluating your experience with what the Standards.
---
Study Right. Pass the Exam!
There's no reason to fail the CIA exam. If you practice proper exam prep, you won't have any trouble passing it on your first time. My recommendation is to find a review course that works for you and start studying.
O le ae fiafia e te pe ae maua lou togi pasia!