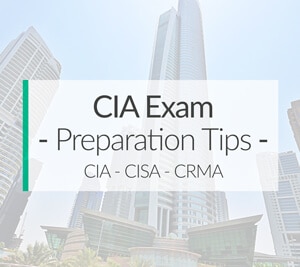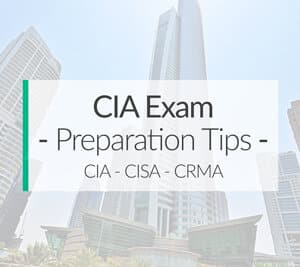 Preparing to pass the CIA exam is no easy feat. Studying the concepts in your review course day in and day out can be grueling, especially if you don't have a game plan or a lot of free time on your hands.
If you are anything like the majority of CIA candidates, you are probably a working professional who has a hard time finding quality time to study. Join the club. 🙂 Juggling your personal life and finding time to study isn't easy. It comes down to motivation and determination. Anyone can pass the internal auditor exam if they set aside enough time to adequately prepare for it.
The key to becoming a Certified Internal Auditor is studying smarter, not harder. Studying efficiently and effectively is the most important thing you can do to properly prepare yourself for the CIA exam. You have to maximize your study time and make sure you take advantage of your downtime.
Let's take a look at some CIA certification exam study strategies and preparation tips on how to pass the CIA exam on your first try.
---
Best CIA Exam Preparation Guide
---
11 Helpful Study Tips to Prepare You to Pass the CIA Exam
There are a lot of different things that you can do to improve your study process. Everyone is different, so some of these CIA study techniques and exam strategies might work better for some than others.
As a whole, if you follow these CIA exam study tips, you will have no problem passing the CIA exam on your first attempt. Let's get into them!
---
Consult with the IIA
As a member of the Institute of Internal Auditors (IIA), you are allowed to visit one of their local chapters, talk with them about the exam, and get their advice about how to study. More importantly, you are able to take a quick assessment and determine your learning style and what available preparation methods are best suited for you.
I would definitely take advantage of this resource. It's a goldmine of internal auditing information!
---
Know the Scope of the Exam
Understanding what is covered on the exam is crucial to your success. You need to figure out what you know and don't know in order to focus your study plan around the most important topics.
Download a copy of the syllabus for each exam part. Make a quick check to gauge the level of familiarity with the concepts included in the exam. Then make a list of topics you need to brush up on to pass part 1. Do the same for the other parts of your exam review. Then after you finish your review course, review the list you made at the beginning of your exam process and see if you know everything on the list.
---
Get a CIA Exam Prep Course
Out of all the study tips and exam preparation strategies, this is the most important. Find a CIA exam review course that fits your learning will help you speed up your study process, cut back on wasted time, and help you retain the information you study. I can't recommend this enough.
Go through the available CIA prep courses and see which one works for you the best. Then use it! Make sure you give yourself enough time to go through the entire course and review every topic.
---
Practice Exam Questions
There is no better way to prepare for the exam than practicing exam questions. Your CIA prep course will have a test bank of thousands of past exam questions for you to work with. Use it!
Make time in every study session to take at least 2 different quizzes. One should be a review of the topics you covered in the past. The second should be a quiz on the topics you are currently working on.
Answering exam questions helps you understand the topics covered on the exam, remember important facts, and improve your test-taking skills.
---
Pick a Study Time
Are you a night owl or an early bird? Study at times when your brain can effectively and efficiently process and absorb information. From my personal experience and from results of neuroscience researches, early morning is the ideal time to do studying and reading for me.
Some people can't study in the morning because they have kids who need to get to school or daycare. Other people can't study at night because they have other responsibilities. It doesn't matter when you study. Just make sure you pick a study time and stick to it. Being consistent is everything.
---
Set a Study Schedule
Making study sessions short and daily will help a lot in comprehension and retention of concepts. Ensuring that 25 minutes a day to study a concept is better than studying everything in a day. Give the brain a space to rest and recover.
Remember consistency is key. If you want to pass the CIA exam, it's not a sprint: it's a marathon. Slow and steady passes the exam!
---
Explore Ways to Study and Take Advantage of Them
Think about your average day and figure out a way to maximize downtime and pick up study time. This could mean a bunch of different things based on your learning style.
For example, listening to audio books while stuck in traffic or in the train on your commute to work is a great way to take advantage of your downtime and increase your study time.
---
Take Study Breaks
As I mentioned before, it's not good to study for 8 hours straight. It's not healthy and it's not productive. You can only hold your attention span and focus for so long before you start to become inefficient. Do yourself a favor and build breaks into your study schedule.
This will not only help you get through your study time, it will also help you be more productive during it.
---
Exercise and Eat Healthy
This may sound too much and unnecessary for CIA exam preparation, but frankly speaking, putting in time to exercise and eat healthy will make a HUGE difference on the quality of your preparation.
Being physically active improves your brain activity and will help you focus when you sit down to study. Likewise, healthy eating will give you more energy and keep you attentive rather than being sluggish and ready to take a nap.
---
Study Extra Research
For topics that are difficult to understand and remember, make an additional effort to explore the topic. The CIA program is designed to help internal auditors become more effective in conduct of audit. Knowing the concepts just for the exam is not the end point.
Understanding how to apply them to work in a practical, efficient and effective manner is the goal. Surprisingly, if you keep this mindset of understanding the concepts for the purpose of practicing them later will make you more committed and ease your way in remembering the concepts.
---
Check IIA Suggested Readings References
The IIA publishes suggested readings references for the CIA program. No one knows what to study and read more than IIA. Contact your IIA local chapter to get more information.
---
Get Motivated and Become a CIA
In order to properly prepare for the exam, you have to do more than simply comb through your CIA exam study materials. You need to get motivated.
Get excited about the positive changes the CIA journey will bring to your career and enjoy learning new information. Don't think of passing the exam as an end in itself. Take advantage of the opportunity to develop the necessary skill sets to becoming a world-class auditor.
Take courage in committing to the process of becoming a CIA. Don't be intimidated by the low passing rate. You always make the choice. Be a smart and responsible learner, and be one of the candidates who passed on the first try! Good luck.