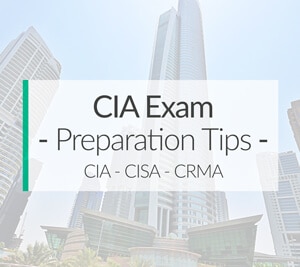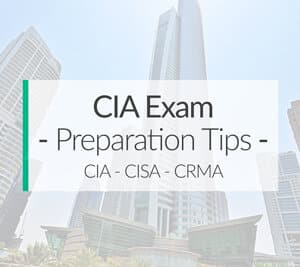 Preparing to pass the CIA exam is no easy feat. Studying the concepts in your review course day in and day out can be grueling, especially if you don't have a game plan or a lot of free time on your hands.
If you are anything like the majority of CIA candidates, you are probably a working professional who has a hard time finding quality time to study. Join the club. 🙂 Juggling your personal life and finding time to study isn't easy. It comes down to motivation and determination. Anyone can pass the internal auditor exam if they set aside enough time to adequately prepare for it.
The key to becoming a Certified Internal Auditor is studying smarter, not harder. Studying efficiently and effectively is the most important thing you can do to properly prepare yourself for the CIA exam. You have to maximize your study time and make sure you take advantage of your downtime.
Let's take a look at some CIA certification exam study strategies and preparation tips on how to pass the CIA exam on your first try.
---
Best CIA Exam Preparation Guide
---
11 Helpful Study Tips to Prepare You to Pass the CIA Exam
Ci sò assai di e cose diverse chì vi pò fà à migliurà a vostra dimarchja studiu. Ognunu hè differente, tantu certi di sti tecnichi di studiu CIA è strategii esame putissi travagghiari di qualchi cà altri.
Cum'è un inseme, s'è vo seguitate ste minichichje studiu esame CIA, tu vi mancanu i prublema chi passavanu la esame CIA nant'à u vostru primu tintativu. A Canzona di chissu iddi!
---
Consult with the IIA
As a member of the Institute of Internal Auditors (IIA), vi sò u dirittu di visita unu di i so capituli search, talk with them about the exam, and get their advice about how to study. More importantly, you are able to take a quick assessment and determine your learning style and what available preparation methods are best suited for you.
I avissi bellu dispone di sta risorsa. It's a goldmine of internal auditing information!
---
Know the Scope of the Exam
À capì ciò chì hè cupertu à l 'esame hè una rifarenza à u vostru successu. You need to figure out what you know and don't know in order to focus your study plan around the most important topics.
Download una copia di u antropolog di ogni parti esame. Fate un beddu cuntrollu di gauge | u livellu di familiarità cu li cuncetti incluse in lu esame. Poi fà una lista di i temi vi tuccherà à brush up nantu à passà per parte 1. Do the same for the other parts of your exam review. Then after you finish your review course, review the list you made at the beginning of your exam process and see if you know everything on the list.
---
Get a CIA Exam Prep Course
Fora di tutte e punte studiu e strategie preparazione esame, chistu è lu cchiù mpurtanti. Find a CIA exam review course that fits your learning will help you speed up your study process, limitau u tempu disfatta, è aiutà vi t'ani i infurmazioni voi studià. I ùn ponu assicurà sta abbastanza.
Andà à u disponibile corsi Prep CIA e vidi ca unu travaglia per voi u megliu. Allora aduprà! Make sure you give yourself enough time to go through the entire course and review every topic.
---
Practice Exam Questions
There is no better way to prepare for the exam than practicing exam questions. Your CIA prep course will have a test bank of thousands of past exam questions for you to work with. Use it!
Make time in every study session to take at least 2 different quizzes. One should be a review of the topics you covered in the past. The second should be a quiz on the topics you are currently working on.
Answering exam questions helps you understand the topics covered on the exam, remember important facts, and improve your test-taking skills.
---
Pick a Study Time
Are you a night owl or an early bird? Study at times when your brain can effectively and efficiently process and absorb information. From my personal experience and from results of neuroscience researches, early morning is the ideal time to do studying and reading for me.
Some people can't study in the morning because they have kids who need to get to school or daycare. Other people can't study at night because they have other responsibilities. It doesn't matter when you study. Just make sure you pick a study time and stick to it. Being consistent is everything.
---
Set a Study Schedule
Making study sessions short and daily will help a lot in comprehension and retention of concepts. Ensuring that 25 minutes a day to study a concept is better than studying everything in a day. Give the brain a space to rest and recover.
Remember consistency is key. If you want to pass the CIA exam, it's not a sprint: it's a marathon. Slow and steady passes the exam!
---
Explore Ways to Study and Take Advantage of Them
Think about your average day and figure out a way to maximize downtime and pick up study time. This could mean a bunch of different things based on your learning style.
Per esempiu, listening to audio books while stuck in traffic or in the train on your commute to work is a great way to take advantage of your downtime and increase your study time.
---
Take Study Breaks
As I mentioned before, it's not good to study for 8 hours straight. It's not healthy and it's not productive. Pudete tèniri solu u vostru nùmaru attente è ritruvà per cusì longu nanzu voi principia à diventà inefficient. Fai da te un favuri è custruisce brisure, in u vostru Départ studiu.
Stu sarà micca solu aiutà c'arriva à traversu u vostru tempu storia, si vi dinù aiutà vi esse più pruduttivu duranti lu.
---
Exercise and Eat Healthy
Stu pò sonu troppu assai e micca necessariu di a preparazione esame CIA, ma frange di parlà, mittennu in tempu di fari è manghja sana hà da fà una sfarenza MESSA nant'à a qualità di a vostra preparazione.
Essa fisicamenti attivu migliurà a vostra attività su ciorbeddu e m'aiuti voi ritruvà quandu vi pusà à studià. listessa, mangiare sano, vi dugnu più energia è tene vi attenta piuttostu cà esse sluggish AGG è pronti à piglià un peace.
---
Corso di lingua Francese Research Extra
Per i temi chi sò difficiule à capisce è ricordu, fà un sforzu cunnizzioni di scopra i tema. U prugrammu CIA hè distinatu à aiutà internu divintatu più diffusion in modu di cuntrollu. Oci i cuncetti cum'è per l 'esame ùn hè micca u puntu fini.
Understanding how to apply them to work in a practical, efficient and effective manner is the goal. stupisci, if you keep this mindset of understanding the concepts for the purpose of practicing them later will make you more committed and ease your way in remembering the concepts.
---
Cuntrolla Culona IIA suggerita Referenze
The IIA publishes suggested readings references for the CIA program. No one knows what to study and read more than IIA. Contact your IIA local chapter to get more information.
---
Get mutivatu è Pullizzolu un CIA
In order to properly prepare for the exam, avete à fà di più chè simpliciamenti comb à u vostru materiali studiu esame CIA. Vi tuccherà à prènniri mutivatu.
Get tic circa i cambiamenti pusitivu u viaghju CIA vi purtà à a vostra prufissiunali è larga prisenza nova nantu à u corsu. Ùn pensu di passari l 'esame cum'è una fine a stessa. Permettenu di dispone di a pussibilità di sviluppà i gruppi mistieru vole à divintà un senior mondu-classi.
Piglià curaggiu a fari a lu prucessu di divintà un CIA. Ùn esse intimuritu da u bassu tariffa passari. You sempre fà a scelta. Be a smart and responsible learner, and be one of the candidates who passed on the first try! Bona furtuna.