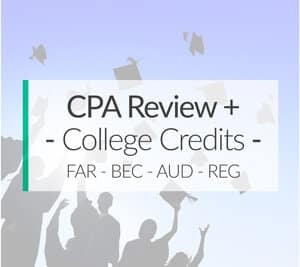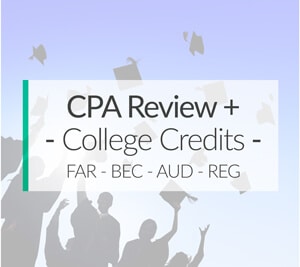 Since most states require you to have a bachelor's degree with 150 college credit hours in order to take the CPA exam, you might be wondering, "Can you get college credit studying for the CPA exam?"
The answer is yes. There are several different ways that you can get a few college credits just for taking a CPA review course or studying with certain CPA review materials.
This is pretty awesome because it not only saves you the time of taking another college course; it also saves you a bunch of money not having to pay for more college credits. Plus, rather than taking another college course that won't really prepare you for the exam, you can spend your time actually studying.
Let's take a look at a few different ways you can earn college credit studying for the CPA exam.
Ways to Study for the CPA Exam and Earn College Credits Online
3 Online Accounting Courses for CPA Credit
There are three main programs that you can use to earn college with CPA review materials. Some of the programs might not work for you depending on where you live, but others you can take advantage of anywhere.
---
Earn College Credit with Wiley CPA and UNA
Update: As of late 2016, Wiley has discontinued their online college credit program. However, UNA still offers Accounting Career Completion Programs.
Wiley partnered with the University of North Alabama to offer a UNA Professional Accounting Prep Program.
This course is unique because it's offered online and taught by UNA professors and faculty using Wiley CPA study materials. This online approach is great for students regardless of where they live.
Originally, UNA CPA Prep offered up to 8 different 3-credit hour courses in subjects like financial accounting, business law, and taxation. Each one of these courses fulfills the state educational requirements for that subject. Each 3-credit hour course costs $475 and includes all of the textbooks from Wiley.
This is a great option for current UNA students and CPA candidates who need a few extra credits to reach the 150-credit hour minimum. Keep in mind that the CPA exam contains more information and topics than the ones that are covered in these courses, so it's still a good idea to get a full-length CPA prep course to completely prepare for the exam.
These courses are more focused on teaching what the exam tests you on rather than a traditional college course.
Earn College Credit with UWorld Roger CPA Review and GGU
Update: UWorld Roger CPA Review has discontinued this program.
---
Get Discounts On CPA Review Courses!
---
Earn Graduate College Credit with Becker CPA Review
If you are looking to get a Master's degree online, you can enroll in the Keller's MBA & CPA Preparation program. This is an MBA program that DeVry University's Keller Graduate School of Business offers for students who want to become a CPA and take the exam immediately after graduation.
Becker CPA review partnered with Keller/DeVry several years ago to offer a course that focuses on preparing students for the CPA exam. This course allows students to earn a total of 9 graduate-level credit hours towards their MBA program using Becker CPA review study materials.
Each student would receive the following credits for each course:
This is a great option for candidates who want to get an MBA anyway, but it's not that good for candidates who simply want to get "free" college credits for studying for the CPA exam.
It's super expensive. I mean SUPER expensive. Unless your employer is paying for your MBA program, it's probably not worth it.
---
Will a CPA College Prepare You for the CPA Exam?
Those are the three most popular ways you can earn college credit online while studying for the CPA exam, but keep in mind that these courses might not completely prepare you for the exam.
Remember, these programs are the partnership of a college and a CPA review course company. That means they are a compromise: half college course, half review course.
In most cases, I don't think that these courses will be enough to properly prepare you for the exam. You will need an actual CPA review course with practice problems, flash cards, and past exam questions.
Although these programs are great to double up and get some college credits while doing some exam prep, I would highly recommend getting a review course as well. Here's a comparison of all the top courses. Check them out and see which one will help you prepare for the exam the best.