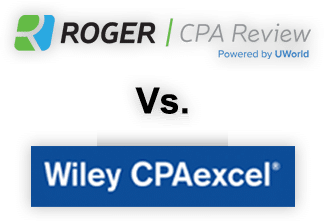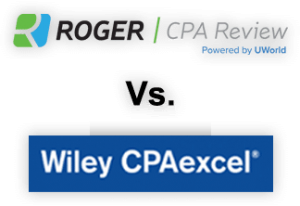 Becoming a CPA is a difficult process, and finding the right study course for it can be a difficult process. Many of the big names, such as Wiley CPAexcel and Roger CPA Review, claim to be the best, but how can you know which one is truly better? When comparing Roger vs. Wiley, both appear pretty similar at a glance; finding the subtle differences between them is tough without buying them first.
Luckily for you, I've done my due diligence and found out all the ways these courses differ. Check out the information below before making your purchase!
In order to discover which course is truly the best, it's important to examine the individual components on offer. With that in mind, I've listed and compared key aspects of both Wiley's and Roger's courses.
Read on to see more:
---
Price Comparison of Wiley and Roger
Price will always be the first thing a student looks at when searching for a course— and with good reason. It can be tough to find courses whose content matches their price tag. Luckily, these two CPA review courses don't have that problem.Both Roger CPA Review and Wiley CPAexcel have roughly the same price tag for their full courses: just under $3,000 before discounts. These are pretty expensive courses, but bear in mind that they are the best courses currently on offer from either company. If that still seems too steep, you can buy individual sections from the courses for a lower price. These cost $800 each from Wiley and $600 each from Roger.
Ultimately, what gives Roger the edge over Wiley in this category is the a la carte pricing. If you're trying to find the most affordable option, this is the better pick of the two.
---
Which CPA Course Has a Bigger Test Bank?
A key aspect of studying is taking mock exams to gauge your progress and familiarize yourself with the material. Every prep course worth its salt will include a test bank, and Roger and Wiley are no exception. However, the two of them do approach this is a couple of different ways.
Wiley offers over 12,000 multiple choice questions that can be taken under different conditions. Exam mode simulates the conditions of the actual CPA exam as closely as possible. As a result, CPA candidates familiarize themselves with both the material and the format of the exam.
In addition to that is study mode, which is a more relaxed way of taking practice exams. This mode doesn't have a time limit and allows you to see the correct answers immediately after completing a practice question. On top of their multiple choice questions, Wiley also provides 600 task-based simulations and over 6,000 true/false questions.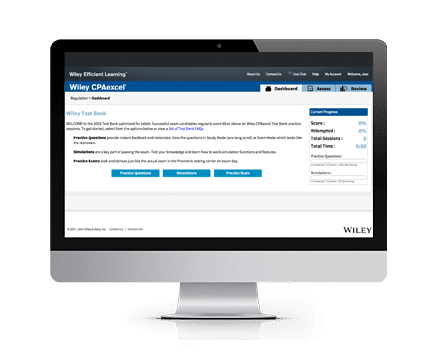 Roger, on the other hand, offers 6,000 multiple choice questions with an additional 200 task-based simulations. Although it still covers everything you need to know about the exam, it's still far short of what Wiley offers.
Between the two courses, Wiley is the clear winner. They have more than double Roger's test bank, and they use it well!
Winner:

---
Print Materials
Many CPA exam review courses have a strong focus on print materials and study books. These two courses are no exception and each of them has a strong approach to the format.
However, one is more effective than the other. Check it out:
Wiley's self-study materials consist of both textbooks and flashcards. Wiley's textbooks tend to be short and to the point when covering test material. On top of that, they focus on key concepts and subjects in order to cut out unnecessary content. This is great for anyone who isn't interested in reading dense books, but it can be tough for students who can't follow along with minimal information.
Wiley also offers over 4,000 digital flashcards that cover the main points of the CPA exam. These can be accessed on any device and are great for on-the-go studying. These work well when supplementing knowledge from the direct and no nonsense textbooks that Wiley offers.
Alternatively, Roger has a wildly different approach to their CPA study materials. Their textbooks are more detailed and are designed to be more engaging to readers. Furthermore, each section comes with a set of mnemonics so you'll always be able to remember vital information. Plus, all materials work in tandem with the course's video lectures, creating a greater degree of understanding.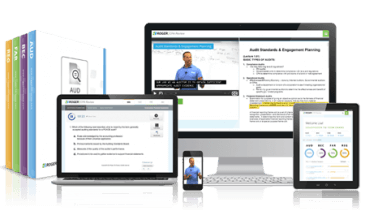 Roger also gives students access to flashcards; these can be used in either print or digital format and contain similar content to the Wiley ones. However, students also have the option to work with a set of cards hand picked by Roger himself. In addition to that, you can also organize your own set of cards based off of what you're learning at the time.
Between the two courses, Rogers comes out on top here. Their materials contain more information and are far more engaging. Plus, they have a select few customization features that really drive home important knowledge for the exam.
---
Video Lectures
Video lectures are the bread and butter of both Wiley's and Roger's courses. These are the main way you will absorb content and learn vital material for the CPA exam. Ultimately, both can be effective but in very different ways.
Wiley's lectures are often short and to the point. These ten to fifteen minute lectures are designed to convey only essential information in a bite-sized format. This is so you can fit them into your busy schedule without any additional hassle. In order to make this format work, these lectures are very professional and direct. Said style can work well, but the lectures can seem a bit dry and clinical for certain students.
Explore Wiley CPAexcel for the 2020 CPA Exam
Roger's lectures are based on the main selling point of this course, Roger himself. His style of teaching is highly engaging, as he is extremely emotive and known for telling jokes and sharing mnemonics about subject material. This makes studying lots of fun and easy, but comes at the cost of lengthy forty five minute videos. Still, if you can fit these into your schedule they'll do wonders for your test and subject comprehension.
Deciding between the two styles is largely up to personal taste. I myself think that Roger is the better option; I love how engaging his lectures are, but other students may prefer Wiley.
---
Access Period
Both courses have an unlimited access period. Consequently, both choices ensure that until you pass your CPA exam, you will have unrestricted study time. This alleviates a lot of stress since you can set your own pace when making a study schedule. This makes it easy for anyone to pass the CPA exam, as you can tailor your study experience based off of your own work and home life.
Winner: Tie
---
Pass Guarantee
A pass guarantee is a good indicator of a trustworthy prep course. It proves to you that the company is confident in their materials and even more importantly, confident in you. As such, it's always important to assess how any course handles this key aspect.
Both courses handle the aspect in the same way. No matter what you choose, you will have unrestricted access to your course materials until you pass the exam. This guarantees that you'll never be shut out of your studying before you're ready. It also shows a great willingness to teach you what you need to know, no matter how long it takes!
Winner: Tie
---
Recommendation
When it comes down to it, I have to recommend Roger over Wiley. It's a tough call since they go toe-to-toe in many of these categories. However, their incredibly detailed print materials and the sheer charisma behind Roger's video content make them a one-of-a-kind review course that's the most worthwhile for your time and money.