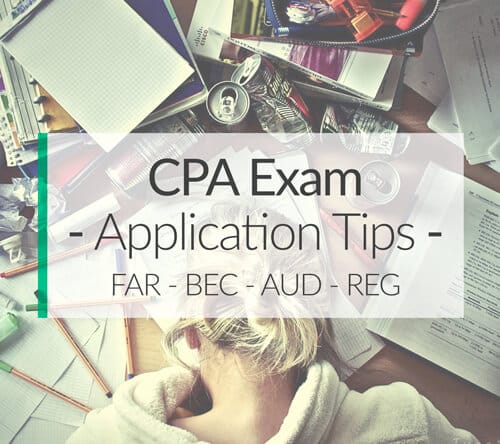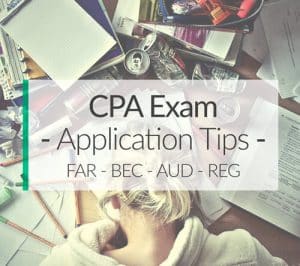 Applying for the CPA exam is confusing and frustrating because it's kind of complicated. There are a number of different steps involved in passing and becoming a Certified Public Accountant that you have to do right; otherwise, your application will get rejected. This could set you back a few months, or worse, you will end up paying a bunch of extra fees.
This article is designed to help you navigate the process of applying for the Uniform CPA Examination step-by-step so you don't make a costly mistake.
Each state has slightly different steps, but they are all the same for the most part. You should be able to get approved within 5-6 weeks of submitting your application and ready to schedule your first exam.
Let's look at the steps to get your CPA exam application approved in the shortest amount of time possible, so you can start studying and passing CPA exam sections instead of filling out boring paperwork.
[convertkit form=1033965]


Jereo ny Top CPA Review Courses
View All
Applying for the CPA Exam, Step-by-Step
1. Make Sure You Are Eligible
The first step in the CPA exam application process in the United States is to determine if you are eligible to take it. This is the first big misstep that many CPA Candidates make. They start filling out their application before they are even qualified to sit for the exam. They send in their app and hear back months later that it got rejected. It's important to determine your eligibility ahead of time. This could save you months of time and an application fee.
Each state sets different education requirements to sit for the exam, but most require at least a bachelor's degree in business or accounting with certain coursework and credit hour requirements. Contact your state board to see what the requirements are in your state to see if your education qualifies.
After you crosschecked your educational history with the list of requirements, you are ready to start your application process.
CPA Application Tip: Azo nametraka fangatahana fotoana rehetra mandritra ny taona na inona na inona na ny fampanginana mizaha toetra varavarankely volana.
2. Alefaso ao ofisialy rehetra Transcripts ho ny State Board
Alohan'ny manahy mikasika ny famenoana ny tena fampiharana, dia tokony handefa ao amin'ny oniversite rehetra transcripts ny biraom-panjakana ny accountancy. Raha hoy Izaho rehetra transcripts, Ny tiako hambara ALL ireo. Tokony handefa rehetra transcript avy amin'ny sekoly no nanatrika. Anisan'izany ny kolejy Junior, fiaraha-monina oniversite, and universities that you only attended for a semester. ALL of them.
It's good to order your transcripts from the colleges as soon as you graduate or fulfill the state requirements and send them into your state board. Once the state board receives them, they will keep them on file and wait for your application.
A lot of people do this backward: applying for the CPA exam first and waiting to send in their transcripts. Then the board has to wait to review the application until the transcripts are received. It's way easier to mail the transcripts in first even if you aren't planning on applying for the CPA exam for a while.
---
3. Submit CPA Exam Application and Fees
Once your transcripts are successfully ordered and submitted to your state board, you can go ahead and fill out the actual exam application. This is usually a short form that asks a bunch of personal and education questions.
After you have this filled out, send it in with the application fees. Each state has a slightly different app fee, but most are around $150. After you send it in, wait for a few weeks to get your ATT.
CPA Application Tip: You can only apply and register to take the exam in one state at a time.
---
4. Obtain Your Authorization to Test (ATT)
Once the board has approves your application, they will issue you an authorization to test (ATT). This document allows you to sign up for a CPA exam section in your state. It's usually only good for 90 days, so you'll have to decide which section you want to take first before it expires. Once the 90 days is up, your $150 application fee will be lost and you will have to pay it again. 🙁
After you choose which section you want to take first, you will need to log into your National Association of State Boards of Accountancy (NASBA) account and pay the exam section fees. Each state charges slightly different exam fees, but most range $180 – $250 isaky ny fizarana. Thus all four sections will cost $1,200 on average.
Before you go crazy signing up for all the exam parts at once, you need to know one main thing: DON'T! You have 6 months from receiving your NTS (dingana 5) ny fandaharam-potoana ny fanadinana daty. Raha ny fotoana voafetra dia nihoatra, ny fanadinana saram ho very, ary dia tsy maintsy mandoa azy ireo indray.
Izany angamba no stupidest ampahany amin'ny dingana fampiharana satria tsy misy antony fanjakana zana-kazo na NASBA hanao izany. Izy ireo sitrakao fotsiny mantsy ny vola. Na izany na tsia, ihany no sonia sy handoavana ny fizarana izay te-handray ny enim-bolana. Azonao atao ny sonia ho an'ny sisa tatỳ aoriana.
Rehefa avy mandoa ny sarany, miandry 3-6 herinandro mba hahazoana ny NTS.
---
Get Discounts On CPA Review Courses!
---
5. Hahazo ny Mariho Manao fandaharam-potoana (NTS)
Mitaky ny 4 weeks after applying for the CPA exam to receive your notice to schedule in the mail. This is the legal document that allows you to sit for and take the CPA exam in your state. Yup, it's a big deal.
You use this document to log onto the Prometric website to schedule your exam date. Like I said in step 4, your NTS is only valid for 6 months. Noho izany, you will only be able to use it to schedule the section you just paid for in the next 6 months. After that, it's invalid and you will have to get another. I.E. pay more fees to get another.
There are a few states that have different NTS windows. CA, HI, NY, and UT give you 9 months. ND, SD, and VA give you 12 months. Texans BEWARE! You only have 90 days from your application date.
CPA Application Tip: A word to the wise, only pay for the sections you want to take now. 😉
---
6. Schedule Your Exam With Prometric
Once you have your NTS in hand, you can log onto the Prometric testing center website and schedule your exam date. You'll need the exam section ID from your NTS and the location of the testing center that you want to take the exam at.
If you don't know what testing centers are closest to you, you can search for one on their system. It's pretty easy.
One thing worth mentioning is that all testing centers are slightly different in size. Noho izany, smaller ones will get full faster. If you want a specific date, you should schedule it early or there might not be any open slots that day. koa, don't schedule it too early because there are pretty steep rescheduling fees if you can't make the date you signed up for.
A good rule of thumb is to schedule your exam about a month out. This is close enough to know your schedule and far enough out to get the date you want.
CPA Tip: You can schedule your exam at any Prometric testing center even if it isn't in your state.
---
7. Pass the Exam
It's important to not be surprised on your exam day by stupid things like getting lost on the way to the testing center or not knowing what room to go to in the Prometric building. I suggest going to the Prometric testing center the day before your exam, so you can get the lay of the land and a feel for where everything is. This way you won't be surprised on exam day.
On exam day, show up about an hour early and MAKE SURE to bring your NTS and two valid forms of ID. Keep in mind that your name on your IDs must match your name on your NTS exactly. They will not let you take your exam without all three of these documents. The last thing you want to do is get turned away this late in the game. Don't leave the house without your stuff.
---
CPA Exam Application Steps:
Make Sure You Are Eligible
Alefaso ao ofisialy rehetra Transcripts ho ny State Board
Submit CPA Exam Application and Fees
Obtain Your Authorization to Test (ATT)
Hahazo ny Mariho Manao fandaharam-potoana (NTS)
Schedule Your Exam With Prometric
Pass the Exam
---
Now Start Studying!
Don't wait until you start your application or have your NTS in hand to start studying. Studying is the most important part of passing the exam. The quicker you start studying, the faster you can ace the exam and get on with your life.
Don't wait for an exam date. Start studying now!