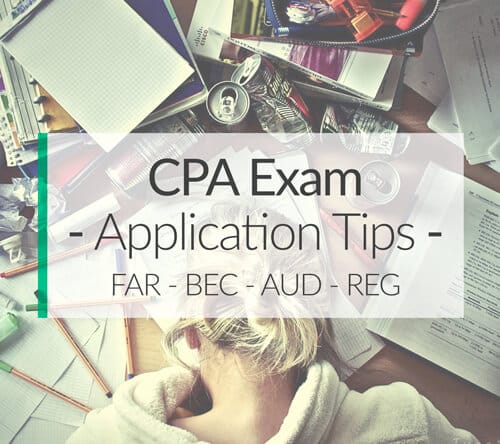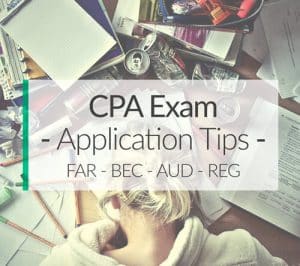 Kugwiritsa kwa mayeso CPA ndi zovuta ndi zokhumudwitsa chifukwa mtundu wa ndizovuta. There are a number of different steps involved in passing and becoming a Certified Public Accountant that you have to do right; otherwise, your application will get rejected. Izi zikhoza iwe kumbuyo miyezi ingapo, kapena woipa, mudzakhala ndalama gulu la malipiro owonjezera.
This article is designed to help you navigate the process of applying for the Uniform CPA Examination step-by-step so you don't make a costly mistake.
Each state has slightly different steps, but they are all the same for the most part. You should be able to get approved within 5-6 weeks of submitting your application and ready to schedule your first exam.
Let's look at the steps to get your CPA exam application approved in the shortest amount of time possible, so you can start studying and passing CPA exam sections instead of filling out boring paperwork.
[convertkit form=1033965]


Onani Top CPA Review Maphunziro
View All
Applying for the CPA Exam, Step-by-Step
1. Make Sure You Are Eligible
The first step in the CPA exam application process in the United States is to determine if you are eligible to take it. This is the first big misstep that many CPA Candidates make. They start filling out their application before they are even qualified to sit for the exam. They send in their app and hear back months later that it got rejected. It's important to determine your eligibility ahead of time. This could save you months of time and an application fee.
Each state sets different education requirements to sit for the exam, but most require at least a bachelor's degree in business or accounting with certain coursework and credit hour requirements. Contact your state board kuwona chimene zofunika ali mu mkhalidwe kuti uone ngati akuyenerera maphunziro anu.
Mukamaliza crosschecked mbiri yanu yophunzitsa ndi mndandanda wa zofuna, ndinu wokonzeka kuyamba ndondomeko ntchito yanu.
CPA Phunziro pankhaniyi Tip: Mapulogalamu akhoza anagonjera nthawi iliyonse pachaka kaya mazenera kudziyesa kapena miyezi m'dima.
2. Tumizani mu zolemba zonse Official kwa Board anu State
Musanayambe nkhawa mutayankha ntchito zenizenizo, you should send in your all your college transcripts to your state board of accountancy. When I say all your transcripts, I mean ALL of them. You should send in every transcript from every school you attended. This includes junior colleges, community colleges, and universities that you only attended for a semester. ALL of them.
It's good to order your transcripts from the colleges as soon as you graduate or fulfill the state requirements and send them into your state board. Once the state board receives them, adzasunga iwo pa file ndipo dikirani kuti ntchito yanu.
Anthu ambiri kuchita izi cham'mbuyo: kutsatira kwa mayeso CPA woyamba ndi kuyembekezera kutumiza mu zolemba zawo. Ndiye bolodi ali kudikira kuti tikambirane ntchito mpaka zolemba amalandira. Ndi njira zosavuta kutumiza ku zolemba m'nthawi ngakhale mutakhala kulinga za kugwiritsa ntchito kwa mayeso CPA kwa kanthawi.
---
3. Kugonjera CPA mayeso Phunziro pankhaniyi ndi Fizi
Kamodzi zolemba anu bwinobwino analamula ndi kugonjera boma gulu lanu, inu mukhoza kupita patsogolo ndi mafomu leni mayeso ntchito. Izi kawirikawiri yochepa mawonekedwe kuti akufunsa gulu la mafunso laumwini ndi maphunziro.
Pambuyo izi mafomu, kulitumiza ilo ndi malipiro a ntchito. Aliyense boma lili amalipiritsa yosiyaniranapo app, koma ambiri padziko $150. Mukamaliza tikutumiza izo mu, dikirani kwa masabata angapo kuti Att wanu.
CPA Phunziro pankhaniyi Tip: Mukhonza kugwiritsa ntchito ndi kulembetsa kutenga mayeso a boma panthawi imodzi.
---
4. Kupeza chilolezo chako kuti Yesani (KUTI)
Once the board has approves your application, they will issue you an authorization to test (KUTI). This document allows you to sign up for a CPA exam section in your state. It's usually only good for 90 masiku, so you'll have to decide which section you want to take first before it expires. Once the 90 days is up, your $150 application fee will be lost and you will have to pay it again. 🙁
After you choose which section you want to take first, you will need to log into your National Association of State Boards of Accountancy (decoy) account and pay the exam section fees. Each state charges slightly different exam fees, but most range $180 – $250 per section. Thus all four sections will cost $1,200 on average.
Before you go crazy signing up for all the exam parts at once, you need to know one main thing: DON'T! You have 6 months from receiving your NTS (step 5) to schedule your exam dates. If the time limit is exceeded, your exam fees will be lost and you will have to pay them again.
Izi mwina mbali stupidest za ndondomeko ntchito chifukwa palibe chifukwa matabwa boma kapena decoy kuchita izi. Iwo anali kufuna cabe ndalama zanu. Mwanjira zonse, kokha lowani ndi kulipira zigawo kuti mukufuna kutenga miyezi isanu yotsatira. Mukhoza lowani enawo patapita.
Mukamaliza kulipira malipiro anu, kudikira 3-6 masabata kuti NTS wanu.
---
Get Discounts On CPA Review Courses!
---
5. Kupeza Zindikirani Anu Sankhani (NTS)
Pamafunika za 4 masabata kuthira kwa mayeso CPA kulandira zindikirani wanu kuti muzikhala mu makalata. This is the legal document that allows you to sit for and take the CPA exam in your state. Eeh, it's a big deal.
You use this document to log onto the Prometric website to schedule your exam date. Like I said in step 4, your NTS is only valid for 6 miyezi. Motero, you will only be able to use it to schedule the section you just paid for in the next 6 miyezi. After that, it's invalid and you will have to get another. I.E. pay more fees to get another.
There are a few states that have different NTS windows. CA, moni, THE, and UT give you 9 miyezi. na-, Sd, and VA give you 12 miyezi. Texans BEWARE! You only have 90 days from your application date.
CPA Phunziro pankhaniyi Tip: A word to the wise, only pay for the sections you want to take now. 😉
---
6. Schedule Your Exam With Prometric
Once you have your NTS in hand, you can log onto the Prometric pakati kuyezetsa webusaiti and schedule your exam date. You'll need the exam section ID from your NTS and the location of the testing center that you want to take the exam at.
If you don't know what testing centers are closest to you, you can search for one on their system. It's pretty easy.
One thing worth mentioning is that all testing centers are slightly different in size. Motero, smaller ones will get full faster. If you want a specific date, you should schedule it early or there might not be any open slots that day. komanso, don't schedule it too early because there are pretty steep rescheduling fees if you can't make the date you signed up for.
A good rule of thumb is to schedule your exam about a month out. This is close enough to know your schedule and far enough out to get the date you want.
CPA Tip: You can schedule your exam at any Prometric testing center even if it isn't in your state.
---
7. Pochitika mayeso
It's important to not be surprised on your exam day by stupid things like getting lost on the way to the testing center or not knowing what room to go to in the Prometric building. I suggest going to the Prometric testing center the day before your exam, so you can get the lay of the land and a feel for where everything is. This way you won't be surprised on exam day.
On exam day, show up about an hour early and MAKE SURE to bring your NTS and two valid forms of ID. Keep in mind that your name on your IDs must match your name on your NTS exactly. They will not let you take your exam without all three of these documents. The last thing you want to do is get turned away this late in the game. Don't leave the house without your stuff.
---
CPA Exam Application Steps:
Make Sure You Are Eligible
Tumizani mu zolemba zonse Official kwa Board anu State
Kugonjera CPA mayeso Phunziro pankhaniyi ndi Fizi
Kupeza chilolezo chako kuti Yesani (KUTI)
Kupeza Zindikirani Anu Sankhani (NTS)
Schedule Your Exam With Prometric
Pochitika mayeso
---
Now Start Studying!
Don't wait until you start your application or have your NTS in hand to start studying. Studying is the most important part of passing the exam. The quicker you start studying, the faster you can ace the exam and get on with your life.
Sitidikira tsiku ndi mayeso. Yambani kuphunzira tsopano!