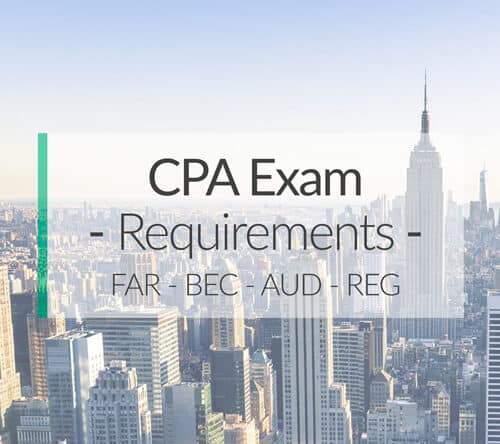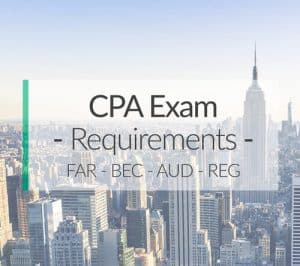 CPA eksamen easken binne ynsteld troch yndividuele steat boards en dus fariearje by steat jurisdiksje. Although every state board of accountancy has slightly ferskillende easken te sitten foar de CPA eksamen, de measte steaten hawwe deselde kearn set fan diploma dy't kandidaten moatte foldwaan om yn oanmerking te kommen.
Let's take a look at what qualifications you need in order to be eligible to sit for the Uniform CPA exam in most states and what additional hoops you will have to jump through in order to become a Certified Public Accountant after you pass the exam.
Sjoch de Top CPA Review Kursussen
View All
Wat Binne de takenning easken foar Sit foar de CPA Exam?
Requirements to Take the CPA Exam
CPA Exam Kwalifikaasjes
Dit is de earste stap yn jo CPA eksamen applikaasje proses want as jo net yn oanmerking foar it, your state board will reject your application and leave you with non-refunded application fees.
Hjir is it eligibility Checklist dy't jo nedich hawwe om foar't jo sels besykje te stjoeren yn jo sollisitaasje nei jo steat board.
---
Citizenship Kwalifikaasje
Wolle jo moatte in Amerikaansk steatsboarger te nimmen de CPA eksamen? Although the traditional CPA candidate is a US citizen, most applicants don't think about this requirement. lykwols, it appears that most American states will allow non-citizens to become CPAs. Dat wurdt sein, there are a few states that will only certify citizens, such as North Carolina.
úteinlik, if you're an ynternasjonale kandidaat, you're likely to have a much easier time applying for certification than you might expect!
Social Security Identifikaasje
Wolle jo moatte jo in Sosjale Security nûmer te nimmen de CPA eksamen? De mearderheid fan de steaten fereaskje in jildich sosjale feiligens number foar identifikaasje doelen. Dat docht lykje nochal iroanysk sûnt de oarspronklike SS kaarten sizze "net foar identifikaasje" rjocht op harren.
Wer, de measte minsken net tinke oer dit eask omdat de tradisjonele sollisitant is in Amerikaansk steatsboarger mei in SS nûmer. Ynternasjonale kandidaten wurde komselden belutsen by de Amerikaanske SS systeem, sadat se net typysk hawwe sosjale feiligens nûmers. As dit is jo, do gjin soargen. Illinois, montana, New York, Súd-Dakota, and Wisconsin do not have a Social Security requirement. Jo binne feilich te passen yn dy steaten.
---
Age beperkingen
Alle 55 fergunningferliening rjochtsgebieten hawwe in minimum leeftyd eask fan 18-jier-âlde te passen foar de CPA eksamen.
sorry minderjierrigen; do silst moatte wachtsje in pear jier om te begjinnen dyn karriêre.
Ik bin wis net ien fan 'e easken dus oant no ta west hawwe in dei foar dy. De measte kandidaten net sels realisearje dat dizze kwalifikaasjes yn it plak, mar se binne. Let's move on to the main requirement that you are probably most interested in: oplieding.
---
Get Discounts On CPA Review Courses!
---
Educational Requirements
Lykas alle CPA eksamen kwalifikaasjes, the education requirements vary across states, mar der binne ferskate consistencies dat de measte steaten fereaskje. De wichtichste eask is dat kandidaten moatte hawwe ynfolle of in kandidaatseksamen of 120 college credit oeren om yn oanmerking te kommen.
Guon steaten fereaskje in algemiene kandidaatseksamen wylst oaren fereaskje in graad yn boekhâlding of bedriuw ferbân fjild lykas finânsjes.
Los fan 'e graad nedich, de measte steaten fereaskje in minimale nivo fan de boekhâlding coursework en saaklike-relatearre coursework. Bygelyks, de measte steaten fereaskje dat jo te foltôgjen op syn minst 24 semester hours in accounting courses including intermediate and advanced financial accounting, kosten accounting, en belesting. Steaten typysk ek easkje in minimum fan 20 credit hours in a related business course like finance, saaklike wet, en behear.
Der binne in pear steaten dy't binne koel genôch om jo te sitten foar't jo ôfstudearje. Check with your state board to see if you are one of the lucky ones who can get ahead of everyone else.
All states require that your education come from an accredited and recognized institution. This can often be a problem for international students who attend university in foreign countries.
Some states are going above and beyond the normal educational qualifications and requiring that their candidates complete a minimum of 150 college credit hours to sit for the exam. This is not typically the case, lykas de measte steaten allinnich nedich 120 te wêzen eksamen yn oanmerking. De measte steaten dogge, lykwols, fereaskje 150 credit oeren te wurden Certified.
As jo ​​fragen ha oer jo ûnderwiis en as is it genôch genôch om te foldwaan oan de minimale eligibility easken fan jo steat, Ik advisearje kontakt jo state board. Se sille wêze kinne om jo transkripsjes en sis jimme oft jo akademyske credits beneaming komme of net.
---
Wurkûnderfining
Gjin steaten fereaskje jo te ha gjin wurk ûnderfining nimme it eksamen. Dat is in eask om te krijen jo CPA lisinsje. Jo sille hawwe genôch tiid om te krijen ûnderfining nei jo foarby it eksamen.
---
List fan CPA Exam Requirements
US Citizen
Jildich Social Security Number
Minstens 18-jier-old
120 Kolleezje Credit Hours of kandidaatseksamen
---
Binne Jo e beneaming komme foar de CPA Exam?
Sa dyjingen binne de easken. Binne jo yn oanmerking komme te sitten foar it eksamen? As dat sa is, jo moatte begjinne studearje sa gau as mooglik. Der is gjin punt yn nei't it off. De earder jo begjinne, de earder do silst kinne neame sels in CPA en ferpleatse op mei dyn karriêre.
De bêste manier om te begjinnen jo studearre proses is te krijen in CPA review fansels dy't oerienkomt mei dyn learen styl en wurket foar dy. Hjir is in list fan de top resinsje opliedings út dêr rjocht no. Kontrolearje se út en sjen hokker men is rjocht foar dy.