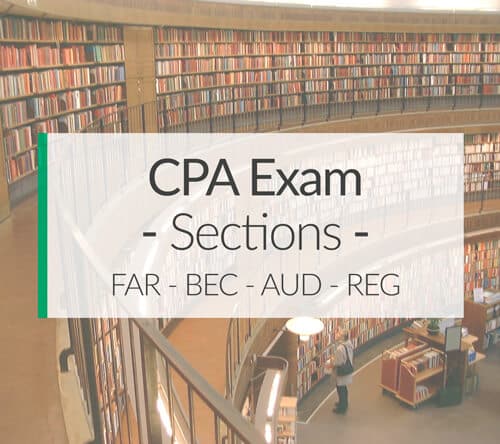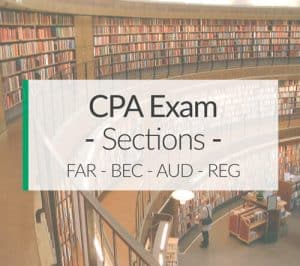 There are four CPA eksamen cluben, or parts, including:
Yn wêzen, each part of the Uniform examination is a 4-hour test covering a different subset of topics and concepts. dêrfandinne, in order to become a CPA, you must pass all four sections within an 18-month testing window with a score of 75 or higher.
Sjoch de Top CPA Review Kursussen
View All
You can take any section during an open testing window in any order you want. furthermore, you are also allowed to take any number of exams in the same testing window. lykwols, I wouldn't recommend taking more than two in the same window. It's too difficult to properly prepare for more than that at the same time. You don't want to kill yourself. It is possible to sign up and take all four in one window, though.
You cannot, lykwols, take a single section twice. Dus, if you fail one part, you will not be able to retake it until the next open testing window.
The AICPA is the body in charge of writing and creating the exam, but they aren't in charge of administering it. Instead, each state administers the exam, reports scores to the candidates, and grants licenses to those of us who pass.
Let's look at how the CPA exam is formatted, structured, en scored.
CPA Exam Sections Structure and Format
Each exam part is formatted into question blocks called testlets. Dy testlets befetsje of meardere-kar fragen of taak-basearre simulaasjes. Dêrneist, each test starts out with several MCQ testlets followed by several Task-Based Simulation (TBS) testlets.
Multiple-Choice Question Testlets
Meardere-kar fragen fariearje yn muoite en feroarje as jo korrekt of ferkeard beäntwurdzje fragen. Bygelyks, elk eksamen diel begjint mei in medium muoite MCQ testlet. dus, if you perform well on this testlet, Jo krije in dreger MCQ testlet op jo twadde. As jo ​​dogge it goed op dizze swiere testlet, Jo krije in noch dreger groep fragen op dyn tredde one. lykwols, the opposite is true if you perform poorly on any testlet. Hjir is wat it liket:

Je soenen tinke, "oh, dit is goed. Ik kin meitsje my eksamen makliker troch performing min op 'e earste rige fragen steld." Ferkeard. Jo eins wol dreger fragen omdat se woegen mear. yn prinsipe, one correctly answered difficult question will do more for your overall score than multiple correctly answered easy questions. Dêrom, you are way better off answering difficult questions.
Hidden amongst the operational questions are pretest questions. Dat binne fragen dêr't it AICPA is op it stuit testen om te sjen oft se moatte se ta op takomstige eksamens. Se binne indistinguishable út normaal testen fragen en de antwurden sille gjin ynfloed op dyn totale skoare.
Task-Based Simulation Testlets
Taak-basearre simulaasjes binne probleem set, dat kinne jo sollisitearje dyn kennis en oantoane dat jo begripe de ûnderwerpen op it eksamen. Se binne opmakke oars op elts eksamen diel, mar de meast foarkommende formaten befetsje matching en folje-in-the-blank. Elts diel ek ien ûndersyk fraach dy't freget jo om ûndersyk in ûnderwerp yn de gesachhawwende literatuer en cite de koade dy't giet yn op de aktuele ûnderwerp by de hân. De measte kandidaten fiele dit binne dreger as MCQs.
No twa eksamens hawwe itselde oantal fragen en simulaasjes, mar do silst moatte befearn troch elk eksamen yn in fjouwer-oere perioade. In prior years' exams, each section had a different amount of time. begjinnend yn 2017, de AICPA ferkoarte FAR en tafoege tiid om BEC, dus al de seksjes hie in 4-oere limyt.
Written Communication Testlets
Ek, BEC is de iennichste fan 'e CPA eksamen segminten mei in skriftlike kommunikaasje diel. Guon kandidaten fine dit component maklik, wylst oaren fine it hiel lestich. It is moai simpel. Se teste jo technyske skriuwen en kommunikative feardichheden troch it hawwen jo skriuwe in memo of kliïnt letter yn in wurd prosessor. Dyn CPA review kursus moatte hawwe in pear foarbylden fan dit foar jo besykje en oefenje op.
Hjir is hoe't de CPA eksamen haadstikken wurde allegear strukturearre. Dit is in ynsinking tusken meardere-kar fragen en simulaasjes op elk ûnderdiel.
| Section | Multiple-Choice Questions | Taak-Based simulaasjesScreen saver category | Written Communication |
| --- | --- | --- | --- |
| AUD | 72 | 8 | 0 |
| BEC | 62 | 4 | 3 |
| FIER | 66 | 8 | 0 |
| REG | 76 | 8 | 0 |
---
Get Discounts On CPA Review Courses!
---
CPA Exam Scoring
De AICPA hâldt feroaret it paad se learjier en gewicht de meardere-kar fragen op it eksamen. It wie net dat lang lyn dat de fragen wiene wurdich mear as 70 prosint fan it totaal punten op de test. Dat is idioat. Elke fraach wie wurdich in ton.
De lêste jierren, se hawwe werom lûkt de wearde fan MCQs en setten mear belang op de taak-basearre simulaasjes. De MCQs binne woegen gelijkmatig mei de simulaasjes útsein op BEC. Dus, de MCQs binne allinne wurdich 50 prosint fan jo punten en de simulaasjes wurdich binne de oare 50 prosint.
Here's a breakdown of how the CPA eksamen wurdt graded en woegen.
| Section | Multiple-Choice Questions | Taak-Based simulaasjesScreen saver category | Written Communication |
| --- | --- | --- | --- |
| AUD | 50% | 50% | 0 |
| BEC | 50% | 35% | 15% |
| FIER | 50% | 50% | 0 |
| REG | 50% | 50% | 0 |
---
CPA Exam Sections' Content
Elk fan de fjouwer CPA eksamen cluben omfiemed ferskillende brede ûnderwerpen dy't ôfbrutsen as folget:
Auditing (AUD)
AUD behannelet alle auditing en wissigens tsjinsten útfierd yn it iepenbier boekhâlding. It test jo kennis fan 'e AICPA profesjonele gedrachskoade, audit proses, resinsjes, compilations, en attest engagements. Hjir is in ynsinking fan wat de ynhâld is sil ferskine op it eksamen.
15-25% – profesjonele Ferantwurdlikheden, Ethics and General Principles
20-30% – Beoardieljen Risk en it ûntwikkeljen fan in Plannen Response
30-40% – Performing Fierdere prosedueres en krijen Evidence
15-25% – It foarmjen fan Konklúzjes en rapportaazje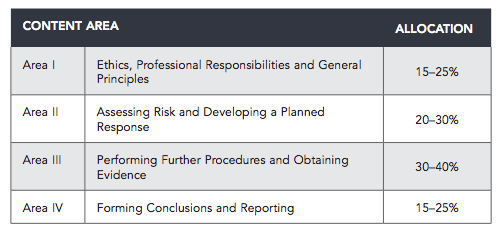 ---
Business Miljeu en Concepts (BEC)
BEC is in wiidweidige blik op it miljeu dat in bedriuw aktyf yn. It covers ûnderwerpen lykas makro en microeconomics, kosten accounting, behear, en ynformaasje systemen. Here are the topics covered on BEC and what percentage they make up on the test.
17–27% – Corporate Governance
17–27% – Economic Concepts and Analysis
11–21% – Financial Management
15-25% – Information Technology
15-25% – Operations Management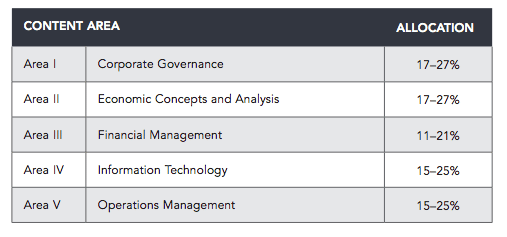 Bonus: check out this great article covering all the best BEC study tips and most commonly missed topics!
---
Financial Accounting and Reporting (FIER)
FIER covers the most information out of any exam section. It tackles the entire topics of financial accounting and reporting. This includes the FASB framework, financial statement preparation, US GAAP rules, and IFRS rules. Here is the content covered on FAR along with the percentages they make up on the exam.
25–35% – Standard-Setting, Conceptual Framework, and Financial Reporting
30-40% – Financial Statement Accounts
20-30% – Transactions
5–15% – Local and State Governments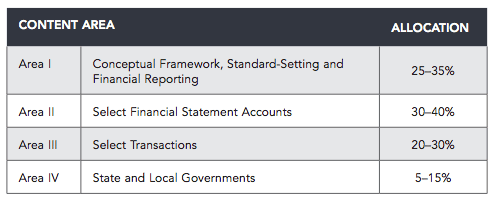 ---
Regulation (REG)
REG is the only exam that doesn't explicitly cover accounting topics. This section focuses on business and individual taxation, saaklike wet, and ethics. Here's a breakdown on what is covered.
10–20% – profesjonele Ferantwurdlikheden, Ethics, and Federal Tax Procedures
10–20% – Business Law
12–22% – Property Transaction Federal Taxation
15-25% – Individual Federal Taxation
28–38% – Entity Federal Taxation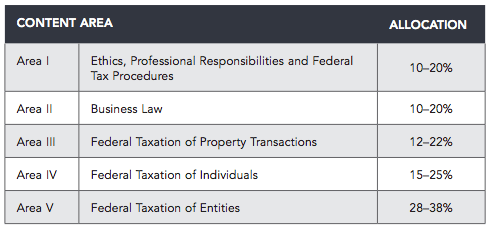 Check out the best REG study tips!