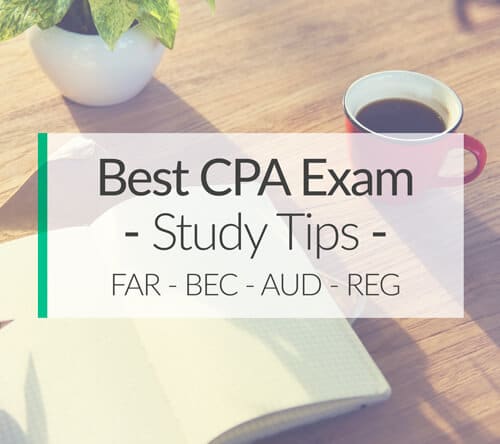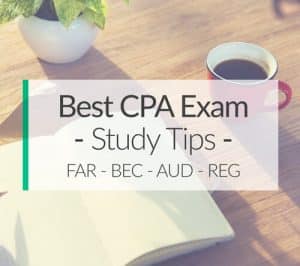 There are a ton of different CPA exam study tips, tactics, strategies, and techniques, but I have to be honest: tsy misy amin'izy ireo dia tsara noho ny ahy.
Lasa aho raha mianatra ireo toro-hevitra ho an'ny accountancy fizarana voalohany fanadinana. Raha teo antenatenan'ny momba ny dingana, Takatro fa lalana aho mandany fotoana be loatra ny famakiana sy ny zavatra tsy marina fahatsapana ny hevitra vaovao.
Jereo ny Top CPA Review Courses
View All
Best CPA Exam Fianarana Tips
Noho izany, Dia naka ny dingana indray, ary nandinika ny fahazarana mianatra, ary nanova ny fomba. I ampiharina ireo soso-kevitra fianarana fanadinana CPA ary aced fizarana efatra ny voalohany, pahombiazana lasa Certified Public kaonty. Here's the rock-solid study plan I came up with.
---
Keep It Steady
You can't study erratically or occasionally; it just doesn't work. You have to be in the right mindset to study financial accounting properly. Think about it. What are you doing when you study? You are trying to cram as much information into your mind at one time as you can.
This doesn't happen occasionally. You need to set a regular routine and stick to it. Ny fianarana no zava-dehibe ny fandaharam-potoana mahomby Prep fanadinana satria mamela anao hiomana ara-tsaina ho amin'ny fanariam kamiao ny CPA fanazavana ny notaterina tao amin'ny lohanao. Fantatrao rehefa heverina mba handalina sy ianao dia afaka miomana fa ara-tsaina.
Tokony haka fotoana isan-kerinandro izay mandalina sy manao na inona na inona hafa. Ny fandaharam-potoana fianarana fanadinana CPA nijery tahaka izao:
andavanandro: 2-3 ora taorian'ny sakafo hariva
Sabotsy: 4 ora maraina
Alahady: tsy misy fianarana
Izany no fandaharam-potoana ny fianarako ary nifikitra aminy.
Ario ny zavatra mahavarimbariana
Ny iray amin'ireo fahadisoana lehibe indrindra izay aho nanao toy ny CPA kandidà no mamela zavatra mahavarimbariana hisakana ahy tsy nianatra. Izany toa mazava, marina? tsara, zavatra mahavarimbariana avy tamin'ny teny roa:
Zavatra mahavarimbariana izay hiaro anao tsy mianatra
Zavatra mahavarimbariana izay manapaka ny fianarana dingana
Noho izany, Inona no maha samy hafa? tsara, ny voalohany fieritreretana zavatra hafa mety ho TV. Ianao mijery TV sy ny fianarana avy hatrany. Ka manakana anao tsy mitarika avy ny famerenana fitaovana. Ny faharoa fieritreretana zavatra hafa mety ho Youtube. Tsy mampiriorio anao rehefa mianatra ianao. Na inona na inona mety ho zavatra mahavarimbariana: sipany, ankizilahy, wife, husband, kids, work, anything.
The important thing is to identify what is keeping you from studying and get rid of it. You shouldn't have any distractions keeping you from your study materials and you shouldn't have any interrupting your routine.
When it's study time, it's study time. If you focus 100% during study time, you can accomplish way more.
---
Find a Study Place
Noho izany, how do you get rid of distractions and keep a schedule? You find a study place. A separate study area where no one bothers you will kill two birds with one stone.
I found that creating a dedicated study area that is specifically used for studying helped me focus and helped people leave me alone. I was prepared mentally when I entered the study place so that I needed to focus and leave all the distractions behind me. There wasn't a TV in the room and I left my phone behind.
Other people also were less of a distraction because they knew not to interrupt me while I was in that space. Noho izany, I was able to complete the multiple choice questions on my practice exams much faster and more accurately!
---
Get Discounts On CPA Review Courses!
---
Take Study Breaks
Out of all my CPA exam study tips, this is one that a lot of people miss. You can't study 24/7. Trust me. It's not possible. If you try, you will get tired, lose focus, and just start wasting time. It's important to build breaks into your study routine. Ohatra, on my Saturdays, I would break for 15 minutes halfway through.
Breaks will give your mind a rest and make you fresh and ready for more content. Just don't let your study breaks get out of hand. They are included in my dynamite CPA exam study tips for a reason: to increase study efficiency. They aren't supposed to give you a distraction.
---
Get Your Mind Right
This is probably the most important of my CPA exam study tips. It doesn't matter if you're diving into a comprehensive prep course or just looking at flashcards: get focused. Before every study session, stop for a second and get your mind right. Get focused. Take a deep breath and clear your mind of everything that's going on in life, so you can focus on the task at hand.
I found that studying while I was distracted with other things was a complete waste of time. I would spend two hours going through materials just to not even remember what I went through by the end of the session.
Studying is a mental thing. It's all about mindset. If you go into each study session with a focused mindset, you will be able to get through more material and remember way more than you would otherwise. Your mind has to be in it 100% or you won't really get that much out of it. Get in the zone and prepare yourself before you start studying. It sounds cheesy, but it's worth it.
---
Stay Motivated
I'm sure at some point during your study process you will start questioning why you are even doing this or if you will even be able to pass when exam day comes. I know I did; everyone does! It's important to stay motivated and remind yourself why you are studying.
Ohatra, you might get a pay raise, bonus, or promotion. You might be competing with friends, classmates, or co-workers. This might simply be one of your lifelong goals.
Whatever the reason is, remind yourself of it over and over again. The CPA exam isn't a sprint, It's a marathon; you need to stay pumped and keep studying in order to get to the finish line.
---
Get Studying!
tsara, that's it. That's all I have. Those are the six biggest tips that helped me pass the CPA exam on my first try. tsara, that and an awesome CPA review course. If you haven't picked out a good CPA study guide yet, check out my comparison guide and see which one is right for your learning style.