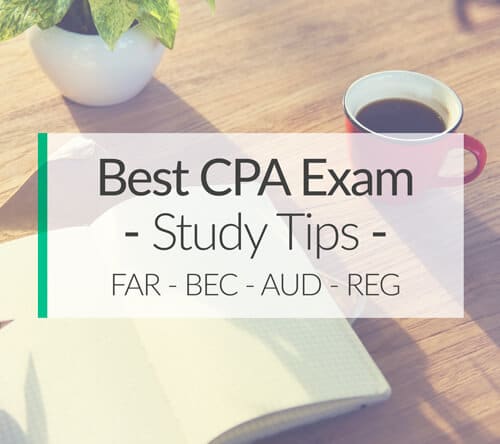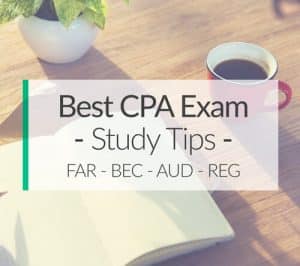 O loo i ai se tane o le eseese CPA motugaafa suesuega suʻega, fāufauga, fuafuaga, ma auala, ae tatau ona ou faamaoni: e leai se tasi oi latou e sili atu nai lo loʻu.
Sa ou atiina ae nei fautuaga ao suesueina mo loʻu fuaiupu suʻega muamua accountancy. A o ou uiga i le afa i le faagasologa, Sa ou iloaina ai sa ou faaaluina le auala tele taimi e faitau mea i luga ma i luga e aunoa ma moni e malamalama le faamatalaga.
Tagai i le Lesona Review Top CPA
View All
Best Fautuaga Suesuega suʻega CPA
O lea la,, Sa ou aveina se laasaga i tua ma iloiloina laʻu suesuega masani ma suia oʻu ala. I implemented these CPA exam study tips and aced all four sections my first time, successfully becoming a Certified Public Accountant. Here's the rock-solid study plan I came up with.
---
Keep It Steady
You can't study erratically or occasionally; it just doesn't work. You have to be in the right mindset to study financial accounting properly. Think about it. What are you doing when you study? You are trying to cram as much information into your mind at one time as you can.
This doesn't happen occasionally. E tatau ona e faataatia se masani masani ma pipii atu i ai. O se suesuega faasologa e taua i prep suʻega lelei ona faatagaina ai oe e saunia faalemafaufau mo le loli e sasaa ai lapisi o faamatalaga CPA e tufa i lou ulu. E iloa o loo e tatau ona suesue ma e mafai ona e saunia le mafaufau i ai.
E tatau ona e filifili taimi i vaiaso taitasi le mea e te suesue ma faia se isi lava mea. vaai laʻu faasologa suesuega suʻega CPA e pei o lenei:
aso o le vaiaso: 2-3 itula ua uma le meaai
Aso Toonai: 4 itula i le taeao
Aso Sa: leai se suesueina
O laʻu suesuega faasologa ma ou te pipii i ai.
Lafoai faalavefau
O se tasi o le sili o mea sese sa ou faia e pei ona sa tuu atu o se sui tauva CPA faalavefau taofia ai au mai le suesueina o. O lenei leo manino, tauagavale? lelei, mea faalavefau e oo mai i le ituaiga e lua:
Mea faalavefau e taofia ai oe mai le suesueina o
Mea faalavefau, e faalavelaveina ai lau suesuega faagasologa
O lea la,, o le a le eseesega? lelei, mafai ona TV le faalavelave muamua. E te matamata TV ma le faatuai suesue. E taofia ai oe mai le tosoina atu o outou mea iloiloga. O le faalavelave lona lua e mafai ona YouTube. O le faalavelave ia te oe ao e suesueina. Distractions could be anything: girlfriend, boyfriend, wife, husband, kids, work, anything.
The important thing is to identify what is keeping you from studying and get rid of it. You shouldn't have any distractions keeping you from your study materials and you shouldn't have any interrupting your routine.
When it's study time, it's study time. If you focus 100% during study time, you can accomplish way more.
---
Find a Study Place
O lea la,, how do you get rid of distractions and keep a schedule? You find a study place. A separate study area where no one bothers you will kill two birds with one stone.
I found that creating a dedicated study area that is specifically used for studying helped me focus and helped people leave me alone. I was prepared mentally when I entered the study place so that I needed to focus and leave all the distractions behind me. There wasn't a TV in the room and I left my phone behind.
Other people also were less of a distraction because they knew not to interrupt me while I was in that space. O le mea, I was able to complete the multiple choice questions on my practice exams much faster and more accurately!
---
Get Discounts On CPA Review Courses!
---
Take Study Breaks
Out of all my CPA exam study tips, this is one that a lot of people miss. You can't study 24/7. Trust me. It's not possible. If you try, you will get tired, lose focus, and just start wasting time. It's important to build breaks into your study routine. O lesi foi mea, on my Saturdays, I would break for 15 minutes halfway through.
Breaks will give your mind a rest and make you fresh and ready for more content. Just don't let your study breaks get out of hand. They are included in my dynamite CPA exam study tips for a reason: to increase study efficiency. They aren't supposed to give you a distraction.
---
Get Your Mind Right
This is probably the most important of my CPA exam study tips. It doesn't matter if you're diving into a comprehensive prep course or just looking at flashcards: get focused. Before every study session, stop for a second and get your mind right. Get focused. Take a deep breath and clear your mind of everything that's going on in life, so you can focus on the task at hand.
I found that studying while I was distracted with other things was a complete waste of time. I would spend two hours going through materials just to not even remember what I went through by the end of the session.
Studying is a mental thing. It's all about mindset. If you go into each study session with a focused mindset, you will be able to get through more material and remember way more than you would otherwise. Your mind has to be in it 100% or you won't really get that much out of it. Get in the zone and prepare yourself before you start studying. It sounds cheesy, but it's worth it.
---
Stay Motivated
I'm sure at some point during your study process you will start questioning why you are even doing this or if you will even be able to pass when exam day comes. I know I did; everyone does! It's important to stay motivated and remind yourself why you are studying.
O lesi foi mea, you might get a pay raise, bonus, or promotion. You might be competing with friends, classmates, or co-workers. This might simply be one of your lifelong goals.
Whatever the reason is, remind yourself of it over and over again. The CPA exam isn't a sprint, It's a marathon; you need to stay pumped and keep studying in order to get to the finish line.
---
Get Studying!
lelei, that's it. That's all I have. Those are the six biggest tips that helped me pass the CPA exam on my first try. lelei, lena mea ma se ala iloiloga CPA mataʻutia. Afai e te lei tago atu se taiala suesue lelei CPA ae, siaki atu loʻu faatusatusaga taiala ma vaai i mea ua sao se tasi mo lau faiga aoaoina.