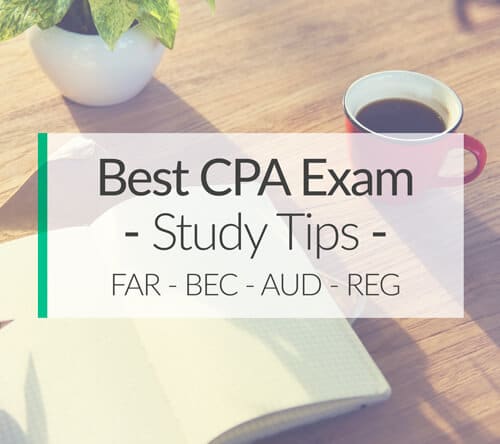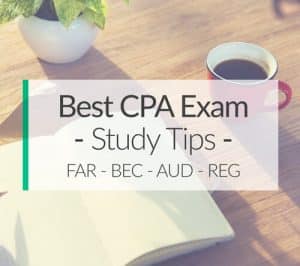 Ho na le thane e le ea fapaneng CPA ithuta tlhatlhobo ditomotsebe, maqiti, mawa, le mekhoa, empa ke na le ho bua 'nete: ea mong oa bona ba molemo ho feta ka.
Ke ile ka ditomotsebe tsa tsena ha a ithute ka ka pele bobalamatlotlo karolo tlhatlhobo. Ha ke le mothating bohareng ka tshebetso, Ke ile ka hlokomela hore ke ne ke qeta nako e tsela e ngata haholo ho bala lintho tse ka makhetlo-khetlo ka ntle ha e le hantle utloisise ka lintlha.
Best CPA Exam Study Tips
kahoo, I took a step back and analyzed my study habits and changed my ways. I implemented these CPA exam study tips and aced all four sections my first time, successfully becoming a Certified Public Accountant. Here's the rock-solid study plan I came up with.
---
Keep It Steady
You can't study erratically or occasionally; it just doesn't work. You have to be in the right mindset to study financial accounting properly. Think about it. What are you doing when you study? U leka ho cram tlhahisoleseding e ngata ka kelello ea hao ka nako e 'ngoe e le u ka se khonang.
Sena ha se etsahala ka linako tse ling. O lokela ho beha le kemiso ea kamehla 'me ue khomarele. A kemiso ea ho ithuta ke habohlokoa ho e atlehang tlhatlhobo Prep hobane e lumella u ho lokisetsa kelellong bakeng sa lahlelang teraka ea CPA lesedi ho laolla ka hlooho ea hao. U tseba ha u lokela ho ithuta 'me u ka itokisetsa oona kelellong.
O lokela ho nka makhetlo a beke ka 'ngoe moo u ithuta le ho etsa ha ho letho le e mong. My CPA tlhatlhobo ithuta kemiso ea shebahala joaloka ena:
beke ka dinako: 2-3 lihora tse ka mor'a lijo tsa mantsiboea
Moqebelo: 4 lihora tse hoseng
Sontaha: ha ho baloe
Hore e ne e le ho ithuta ka kemiso ea 'me ke khomarela e.
Lahla Lintho Tse Bakang Tšitiso
E 'ngoe ea liphoso tse khōlō ka ho fetisisa hore ke ne ke etsa ka nkgetheng CPA ile lumella litšitiso tsoela ho' na ho ithuta. Ena e utloahala e totobetseng, le letona? hantle, litšitiso tla ka mefuta e 'meli:
Litšitiso hore u sitisa ho ithuta
Litšitiso tse mo kena hanong thulaganyou e ya hao ho ithuta
kahoo, se phapang? hantle, le tšitiso ea pele e ka ba TV. O shebella TV le ho lieha ho ithuta. It keeps you from pulling out your review materials. The second distraction could be Youtube. It distracts you while you are studying. Distractions could be anything: girlfriend, boyfriend, wife, husband, kids, work, anything.
The important thing is to identify what is keeping you from studying and get rid of it. You shouldn't have any distractions keeping you from your study materials and you shouldn't have any interrupting your routine.
When it's study time, it's study time. If you focus 100% during study time, you can accomplish way more.
---
Find a Study Place
kahoo, how do you get rid of distractions and keep a schedule? You find a study place. A separate study area where no one bothers you will kill two birds with one stone.
I found that creating a dedicated study area that is specifically used for studying helped me focus and helped people leave me alone. I was prepared mentally when I entered the study place so that I needed to focus and leave all the distractions behind me. There wasn't a TV in the room and I left my phone behind.
Other people also were less of a distraction because they knew not to interrupt me while I was in that space. Ka lebaka leo, I was able to complete the multiple choice questions on my practice exams much faster and more accurately!
---
Get Discounts On CPA Review Courses!
---
Take Study Breaks
Out of all my CPA exam study tips, this is one that a lot of people miss. You can't study 24/7. Trust me. It's not possible. If you try, you will get tired, lose focus, and just start wasting time. It's important to build breaks into your study routine. Mohlala, on my Saturdays, I would break for 15 minutes halfway through.
Breaks will give your mind a rest and make you fresh and ready for more content. Just don't let your study breaks get out of hand. They are included in my dynamite CPA exam study tips for a reason: to increase study efficiency. They aren't supposed to give you a distraction.
---
Get Your Mind Right
This is probably the most important of my CPA exam study tips. It doesn't matter if you're diving into a comprehensive prep course or just looking at flashcards: get focused. Before every study session, stop for a second and get your mind right. Get focused. Take a deep breath and clear your mind of everything that's going on in life, so you can focus on the task at hand.
I found that studying while I was distracted with other things was a complete waste of time. I would spend two hours going through materials just to not even remember what I went through by the end of the session.
Studying is a mental thing. It's all about mindset. If you go into each study session with a focused mindset, you will be able to get through more material and remember way more than you would otherwise. Your mind has to be in it 100% or you won't really get that much out of it. Get in the zone and prepare yourself before you start studying. It sounds cheesy, but it's worth it.
---
Stay Motivated
I'm sure at some point during your study process you will start questioning why you are even doing this or if you will even be able to pass when exam day comes. I know I did; everyone does! It's important to stay motivated and remind yourself why you are studying.
Mohlala, you might get a pay raise, bonus, or promotion. You might be competing with friends, classmates, or co-workers. This might simply be one of your lifelong goals.
Whatever the reason is, remind yourself of it over and over again. The CPA exam isn't a sprint, It's a marathon; you need to stay pumped and keep studying in order to get to the finish line.
---
Get Studying!
hantle, that's it. That's all I have. Those are the six biggest tips that helped me pass the CPA exam on my first try. hantle, that and an awesome CPA review course. If you haven't picked out a good CPA study guide yet, check out my comparison guide and see which one is right for your learning style.