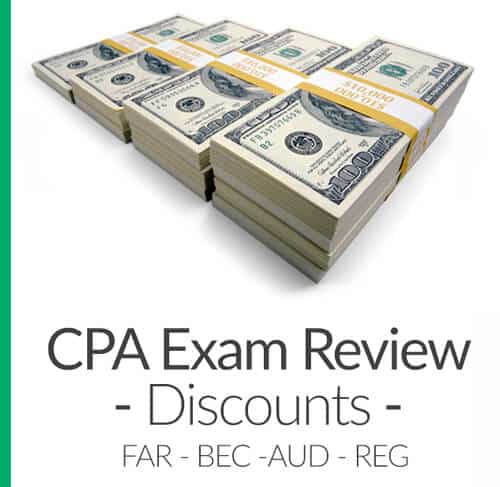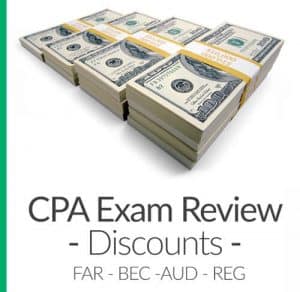 Izabrati Najbolji način CPA pregled je vjerojatno najvažnija odluka koju ćete napraviti tijekom CPA putovanja. dobivanje OGROMAN CPA ispita popusta pregled tečaj je druga najvažnija odluka koju ćete napraviti. Nakon svega, manje ćete potrošiti na prep tečaj, više možete potrošiti na događaj nešto zabavno. 🙂
Ako ste nešto poput mene, you weren't fortunate enough to have your employer pay for your CPA study guide. That makes getting a good deal on your prep materials even more important. A few hundred dollars is a lot of money. $500-$1,000 is a ton of money. Why would you ever want to over pay that much for a study guide?
Use these CPA coupons and promotions to save a ton of money on your review course and then go buy yourself something cool with the savings.
---
Compare CPA Exam Prep Course Discounts and Promo Codes
Here's a list of the top CPA exam review course discounts on the market today.
How Do You Rate These Discounts?
---
Best CPA Exam Review Course Discounts in 2021 Ispod:
Ovdje su najbolje CPA ispita pregled tečaj popuste koji će vam pomoći uštedjeti novac na vaš prep naravno i da postane CPA više pristupačne. Sa tako mnogo CPA popusti prep tečaj Tamo vani, obećanje da ćemo se uvijek naša se utvrditi da zapravo rade i nisu istekao!
---
Top Rated CPA Review Course Discounts in 2021 – Usporedite Sad & Spremi BIG!
| CPA Review Courses | Discount Code Amount | Coupon Price (After Discount) |
| --- | --- | --- |
| Surgent CPA pregled | 20% od | $1,439 |
| Roger CPA Review | 15% od | $1,885 |
| Wiley CPAexcel CPA Review | 20% od | $1,960 |
| Becker CPA Review | $900 od | $2,493 |
| Gleim CPA pregled | 25% od | $1,499 |
| Fast Forward Academy CPA | 15% od | $1,149 |
| Yaeger CPA pregled | 10% od | $999 |