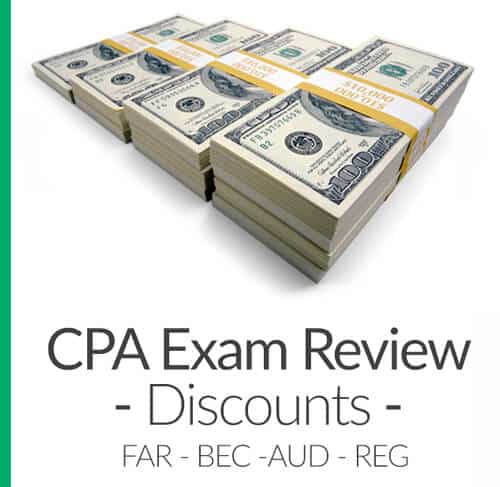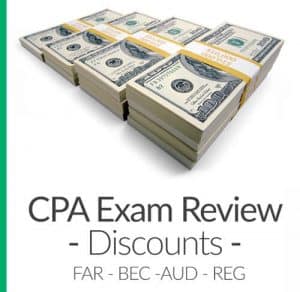 选择 最好的CPA复习课程 可能是最重要的决定,你将你的CPA旅途中做. 获得一个 巨大的注册会计师考试复习课程优惠 是你会做第二个最重要的决定. 毕竟, 你花费在准备过程中少, 越多,你可以花做一些有趣的东西. 🙂
如果你像我一样, 你不够幸运,有你的雇主支付您的CPA学习指南. That makes getting a good deal on your prep materials even more important. A few hundred dollars is a lot of money. $500-$1,000 is a ton of money. Why would you ever want to over pay that much for a study guide?
Use these CPA coupons and promotions to save a ton of money on your review course and then go buy yourself something cool with the savings.
---
Compare CPA Exam Prep Course Discounts and Promo Codes
Here's a list of the top CPA exam review course discounts on the market today.
How Do You Rate These Discounts?
---
Best CPA Exam Review Course Discounts in 2021 Below:
这里是最好的注册会计师考试复习课程折扣优惠,以帮助您节省您的预备课程的钱,并成为一名注册会计师更实惠. 有了这么多 CPA预备课程的折扣 在那里, 我们承诺始终有我们最多的是实际工作日期,而不是过期!
---
Top Rated CPA Review Course Discounts in 2021 – 现在比较 & 保存BIG!
| CPA Review Courses | Discount Code Amount | Coupon Price (After Discount) |
| --- | --- | --- |
| Surgent注册会计师审查 | 20% Off | $1,439 |
| 罗杰注册会计师审查 | 15% Off | $1,885 |
| Wiley CPAexcel CPA Review | 20% Off | $1,960 |
| Becker CPA Review | $900 Off | $2,493 |
| Gleim CPA评论 | 25% Off | $1,499 |
| Fast Forward Academy CPA | 15% Off | $1,149 |
| Yaeger CPA Review | 10% Off | $999 |