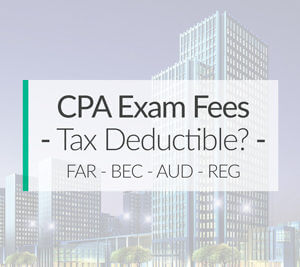 Every good aspiring CPA has probably asked him or herself, are my CPA review course fees and expenses tax deductible? I will admit that I thought about this too when I was shelling out thousands of dollars to pay for my AICPA-approved CPA prep course.
Unfortunately, the IRS has ruled on several occasions that CPA review course costs are non-deductible because becoming a CPA is deemed to be starting a new trade or profession.
If you are like me, you are probably thinking there has to be some way to deduct these CPA exam application fees and costs. Maybe there's a loophole or a different way to look at this. That's a fair point.
Let's take a look at why CPA review courses are not deductible on your personal income tax return. Keep in mind that I don't practice in public accounting or do professional tax work anymore. This is just my opinion based on my research, self-study, and experience. Run this by your CPA if you have any questions.
That being said, let's look at the different scenarios.
Can You Deduct CPA Review Expenses on Your Tax Return?
Basically, there are two different ways you can look at the cost of buying a CPA prep course. It can either be considered an educational expense or an unreimbursed business expense.
Furthermore, both of these options are treated differently for tax purposes and reported in different places on the Form 1040. Let's take a look at each.
Can I Deduct CPA Exam Review Costs as an Educational Expense?
Typically, qualified educational expenses can be deducted as an adjustment to AGI on the first page of the 1040 form. This sound like it might work, right? CPA license and registration fees are the costs you incurred to educate yourself about the exam after all.
Well, the IRS defines education expenses a little differently. Here's what they consider a qualified expense:
Qualified expenses are amounts paid for tuition, fees and other related expense for an eligible student that are required for enrollment or attendance at an eligible educational institution.
Unfortunately, since your CPA study guide company is not an eligible educational institute and you don't really have to "enroll" in one to take the course, this doesn't cut it.
Therefore, you can't deduct CPA prep course fees as educational expenses on your tax return.
---
Get Discounts On CPA Review Courses!
Can I Deduct CPA Review Course Fees as an Unreimbursed Business Expense on my Itemized Deductions?
Typically, the IRS allows you to deduct business expenses that you incurred to perform your job that was not reimbursed by your company. These are often called unreimbursed employee expenses.
For example, if your employer requires that you take a nursing exam as part of your training and they don't pay for it, you can deduct the cost of that on your Schedule A if you are able to itemize your deductions.
This sounds like a potential avenue that could work, doesn't it? Well, there are several problems with this approach.
First, the IRS does not allow you to itemize an employee expense that trains or prepares you for a new trade, profession, or business. You might think, "Ah, I'm already an accountant. CPA exam prep isn't a new trade."
Unfortunately, the IRS deems it to be a new trade because Certified Public Accountants are able to legally do many more things than a non-certified accountant. (Glenn v. Commissioner 62 T.C. 270) Thus, you are deemed to be training for a new trade. Yeah, that's annoying.
Second, according to Pub 970: Tax Benefits for Education, the IRS states that CPA study materials that are used to prepare for the CPA exam do not qualify as work-related study expenses or education. This is because they are materials to prepare you for the first time at a new trade or profession. Yes, it goes back to that point again.
Thus, these are deemed to not even be related to your current job, work, or profession because they are preparing you to leave your profession and start a new one as a CPA.
I know it sounds crazy, but that's the US tax code for you. I'm sure this news is pretty disappointing to hear, but at least you are good company. Truthfully, every CPA candidate has had to learn the unfortunate news that they can't claim CPA exam textbooks on their tax return at some point. Hence, consider it your first real look into the personal income tax code.
---
Don't Spend a Ton on a CPA Exam Review Course. It's not deductible!
This also reinforces the fact that you can't pay too much for your CPA course. If you can't even get a deduction for it, why would you want to overpay for one? Use these discounts to get $500+ off your course purchase.
If you haven't decided on which course is right for you, use my comparison chart where I review each course and show you which one will work out best for your study style.