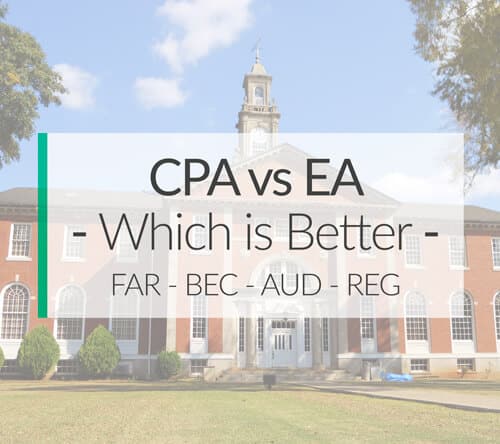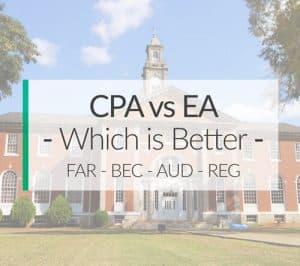 In soad belesting profesjonals wolle foarút harren rinbaan, mar net witte wat te kiezen: EA vs CPA. Beide binne grutte Certifications dy't jo helpe jo krije befoardere, fertsjinje in heger salaris, en begeliede dyn karriêre.
Beide fan dy fergunnings binne grutte opsjes, mar hokker men moat jo krije. Litte wy ferlykje elk ien en sjoch rjucht is foar dy.
---
Wat is it ferskil tusken in CPA en in skreau him Agent (EA?)
Sjoch de Top CPA Review Kursussen
View All
Wat is in CPA?
Beide binne bewiisbrieven; lykwols, men is regele op 'e state nivo en de oare op it federale nivo. Jo wurde CPA troch it ynfoljen 150 undergraduate oeren en foarby de fjouwer-diel CPA eksamen dat wurdt troch sawol de AICPA. It CPA eksamen bestiet út fjouwer-dielen: Auditing en Attestation, Business Miljeu en Concepts, Finansjele boekhâlding en Meldpunt en Regulation. Taxation wurdt bedutsen ûnder Regulation. CPAs are licensed at the state level which limits their scope of practice within those jurisdictions; lykwols, it is possible to gain reciprocity in certain situations. Both CPAs and EAs must uphold stringent ethics standards.
Wat is in IRS ingeschreven Agent (EA)?
An enrolled agent is a federally licensed tax practitioner who has unlimited rights to represent taxpayers before the IRS. Enrolled agents are licensed by the IRS. To become an EA, you have to pass a three-part comprehensive examination (Individuals, Businesses and Representation, Practice, and Procedure) which covers all aspects of the tax code of have worked at the IRS for five years in a position where you were required to interpret and apply the tax code on an ongoing basis as part of your job. All EA candidates must pass a background check conducted by the IRS which includes looking into your personal tax history. (Sorry, but if the IRS finds delinquent tax payments/filings or other discretions, you're out of luck.) lykwols, in the case of representing a client before the IRS, (e.g. such as in the case of a tax audit) the CPA also has those privileges.
---
EA vs CPA carriere Paad Ferskil
If you are an enrolled agent, you specialize in tax issues period — such as preparation of taxes for individuals and business entities or advising clients. Job opportunities for you may be found at tax preparation franchises or working for a CPA. A CPA's careers choices are much greater and you could work for the government, in the private sector or for individuals. Some examples of job titles held by CPAs include CFO, controller, tax specialist or auditor. CPAs can work for the government, large and small companies/corporations, in not-for-profits or be self-employed.
EA vs CPA Time Requirement Ferskillen
On the average, it takes about 8-9 years to become a CPA. You have to 150 hours of college credit (bachelor's/master's degrees) before you can sit for the CPA exam. Some states require that also require a certain number of hours worked under the direct supervision of a CPA before allowing you to take the exam. The CPA exam has an extremely low pass rate and you have 18 months to take it.
Sa, if you are in a state that requires two years of work experience and you also take advantage of the entire 18-month window for testing, you're looking at 8 ½ years. It takes far less time to become an EA. You have to pass a three-part exam administered by the IRS then apply for licensure. Qualifying employment with the IRS could exempt you from having to take the exam. It is most common for individuals to have a proven record in tax preparation and analysis before seeking EA status. lykwols, years of experience is not quantified.
---
EA vs CPA Kosten fan Drank-
How much it costs to get your CPA license is highly subjective. Where you go to school to get your bachelor's degree will be one cost, as well as if you continue on to get your master's as part of the 150 credit hour requirement. After that, you may choose to purchase study materials for the CPA exam, which could add another four figures to the price tag. The cost for sitting for the exam depends entirely on the state in which you plan to be licensed. There typically is a registration fee and separate fees for each section of the exam. (Re-takes require additional fees.)
On top of that will be the cost of the license itself, which averages about $150. Don't forget that in order to maintain licensure, you will have to take ongoing continuing education (CE) courses. CE requirements are determined at the state levels and are cyclical (e.g. 120 hours in 3 years.) Your employer may or may not bear the cost of CPE or licensure.
To become an EA, you first must obtain a PTIN (Personal Tax Identification Number) from the IRS, which costs $50. The cost of each section of the exam is $111.94. After you've passed the exam, there is a $30 enrollment fee. That brings the total cost to $415.82. Enrolled agents must also take CE courses and the IRA requirement is 72 hours every 3 jier. The vendor's curriculum must be approved by the IRS.
---
Get Discounts On CPA Review Courses!
---
EA vs CPA Salaries
CPAs typically earn more than EAs but that could vary depending on where you fall on the career continuum. An EA with many years of experience could earn more than a CPA who is in their first year or two in practice. lykwols, if you are a CPA, your income will quickly outpace that of an EA. The median salary for a CPA is $62,123 versus $49,000 for an EA.
The income potential for EAs tends to flatten out over time with peak earnings to be around $60,000. CPAs have vast opportunities to earn more money. If you are a partner in a CPA firm or a CFO for a conglomerate, you could easily take home six figures.
---
EA vs CPA: Hokker is better?
A better question is why have both? If you are a CPA, then there is no need to become an EA, as the CPA is qualified to perform the duties of the EA. A case where this might make sense is if you work as an EA while you are preparing to sit for your CPA exam and then continue to specialize in taxation. Oars, it would be a redundancy for an established CPA to seek EA status.
---
EA vs CPA: Wêrom net wurden beide?
If you enjoy working with taxes and the challenges of keeping up with complicated regulations, then becoming an EA might be the direction to go. Both the time commitment and costs associated with this career choice are far less than those needed to become a CPA. lykwols, in CPA kin ek biede belesting tsjinsten, mar hat in folle breder berik fan de praktyk en karriêre karren as in EA.
Totale merk fraach is grutter foar CPAs as eas. It echt allegear swolmen omleech nei wat dyn karriêre aspiraasjes binne. As jo ​​graach ceiling wurk mei in microfocus, hieltyd in EA koe wêze folslein fit. Oan de oare kant, as jo binne ynteressearre yn boekhâlding praktiken dy't hawwe neat te krijen mei belestings (lykas auditing), dan efter de CPA opsje is it foar de hân kar.