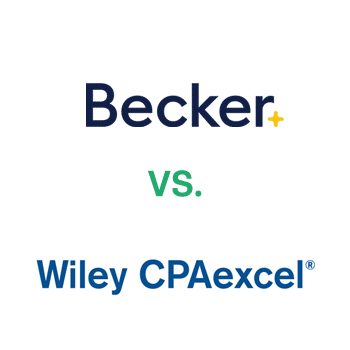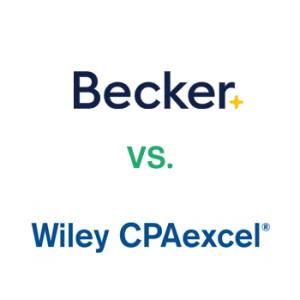 Wiley CPAexcel ve Becker CPA Review are both popular CPA exam study materials. There several different things to consider when picking out a CPA exam prep course: Video konferanslar, study textbooks, test banks, and overall course software. Comparing these criteria will help you find the best choice for your money!
So let's take a look at these two courses and see how they stack up against one another. Then you can decide which one is right for you.
Becker CPA Review or Wiley CPAexcel Comparison
---
CPA Excel versus Becker CPA Review Prices
While Becker CPA is more expensive than Wiley CPAexcel, this is because of several reasons. The Big 4 Accounting Firms consider it a top tier CPA review course, as do many other industry experts. Because of this, many companies will outright pay for their employees to use these courses for certification.
If you're one of these lucky people, congratulations! Becker is well worth the money, since they have cutting-edge technology and software to deliver a high-quality and highly customizable study plan.
So what does Wiley give you for its reduced price? İyi, a lot of practice questions for one. ancak, there are some features you'll miss out on if you pick them over Becker; aşağıda daha.
Here are the prices for each course:
Course
Full Price
Flashcard Price
Wiley CPAexcel
$2,499
$300
Becker CPA Review
$3,499
$2,299 (with discount)
$179
Gördüğün gibi, Becker is more expensive when compared to Wiley. This all makes sense though when you consider everything else they have to offer.
Keep reading to see the differences.
Not – Bu yazı boyunca, Tüm kıyaslamalar yapılmıştır referans Wiley CPAexcel – EBM Platin İnceleme Kursu 2020 – baskı + E-kitap ve Becker Pro paket.
kazanan:
---
Course Access
İşte bazı iyi haber; olursa olsun EBM eğitim materyalleri seçeneği için başvuruda nerede, ne Wiley ne de Becker genişletilmiş erişim için ödeme yapmanızı gerektirir. bundan dolayı, Eğer ek ücret ödemeden sınavı geçmek için ne kadar sürerse olarak için her iki dersten eğitim materyalleri tümünü kullanabilirsiniz. Artı, the test prep materials are updated while you are using them, so you never have to worry about studying outdated materials!
kazanan:
Tie
---
CPAexcel vs. Becker Testbank
The Becker test bank includes over 9,200 multiple-choice questions and around 580 ile görev tabanlı simülasyonlar 400 coaching videos.
The Wiley test bank has 12,000+ multiple-choice questions, as well as 300+ görev tabanlı simülasyonlar.
At first glance it might seem like Wiley is the winner here by having so many MCQ's. ancak, the AICPA has shifted the CPA exam's focus to rely more heavily on simulations than multiple-choice questions. There's also one specific feature to Becker's mock exams that you can't get with Wiley.
Thanks to a slight difference in grading, students commonly earn higher scores on the CPA exam than they do on Becker's mock exams. This is referred to as the Becker Bump and is one of the course's strongest features.

bu nedenlerden dolayı, Becker wins out with more than 180 extra task-based simulations, the Becker Bump, and all the MCQ's you'll ever need!
kazanan:


---
Becker CPA vs CPAexcel Study Text
Genel konuşma, Becker's book tends to go into more detail than Wiley's book does when it comes to many accounting subjects. Some candidates enjoy this, but others may prefer something simpler if they already have a good grasp on the fundementals.
The Wiley study book is short and to the point. It isn't filled with excess information, but that also means you won't get as much value out of this aspect of their review course.
en sonunda, the better textbook is the one with more information, more substance, and more educational merit: Becker's!
kazanan:

---
Becker vs. Wiley CPAexcel Flashcards
CPAexcel comes with a set of 1,000 digital flashcards covering all the topics, key terms, and study questions throughout the course. These flashcards can be accessed on your computer or any mobile device. ancak, several student reviews have mentioned that their mobile app doesn't always work properly, so you might experience some issue if you try to access their flashcards on your phone.
Becker also provides over 1,400 digital flashcards for free with all three of their course subscriptions. You can also get a physical version with their Premium and Pro courses, making it easy to get some study time without having to stare at a screen.
Since flashcards are all about repetition and memorization you can't beat having more to study at no added cost. This makes Becker's CPA flashcards the clear winner here!
kazanan:


---
Study Material Updates
This is a great example of Becker improving their products based on customer feedback. At first, they didn't offer free course updates; ancak, they've changed this policy in response to their students. Now, all their course subscription levels include free updates, making Becker a tremendous value compared to the competition that doesn't.
With Wiley, it's a similar story: as soon as they come out with updates, your study guide will be automatically updated to reflect the new changes. This is great for candidates who take more than 18 months to pass the exam because the chances are that the AICPA will update something big within that time.
kazanan:
Tie
---
Recommendation
Honestly, both of these courses have great attributes, and both will help you pass the exam.
But in my opinion, the clear winner is Becker.
Sure, you'll need to pay slightly more than you would with the Wiley. ancak, the study materials included with this course (including two fantastic mobile apps), and the glowing endorsements of the Big 4 accounting firms makes this well worth your time and money!