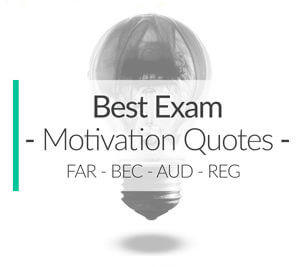 If you are studying for the CPA exam ou tout autre test professionnel, vous savez que vous pouvez parfois utiliser un peu de motivation, de temps en temps.
La mise en tonnes d'heures à étudier chaque semaine peut être un frein et assez pour vous donner envie de quitter la poursuite de votre rêve de passer l'examen. Ou pire, vous pourriez avoir pas une section de l'examen dans le passé et vous avez besoin de motivation pour vous récupérer en arrière et prendre le test.
Je trouve des citations de prise de contrôle d'inspiration pour être l'une des plus grandes sources de motivation là-bas. de motivation citations de test have power and stick in your head. I've often turned these into mantras, speaking them out loud to myself and writing them down during my study process.
Voir les cours d'examen Top CPA
View All
If you are studying for an exam and need a little motivation, here's a few exam quotes that I've found pretty motivating. I hope they help you as much as they helped me.
---
Best Test Quotes
---
Encouragement for Exams Quotes
Life only has one rule: Never quit. – Unknown

In the middle of ever difficulty lies opportunity. – Albert Einstein

Do something that your future self will thank you for.
---
Ready for Exam Quotes
The best way to predict the future is to create it.

Dreams don't work unless you do.
---
Overcoming Fear of Exams Quotes
Don't stress. Do your best. Forget the rest.

Nothing happens until something moves. – Albert Einstein

The best view comes after the toughest climb.
Quotes on Examination Success
The greatest test of courage on earth is to bear defeat without losing heart.

Dream big and dare to fail. -Norman Vaughan

Work until your idols become your rivals.
---
Thought of Exam Quotes
Don't think about tomorrow. Think about the task at hand.
---
Words of Wisdom for Exams
Wake up with determination and go to bed with satisfaction.
---
Final Exam Quotes on Hard Work and Diligence
There is no substitute for hard work. -Thomas Edison

Work in silence. Let success make the noise.

Hard work beats talent when talent doesn't work hard.
---
Finals Quotes on Tenacity and Persistence
Persistence is failing 19 times and succeeding on the 20th

A river cuts through a rock not because of its power, but because of its persistence.

If you are going through hell, keep going. – Winston Churchill

Nothing worth having comes easy.
---
Exam Quotes on Taking the Initiative
You don't have to do it right; you just have to do something.

Do something that scares you everyday.

Do something everyday that will inch you closer to a better tomorrow.
---
Exam Quotes on Confronting Challenges
We don't grow when something is easy. Nous grandissons quand quelque chose est difficile.

Lorsque la vie devient plus difficile, vous mettre au défi de se renforcer.
---
Exam Quotes on Facing Failures
Notre plus grande faiblesse réside dans l'abandon. Le plus sûr moyen de réussir est toujours juste essayer une fois de plus. - Thomas Edison

Un grand nombre d'échecs de la vie sont des gens qui ne se rendent pas compte à quel point ils étaient au succès quand ils ont abandonné. - Thomas Edison