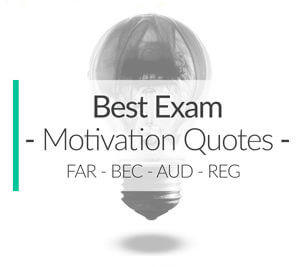 Ako ste studiranje za CPA ispita ili bilo koji drugi stručni ispit, znaš da ponekad treba malo motivacije s vremena na vrijeme.
Putting in tons of hours studying each week can be a drag and enough to make you want to quit pursuing your dream of passing the exam. Or worse, you might have failed a section of the exam in the past and you need the motivation to pick yourself back up and take the test again.
I find inspirational test-taking quotes to be one of the biggest sources of motivation out there. Motivational test quotes have power and stick in your head. I've often turned these into mantras, speaking them out loud to myself and writing them down during my study process.
Pogledajte Top CPA pregled tečajevi
View All
If you are studying for an exam and need a little motivation, here's a few exam quotes that I've found pretty motivating. I hope they help you as much as they helped me.
---
Best Test Quotes
---
Encouragement for Exams Quotes
Life only has one rule: Never quit. – Unknown

In the middle of ever difficulty lies opportunity. – Albert Einstein

Do something that your future self will thank you for.
---
Ready for Exam Quotes
The best way to predict the future is to create it.

Dreams don't work unless you do.
---
Overcoming Fear of Exams Quotes
Don't stress. Do your best. Forget the rest.

Nothing happens until something moves. – Albert Einstein

The best view comes after the toughest climb.
Quotes on Examination Success
The greatest test of courage on earth is to bear defeat without losing heart.

Dream big and dare to fail. -Norman Vaughan

Work until your idols become your rivals.
---
Thought of Exam Quotes
Don't think about tomorrow. Think about the task at hand.
---
Words of Wisdom for Exams
Wake up with determination and go to bed with satisfaction.
---
Final Exam Quotes on Hard Work and Diligence
There is no substitute for hard work. -Thomas Edison

Work in silence. Let success make the noise.

Hard work beats talent when talent doesn't work hard.
---
Finals Quotes on Tenacity and Persistence
Persistence is failing 19 times and succeeding on the 20th

Rijeka presijeca stijene ne zbog svoje snage, ali zbog svoje upornosti.

Ako se ide u pakao, nastavi. - Winston Churchill

Ništa vrijedno ne dolazi lako.
---
Exam Quotes on Taking the Initiative
Vi ne morate to učiniti pravo; samo trebate nešto učiniti.

Učinite nešto što plaši što svakodnevno.

Učinite nešto svakodnevno koja će vas inčni bliže bolje sutra.
---
Exam Quotes on Confronting Challenges
Mi ne rastu kad je nešto jednostavno. Mi rasti kad je nešto izazovno.

Kad život postane teže, izazov sebe da biste dobili jači.
---
Exam Quotes on Facing Failures
Naša najveća slabost leži u odustajanje. Najviše određeni način uspjeti je uvijek pokušati samo još jednom. - Thomas Edison

Mnogi od životnih neuspjeha su ljudi koji nisu shvatili koliko su blizu uspjeha kada su odustali. - Thomas Edison