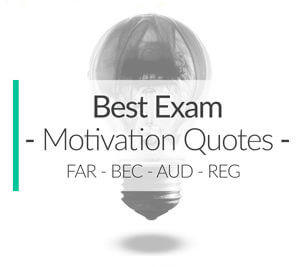 Ngati muli kuphunzira kwa mayeso CPA kapena wina aliyense akatswiri mayeso, mukudziwa kuti nthawi zina munganene ntchito chilimbikitso pang'ono nthawi.
Putting in tons of hours studying each week can be a drag and enough to make you want to quit pursuing your dream of passing the exam. kapena woipa, you might have failed a section of the exam in the past and you need the motivation to pick yourself back up and take the test again.
I find inspirational test-taking quotes to be one of the biggest sources of motivation out there. Motivational test quotes have power and stick in your head. I've often turned these into mantras, kulankhula iwo mokweza ndekha ndi akuwalembera pansi pa ndondomeko wanga kuphunzira.
Onani Top CPA Review Maphunziro
View All
Ngati mukuphunzira mayeso ndipo tikusowa chilimbikitso pang'ono, apa pali mayeso ochepa Quotes kuti Ndapeza wokongola yolimbikitsa. Ine ndikuyembekeza iwo kukuthandizani ngati mmene anandithandiza.
---
Best Mayeso Quotes
---
Chilimbikitso mayeso Quotes
Moyo ali ulamuliro umodzi: sanagwe ulesi. – Unknown

Pakati pa vuto nthawi lagona mwayi. – Albert Einstein

Chitani chinachake, kuti umunthu wanu m'tsogolo zikomo.
---
Kukonzekera mayeso Quotes
Njira yabwino kulosera za m'tsogolo ndi kulenga izo.

Maloto sizikugwira ntchito pokhapokha inu kuchita.
---
Kuthetsa Kuopa mayeso Quotes
Kodi si maganizo. Yesetsani. Iwalani otsalawo.

Kanthu zimachitika mpaka chinachake chimachititsanso. - Albert Einstein

Maganizo abwino akubwera pambuyo pa kukwera kuzisiya.
Quotes kuzionetsetsa Kupambana
The greatest test of courage on earth is to bear defeat without losing heart.

Dream big and dare to fail. -Norman Vaughan

Work until your idols become your rivals.
---
Lingaliro la mayeso Quotes
Don't think about tomorrow. Think about the task at hand.
---
Mawu a Nzeru mayeso
Wake up with determination and go to bed with satisfaction.
---
Final mayeso Quotes pa Limbikirani ndi Khama
There is no substitute for hard work. -Thomas Edison

Work in silence. Let success make the noise.

Hard work beats talent when talent doesn't work hard.
---
Omaliza Quotes pa zinafuna ndi Kulimbikira
Persistence is failing 19 times and succeeding on the 20TH

mtsinje A amadula mwa thanthwe osati chifukwa cha mphamvu zake, koma chifukwa cha khama lake.

Ngati mukupita kudzera gehena, pitiliranibe. - Winston Churchill

Palibe mtengo ndi sikumuvuta.
---
Exam Quotes on Taking the Initiative
Inu simusowa kuchita izo pakali; umafunika kuchita chinachake.

Kuchita chinachake chimene Mtsikana wotere inu tsiku ndi tsiku.

Kuchita chinachake tsiku ndi tsiku zimene inchi ubwenzi ndi mawa bwino.
---
Mayeso Quotes pa Pokumana ndi Mavuto
Sitikudziwa kukula pamene chinachake N'zosavuta. Ife kukula pamene chinachake n'kovuta.

Pamene moyo chikulimbira, ndikutsutsa nokha kwambiri.
---
Exam Quotes on Facing Failures
kufooka kwambiri lagona kungosiya. Njira yosavuta ena kuti bwino nthawi zonse kuyesa nthawi imodzi chabe. - Thomas Edison

Ambiri mwa zolephera moyo ndi anthu amene sankadziwa kuti pafupi anali bwino pamene adataya. - Thomas Edison