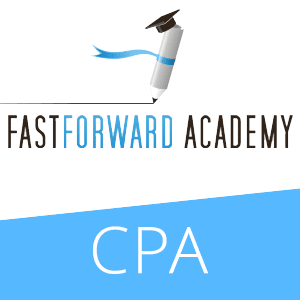 De Fast Forward Academy CPA review course is one of the most modern CPA exam study materials on the market today. Deres prep kurs har gjenoppfunnet ideen om rask læring og kom opp med en programvareplattform. Dessuten, dette online kurset hjelper deg å studere raskere ved å fokusere på de emner og begreper du er svakest på stedet for å studere dine sterke.
Typiske CPA studere guider er lineær i naturen. Dette betyr at en kandidat fungerer gjennom ett kapittel om gangen. Når ett kapittel er fullført, han eller hun beveger seg videre til neste kapittel. Disse kapitlene er vanligvis Kategorier av emner eller studieretninger. Betyr dette høres kjent for deg? Vi vil, it should because this is how all study materials have been presented since the beginning of time.
Fast Forward Academy developed a smart learning system that tracks what you know and what you don't, based on your testing results. derav, it then modifies the study materials to focus on topics that you need to work on more. Og dermed, this self-study course is unique for each candidate using it.
How do you rate Fast Forward Academy CPA Review?
Let's look at the Fast Forward CPA exam full course format.
---
Fast Forward Academy CPA Course Format
The structure of this CPA study guide is different from others on the market. Although there is a study book with chapters and topics, it is set up to guide you through the information you need to study instead of allowing you to read the book from front to back. That being said, let's look at the components of this course.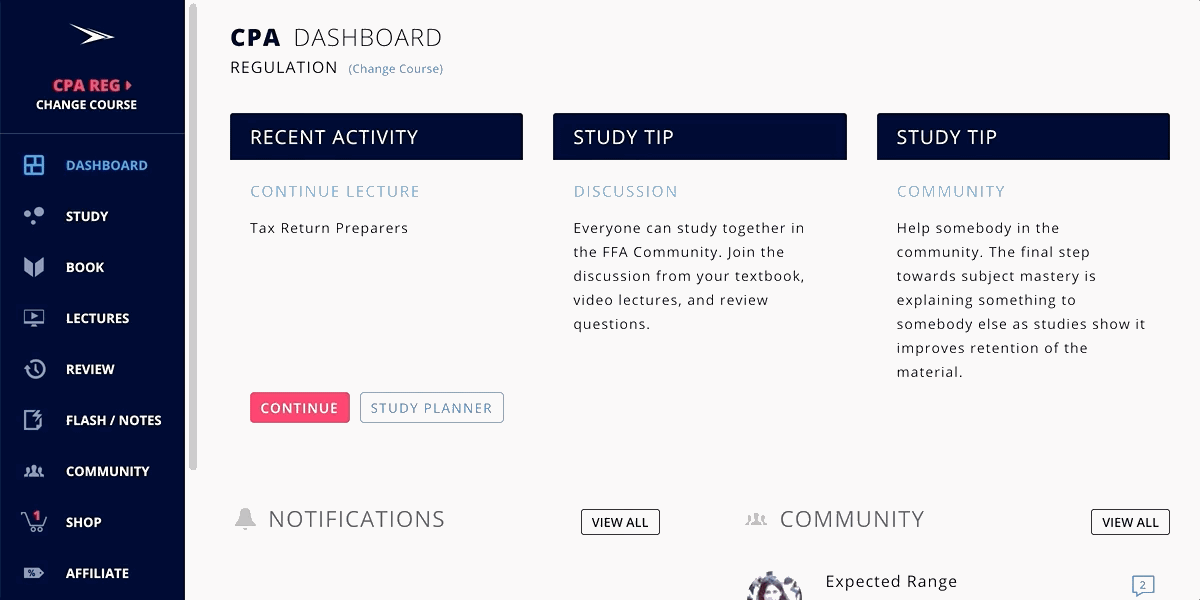 Video Lectures
As a new update this year, Fast Forward Academy just introduced a full set of video lectures. They offer over 80 hours of lectures on all of the key topics covered on the exam. De 470 lessons explain concepts with real-world examples, so you can understand them. These lectures are more engaging than a traditional University lecture, but I wouldn't say they are entertaining by any means. They are still informational accounting lectures. 🙂 They do have an auto-generated study text next to each video, so you can follow along with the key points and make notes during the videos.
Fast Book Study Textbook
The Fast book is FFA's study text and contains all of the reading materials for the course. It's fairly direct with a little commentary about the subjects. It's more of a series of bullet-pointed lists than an accounting textbook that explains concepts in great detail. In some ways, this is a good thing, derimot. Some CPA textbooks are too long and detailed causing candidates to read too much and spend way longer studying than they need to. The Fast book is a good middle ground. The most important aspect of the Fastbook is its intelligence. It's programmed to learn what you know and what you don't, så det kan foreslå temaer og avlesninger for deg. Dette er nesten som å ha en veileder velge områder for deg å studere på en kontinuerlig basis. Veldig effektivt!
Fast Forward Academy Test Bank
FFA CPA studien bank omfatter mer enn 6,800+ multiple-choice spørsmål i det som integreres i deres adaptive, intelligent system studie. Dette betyr at når du tar quizer, se forelesningene, og lese studien tekst, the test bank automatically generates practice exams for you to work through based on your current knowledge of the subject or concept. This allows you to focus on testing topics you need to work on rather than testing you on everything. You can also make custom quizzes covering any topic or length of exam questions if you want to, but the adaptive approach is much better.
Oppgave-baserte simuleringer
The FFA CPA study materials include 230 oppgavebaserte simuleringer. Although this isn't more than other courses out there, it is implemented differently. Ligner på prøve bank, simuleringene er integrert i det adaptive system, så kurset vil automatisk foreslå du gjøre simuleringer basert på din nåværende kunnskap. Og dermed, hvis det er en simulering tilgjengelig for emnet du sliter med, kurset vil automatisk sette den i studie tidsplan for å arbeide gjennom. Du kan også ta disse som helst du ønsker eller lage egendefinerte quizer basert på emner i tillegg.
Exam Simulator
FFA eksamen simulator er en flott presentasjon av AICPA eksamen layout. Det har noen av Fast Forward stylings i det, men funksjonaliteten er identisk med den virkelige CPA eksamen. Du kan bruke simulator i eksamen modus eller praksis modus til enten etterligne den virkelige eksamen eller bare teste deg selv på emnene. Hvert spørsmål gir detaljerte forklaringer på de riktige og feil svar i analytics delen av dashbordet.
Study Notes
Dashbordet har en seksjon for notater som kan merket til forelesningene, studien tekst, eller spørsmål. This is a powerful feature because it allows you to review different parts of the study guide based on your note. For eksempel, if you wanted to go review a practice question, you could make a note of the question and video. When you click the note, it will take you to the question or the lecture directly. This makes reviewing extremely quickly.
That's all of the main components included in the study materials. Let's discuss some of the benefits and drawbacks of this course compared with others on the market.
---
Benefits
adaptive Learning
This benefit can also be a drawback if you don't embrace it. If you try to use this course like a tradition linear course, it won't work for you. It will be frustrating. That being said, if you use it the way it was intended to be used, it is amazing. The course automatically creates a study schedule for you and tells you what you need to study and learn next. It also changes as you go through it, so it can keep targeting areas you need to study until you know them all.
Unlimited Access
Fast Forward Academy offers unlimited access to all of their products. This is a huge benefit because it means you won't ever have to pay an extra fee to keep using the course.
Academic Support
Unlike other courses that have message boards or emails that don't get answered, FFA allows you to talk directly with academic experts about your course material questions. This is a big help for people who need more explanations about topics.
rabatter
Fast Forward Academy tilbyr flere ulike rabatter og kuponger på sine studiemateriell. Her er de nåværende.
student rabatt: FFA gir studentene en 10% rabatt på sin smarte bunt gjennomgang kurs. Klikk her for å få 10% hele kurset.
Spesielle Promo kuponger: Fast Forward tilbyr vanligvis flere forskjellige spesielle promo rabatt kuponger i løpet av året. Klikk her for å se den nåværende kampanjen.
---
ulempene
Ingen frakoblet bruk
dessverre, det er ikke måter å bruke dette kurset offline. You'll need to login to their website in order to use the test bank or watch the lectures. You can order a printed study book, but that's it.
No Cram Course
FFA does not offer a cram course at all. Although this isn't really a must-have, it is nice to have a final review.
No Audio Lectures
Some people enjoy listening to audio lectures on their commute to work or while they are working out. FFA doesn't currently offer them.
---
Recommendation
Fast Forward Academy is an excellent CPA exam review course for anyone who wants to embrace the adaptive approach to studying. This system does work and it includes more than enough materials to properly prepare for the exam. It is different than what you are probably used to. If you are willing to give it a chance, I'm sure you will be happy with it and it will help you pass the exam on your first try.
Fast Forward Academy Coupon Codes & rabatter
Fast Forward Academy Frequently Asked Questions
📱Does Fast Forward Academy have an app?
Currently, Fast Forward Academy doesn't offer any kind of app for their educational courses and study materials. men, their prep course has been designed for easy access and use on a variety of smartphones and tablets.
1️⃣ What is the best study material for enrolled agent exam?
Although Fast Forward Academy has some definite upsides, if you're not satisfied that it's a fit for you, Surgent EA Review is one of our strongest Enrolled Agent courses available to English and Spanish-speaking students. This is due to their large volume of practice questions, videoforelesninger, and interactive study planning tech.
📃 Do you need a degree to be an EA?
According to the IRS, you don't need to have a college degree to become an Enrolled Agent. The only requirements are that you obtain a Preparer Tax Identification Number (PTIN), pass the three-part Special Enrollment Exam (SEE), and pass an IRS suitability check. Some of these steps can be bypassed if you have previous experience working at the IRS.