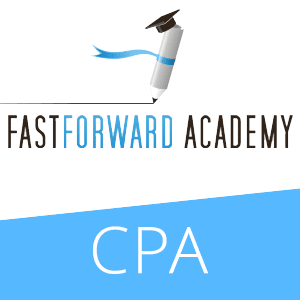 The Fast Forward Academy CPA review course is one of the most modern CPA exam study materials on the market today. Tangtu prep maranéhna geus reinvented pamanggih learning saum sareng datang nepi ka platform software. Saterusna, Tangtu online ieu mantuan Anjeun diajar gancang ku fokus dina jejer jeung konsep anjeun weakest on tinimbang diajar kaunggulan Anjeun.
Panungtun ulikan CPA has anu linier di alam. Ieu ngandung harti yén calon jalan ngaliwatan hiji bab dina hiji waktu. Nalika salah sahiji surah geus réngsé, anjeunna atanapi manehna ngalir dina bab salajengna. bab ieu biasana kategori ku jejer atawa wilayah ulikan. Teu ieu disada akrab ka anjeun? sumur, it should because this is how all study materials have been presented since the beginning of time.
Fast Forward Academy developed a smart learning system that tracks what you know and what you don't, based on your testing results. Mangkana, it then modifies the study materials to focus on topics that you need to work on more. kituna, this self-study course is unique for each candidate using it.
How do you rate Fast Forward Academy CPA Review?
Let's look at the Fast Forward CPA exam full course format.
---
Fast Forward Academy CPA Course Format
The structure of this CPA study guide is different from others on the market. Although there is a study book with chapters and topics, it is set up to guide you through the information you need to study instead of allowing you to read the book from front to back. Nu keur ceuk, let's look at the components of this course.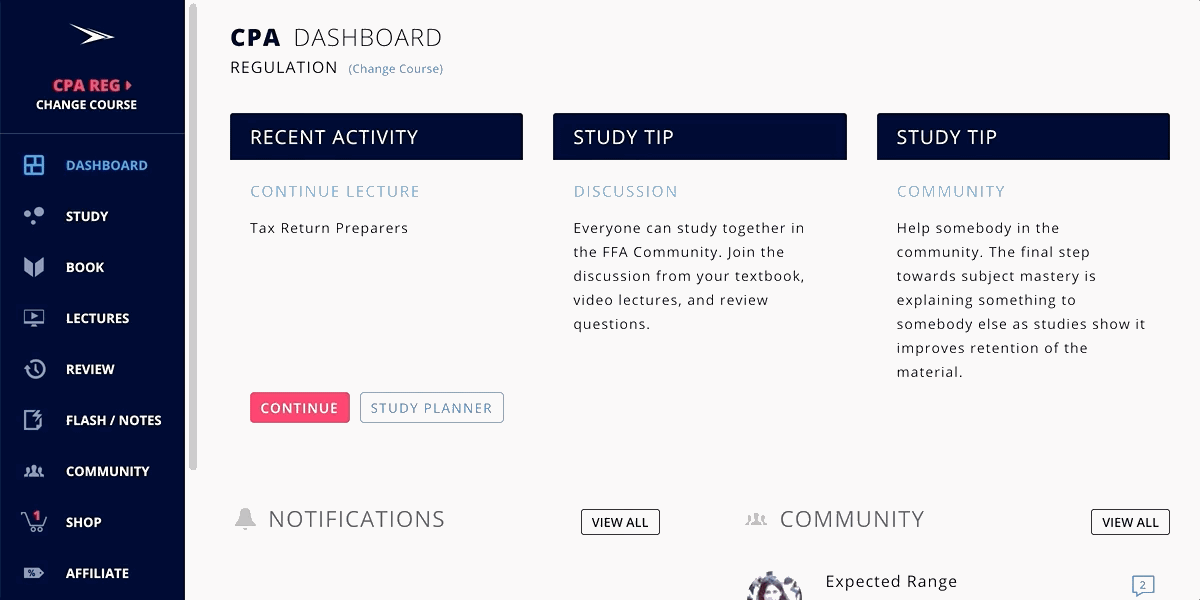 Video Lectures
As a new update this year, Fast Forward Academy just introduced a full set of video lectures. They offer over 80 hours of lectures on all of the key topics covered on the exam. The 470 lessons explain concepts with real-world examples, so you can understand them. These lectures are more engaging than a traditional University lecture, but I wouldn't say they are entertaining by any means. They are still informational accounting lectures. 🙂 They do have an auto-generated study text next to each video, so you can follow along with the key points and make notes during the videos.
Fast Book Study Textbook
The Fast book is FFA's study text and contains all of the reading materials for the course. It's fairly direct with a little commentary about the subjects. It's more of a series of bullet-pointed lists than an accounting textbook that explains concepts in great detail. In some ways, this is a good thing, kumaha oge. Some CPA textbooks are too long and detailed causing candidates to read too much and spend way longer studying than they need to. The Fast book is a good middle ground. The most important aspect of the Fastbook is its intelligence. It's programmed to learn what you know and what you don't, kitu deui tiasa nyarankeun jejer sarta maca pikeun anjeun. Ieu ampir kawas ngabogaan pangajar hiji milih wewengkon pikeun anjeun diajar dina hiji basis lumangsung. pohara efektif!
Gancang teung Akademi Test Bank
The FFA CPA ulikan bank ngawengku leuwih ti 6,800+ patarosan sababaraha-pilihan di dinya nu ngahijikeun kana adaptif maranéhna, Sistim ulikan calakan. Ieu ngandung harti yén anjeun nyandak kuis, nonton ceramah, jeung maca téks ulikan, the test bank automatically generates practice exams for you to work through based on your current knowledge of the subject or concept. This allows you to focus on testing topics you need to work on rather than testing you on everything. You can also make custom quizzes covering any topic or length of exam questions if you want to, but the adaptive approach is much better.
Simulasi tugas-Dumasar
The FFA CPA study materials include 230 simulasi tugas basis. Although this isn't more than other courses out there, it is implemented differently. Similar to the test bank, inti simulations nu terpadu kana sistem adaptif, jadi tangtu otomatis bakal nyarankeun Anjeun ngalakukeun simulasi dumasar kana pangaweruh anjeun ayeuna. kituna, lamun aya simulasi sadia pikeun topik anjeun berjuang kalawan, kursus otomatis bakal nunda dina jadwal pangajian anjeun dianggo ngaliwatan. Anjeun oge bisa nyandak ieu wae rék atawa nyieun kuis custom dumasar kana jejer ogé.
ujian simulator
The simulator ujian FFA nyaéta pawakilan agung tata perenah ujian AICPA. Cai mibanda sababaraha stylings teung Fast di dinya, tapi fungsionalitas nu identik jeung ujian CPA nyata. Anjeun tiasa nganggo simulator dina modeu ujian atanapi mode prakna boh emulate ujian nyata atawa ngan saukur nguji diri dina jejer. Unggal sual nyadiakeun guaran lengkep kanggo waleran bener jeung salah dina bagian analytics of dasbor.
ulikan Catetan
dasbor ngabogaan bagian pikeun catetan nu bisa tagged kana ceramah, téks ulikan, atawa malah patarosan. This is a powerful feature because it allows you to review different parts of the study guide based on your note. Salaku conto, if you wanted to go review a practice question, you could make a note of the question and video. When you click the note, it will take you to the question or the lecture directly. This makes reviewing extremely quickly.
That's all of the main components included in the study materials. Let's discuss some of the benefits and drawbacks of this course compared with others on the market.
---
Benefits
Learning adaptif
This benefit can also be a drawback if you don't embrace it. If you try to use this course like a tradition linear course, it won't work for you. It will be frustrating. Nu keur ceuk, if you use it the way it was intended to be used, it is amazing. The course automatically creates a study schedule for you and tells you what you need to study and learn next. It also changes as you go through it, so it can keep targeting areas you need to study until you know them all.
Unlimited Access
Fast Forward Academy offers unlimited access to all of their products. This is a huge benefit because it means you won't ever have to pay an extra fee to keep using the course.
Academic Support
Unlike other courses that have message boards or emails that don't get answered, FFA allows you to talk directly with academic experts about your course material questions. This is a big help for people who need more explanations about topics.
diskon
Gancang teung Akademi nawarkeun sababaraha diskon béda jeung kupon on review bahan maranéhna. Di dieu nu leuwih ayeuna.
diskon murid: FFA nawarkeun siswa mangrupa 10% diskon on kebat pinter review Tangtu maranéhna. Klik di dieu pikeun meunang 10% tangtu pinuh.
Kupon promo husus: Gancang teung ilaharna nawarkeun sababaraha kupon diskon promo husus béda sapanjang taun. Klik di dieu pikeun ningali promotion ayeuna.
---
drawbacks
Taya offline Paké
lebar, aya teu cara ngagunakeun Tangtu offline ieu. You'll need to login to their website in order to use the test bank or watch the lectures. You can order a printed study book, but that's it.
No Cram Course
FFA does not offer a cram course at all. Although this isn't really a must-have, it is nice to have a final review.
No Audio Lectures
Some people enjoy listening to audio lectures on their commute to work or while they are working out. FFA doesn't currently offer them.
---
rekomendasi
Fast Forward Academy is an excellent CPA exam review course for anyone who wants to embrace the adaptive approach to studying. This system does work and it includes more than enough materials to properly prepare for the exam. It is different than what you are probably used to. If you are willing to give it a chance, I'm sure you will be happy with it and it will help you pass the exam on your first try.
Fast Forward Academy Coupon Codes & diskon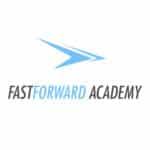 Cyber Monday Sale! Simpen $543 – Gancang teung Akademi
CPA, diskon ekslusif, Fast Forward Academy CPA
41 migunakeun kiwari
panungtungan Dipaké: 53 seconds
Fast Forward Academy Frequently Asked Questions
📱Does Fast Forward Academy have an app?
Currently, Fast Forward Academy doesn't offer any kind of app for their educational courses and study materials. Sanajan, their prep course has been designed for easy access and use on a variety of smartphones and tablets.
1️⃣ What is the best study material for enrolled agent exam?
Although Fast Forward Academy has some definite upsides, if you're not satisfied that it's a fit for you, Surgent EA Review is one of our strongest Enrolled Agent courses available to English and Spanish-speaking students. This is due to their large volume of practice questions, ceramah video, and interactive study planning tech.
📃 Do you need a degree to be an EA?
According to the IRS, you don't need to have a college degree to become an Enrolled Agent. The only requirements are that you obtain a Preparer Tax Identification Number (PTIN), pass the three-part Special Enrollment Exam (SEE), and pass an IRS suitability check. Some of these steps can be bypassed if you have previous experience working at the IRS.