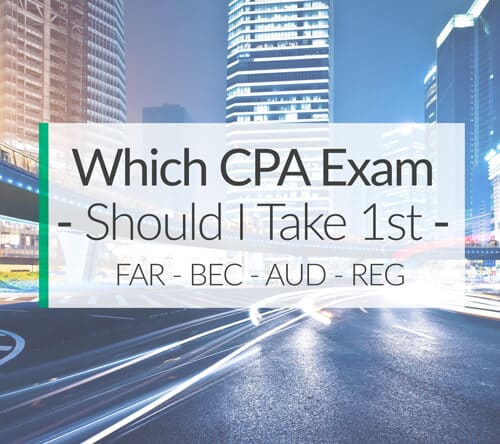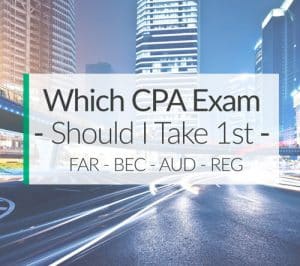 Jedan od najpopularnijih pitanja čujemo od CPA kandidata, "koji CPA exam section trebao sam se prvo?" That's a great question. If you don't already know what the four parts of the CPA exam are, you should read my post about the sections of the CPA exam; it will give you more information about each all four sections. stoga, this post will make a little more sense and help you decide which to choose.
To se, rekao, branje pravo CPA ispita ulogu da se najprije je velika odluka. To također može značiti razliku između položenog ispita na vrijeme ili da prođe dijelove više puta. Pričajmo o nekim od popularnih teorija vani onda ću vam dati moje mišljenje.
---
Uzmi najteže poglavlje u CPA ispita prvi
Vjerojatno ste čuli od svojih profesora, suradnici, ili čak CPA Naravno ispit pregled. Tons of people give this advice. On the surface it sounds good, pravo? Get the hardest CPA exam part out of the way first. Then you won't have to deal with it later. That makes sense, except it doesn't consider how the Certified Public Accountant exam works as a whole.
All four sections of the exam have to be passed in an 18-month testing window. Stoga, if you don't pass all of them in 18 mjeseci, the first section that you studied so hard for will drop off and expire.
Related blog posts and resources
So let's say you have a difficult time with Regulations. You decide that you are going to knock that one out first. You study your hardest for several months and take it for the first time. Nažalost, you get the dreaded 74 and you have to take it again. This time you get serious and double down on your CPA review. You study twice as hard and you pass it with a score of 80.
Now fast-forward 17 mjeseci. You are getting ready to take your last section of the CPA examination. You think it's going to be easy, so you barely study for it and you fail. Now there is no time to retake it and your REG credit gets dropped. Now you have to retake your most difficult section. Does that make sense? Wouldn't you rather retake your easiest section instead?
---
Your First Section of the CPA Exam Should Be Your Most Confident Subject
Your first exam section should be the subject that you feel the most confident with. This is different for everyone. Na primjer, if the last two classes you took in college were business law and federal taxation, REG would be a pretty obvious first choice. The material is still fresh in your mind and it shouldn't take too much effort to study. You'd basically be reviewing all the financial management information you just learned during the last semester.
If you are fresh out of school, you should focus on the subject that comes most easily to you. Na primjer, some people are just really good at memorizing legal information and weird tax codes. If you are one of these anomalies, REG would also be a good first choice for you. Alternativno, experts in economic concepts will want to prioritize the Business Environment and Concepts (BEC) section as their first.
If you aren't fresh out of school and you don't have an innate ability to memorize financial accounting information, you could look to your work. Na primjer, ako ste revizor, Revizija i atestiranje (AUD) će biti mudar prvi izbor.
Stvar je u tome da vaš prvi CPA ispita bi trebao biti nešto što se osjećate sigurni s, te će biti nešto lakše za vas da se pripreme i prođe.
---
Zašto trebate uzeti ovaj odjeljak prvi?
Tako, zašto sam ja u pravu, a svi drugi ljudi su u krivu? Postoji nekoliko razloga zašto je to najbolja CPA strategije.
Prvi, ako se uzme svoj najjači dio prvi, koju će najvjerojatnije proći. Nemate pojma što to radi na svoju motivaciju i povjerenje. When your score releases and you get that NASBA letter saying that you passed, all you will want to do is jump up and down. It's exciting and gives you the energy to walk into that Prometric center and take on the next set of multiple-choice questions.
Conversely, if you took the most difficult section first and failed it, your confidence and motivation will be shattered. After spending all that time studying this difficult topic and you still fail. You most likely won't be that motivated to continue.
Pogledajte Top CPA pregled tečajevi
View All
Drugi, we already talked about losing the credit from a passed exam. If you take your strongest section first and lose it, it won't be fun, but it also won't be devastating. Vi ćete morati ponovo polagati predmet koji ste upoznati sa. To bi trebao biti prilično jednostavan da ga ponovo uzeti.
Nadam se da ovo pomaže make up your mind. Vjeruj mi. To čini tako više smisla za početak jake teme. Nakon što prođe prvi dio, vi ćete biti spremni da se na cijelom ispitu.