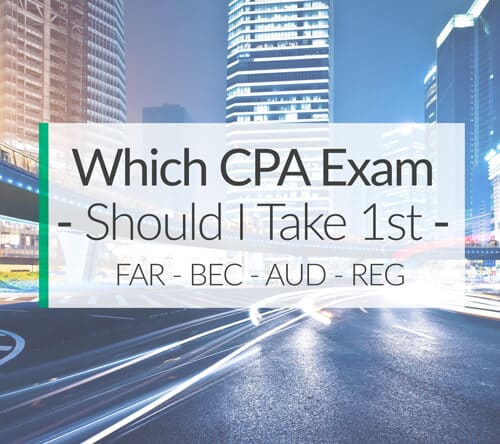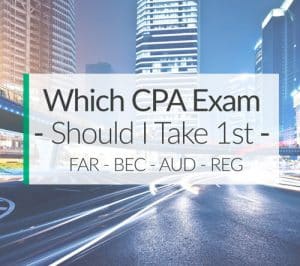 Mmodzi wa mafunso otchuka ife tikumva kuchokera ofuna CPA ndi, "zomwe CPA exam section Kodi nditenge loyamba?" That's a great question. Ngati mulibe kale mukudziwa chimene mbali zinayi za mayeso CPA ndi, muyenera kuwerenga malo anga za Ndime ya mayeso CPA; it will give you more information about each all four sections. Choncho, this post will make a little more sense and help you decide which to choose.
Kuti zikukambidwa, kutola lamanja CPA mayeso gawo kutenga woyamba posankha. Izo zikhoza kutanthawuzanso kusiyana pakati kudutsa mayeso pa nthawi kapena pochitika mbali maulendo angapo. Tiyeni tikambirane zina mwa ziphunzitso otchuka kumeneko ndidzakupatsa iwe lingaliro langa.
---
Tengani Gawo Lalikulu Kwambiri za CPA mayeso Choyamba
You've probably heard this from your professors, co-workers, or even your CPA exam review course. Matani anthu amapereka malangizo amenewa. Padziko izo zikumveka zabwino, chabwino? Pezani chovuta CPA mayeso mbali mwa njira yoyamba. Sudzakhalanso kuthana ndi mochedwa. Kuti n'zomveka, except it doesn't consider how the Certified Public Accountant exam works as a whole.
All four sections of the exam have to be passed in an 18-month testing window. Choncho, if you don't pass all of them in 18 miyezi, chigawo choyamba kuti ankaphunzira molimbika kwa adzayoyoka ndi kumwalira.
Related blog posts and resources
Choncho tiyeni tinene muli ndi nthawi yovuta Malamulo. Mwaganiza kuti mukupita kugogoda kuti munthu choyamba. You study your hardest for several months and take it for the first time. Mwatsoka, you get the dreaded 74 and you have to take it again. This time you get serious and double down on your CPA review. You study twice as hard and you pass it with a score of 80.
Now fast-forward 17 miyezi. You are getting ready to take your last section of the CPA examination. You think it's going to be easy, so you barely study for it and you fail. Now there is no time to retake it and your REG credit gets dropped. Now you have to retake your most difficult section. Kodi zimenezi zingatheke? Wouldn't you rather retake your easiest section instead?
---
Your First Section of the CPA Exam Should Be Your Most Confident Subject
mayeso anu oyamba gawo ayenera kukhala phunziro limene inu mukumverera chikhulupiriro kwambiri ndi. Izi ndi zosiyana aliyense. Mwachitsanzo, if the last two classes you took in college were business law and federal taxation, REG adzakhala woyamba kusankha wokongola zoonekeratu. zakuthupi akadali atsopano mu malingaliro anu ndipo sayenera kumwa khama kwambiri kuphunzira. You'd basically be reviewing all the financial management information you just learned during the last semester.
Ngati ndinu atsopano ku sukulu, muyenera kuganizira nkhani imene akubwera kwambiri mosavuta kwa inu. Mwachitsanzo, anthu ena kwenikweni wabwino pa kuloweza zambiri malamulo ndi zizindikiro lodabwitsa msonkho. Ngati ndinu mmodzi wa anomalies izi, REG akhoza wabwino woyamba kusankha kwa inu. Kapenanso, experts in economic concepts will want to prioritize the Business Environment and Concepts (BEC) section as their first.
If you aren't fresh out of school and you don't have an innate ability to memorize financial accounting information, inu mukhoza kuyang'ana kwa ntchito yanu. Mwachitsanzo, ngati ndinu Auditor, Auditing ndi Umboni (AUD) would be a wise first choice.
The point is that your first CPA exam should be something that you feel confident with and will be somewhat easier for you to prepare for and pass.
---
Why Should You Take This Section First?
kotero, why am I right and all of the other people are wrong? There are a number of reasons why this is the best CPA strategy.
choyamba, if you take your strongest section first, you will most likely pass it. You have no idea what that does to your motivation and confidence. When your score releases and you get that NASBA letter saying that you passed, all you will want to do is jump up and down. It's exciting and gives you the energy to walk into that Prometric center and take on the next set of multiple-choice questions.
Tikawonetsetsa, if you took the most difficult section first and failed it, your confidence and motivation will be shattered. After spending all that time studying this difficult topic and you still fail. You most likely won't be that motivated to continue.
Onani Top CPA Review Maphunziro
View All
Chachiwiri, we already talked about losing the credit from a passed exam. If you take your strongest section first and lose it, it won't be fun, but it also won't be devastating. You will have to retake a subject that you are familiar with. It should be pretty easy to retake it.
Ine ndikuyembekeza izi zimathandiza tsimikizani. Ndikhulupirireni. N'chinthu chanzeru njira zambiri kuyamba nkhani amphamvu. Mukakhala pochitika chigawo choyamba, mudzakhale wokonzeka kutenga mayeso lonse.